'Petolekoran', well-preserved Idul Fitri shopping tradition of Gili Ketapang residents
Aman Rochman

The Jakarta Post
Malang, East Java |

Wed, June 13, 2018

| 02:51 pm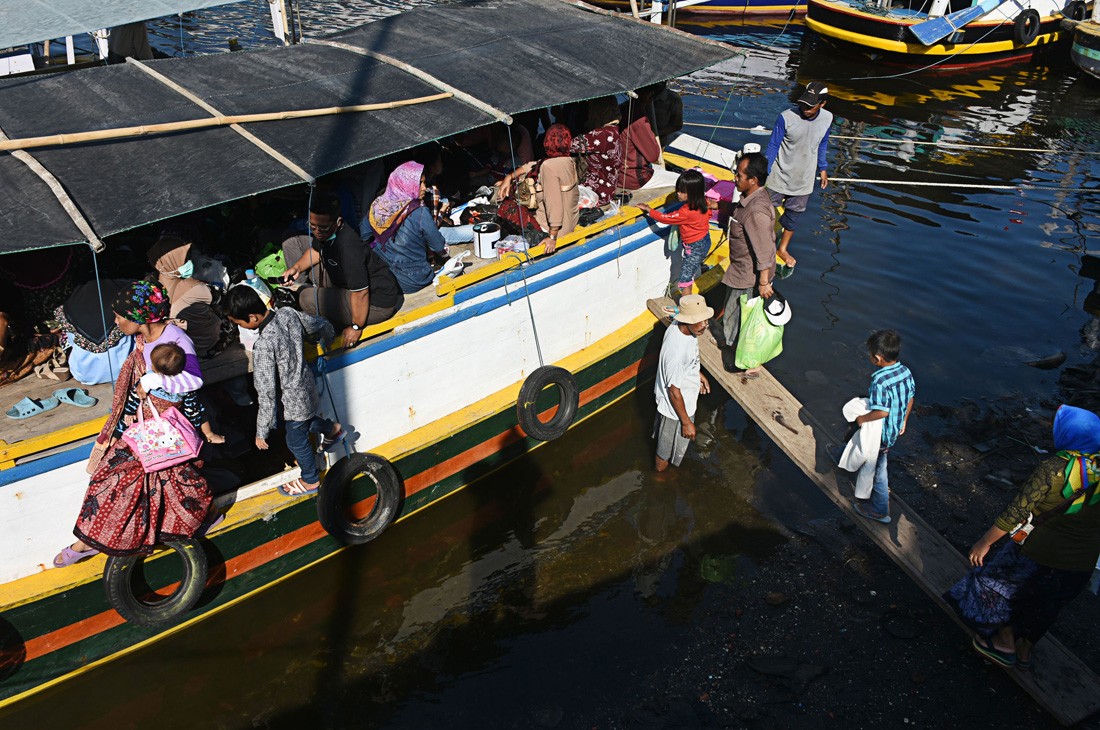 Preserving tradition: Residents of Gili Ketapang Island in Probolinggo, East Java, board a boat, which will carry them to the downtown on June 12. (JP/Aman Rochman)
Hundreds of residents of Gili Ketapang Island in Probolinggo, East Java, were seen on Tuesday boarding traditional boats, which would bring them across the wavy waters of the East Java Sea to the downtown of the city.
In Probolinggo city, the Gili Ketapang residents shopped for things they needed to celebrate the upcoming Idul Fitri and picked up their relatives who wanted to celebrate the Islamic festivity in their hometown.
The crossing-the-sea trip is a tradition locally known as Petolekoran, a Maduranese-language word, which literally means the 27th day of Ramadhan.
Rulianto, 29, a Gili Ketapang resident, said he and his family members departed for Probolinggo at around 10 a.m. local time on Tuesday to pick up their relatives who had just come from Bali. They also shopped for some things needed for the Idul Fitri celebration.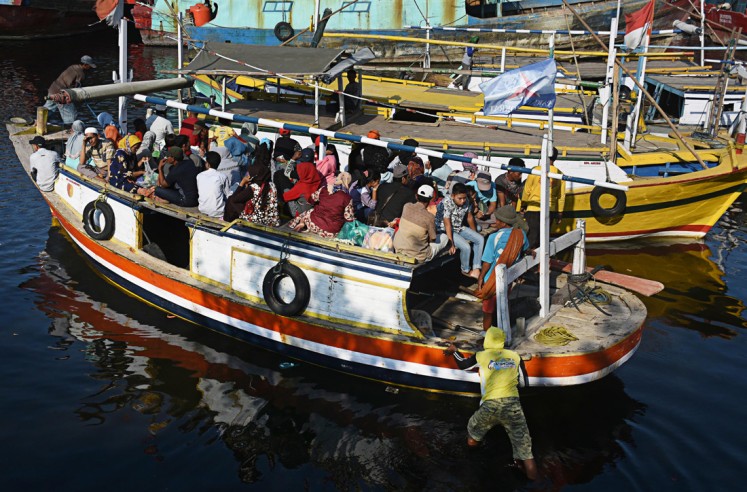 Joyful day: Gili Ketapang residents get ready to travel to Probolinggo city, East Java, to shop for goods for their Idul Fitri celebration. (JP/Aman Rochman)
Rulianto said it had been a tradition of Gili Ketapang residents to travel outside the island every the 27th day of Ramadhan. "Previously, we made the trip to pick up our relatives who wanted to celebrate Idul Fitri in Gili Ketapang. But now, most of us use this Petolekoran tradition to shop for holiday necessities, such as clothes, cookies, basic commodities and paints. We only brought Rp 2.5 million [US$178.68], but many people bring more, depending on their economic situation," said Rulianto.
The boat trip from Gili Ketapang to Tanjung Tembaga Port in Probolinggo costs only Rp 7,000 per person. Each boat can carry 50 passengers.
Ahmad Sauji, 45, a boat captain, said during a Petolekoran event, he could travel 10 times back and forth carrying passengers. On normal days, he usually travels two times back and forth only. (ebf)
Topics :
Join the discussions