Ex-graft convict, anti-graft icon join South Sulawesi race
Karina M. Tehusijarana and Andi Hajramurni

The Jakarta Post
Makassar/Jakarta |

Wed, June 27, 2018

| 07:58 am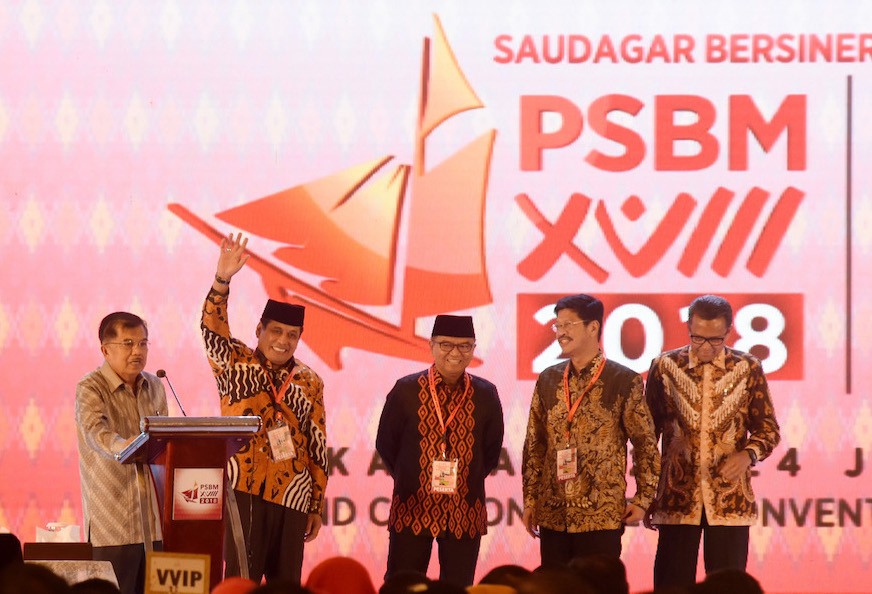 Vice President Jusuf Kalla (left) with four South Sulawesi gubernatorial candidates: Nurdin Halid (second left), Agus Arifin Numang (center), Nurdin Abdullah (right) and Ichsan Yasin Limpo. (Antara/Yusran Uccang)
It is a four-horse race in South Sulawesi, with an intriguing field of candidates: an incumbent deputy governor, a former graft convict, an antigraft award recipient and the scion of a regional political dynasty all competing in the upcoming gubernatorial race.
Golkar Party politician Nurdin Halid, Bantaeng Regent Nurdin Abdullah and Gowa Regent Ichsan Yasin Limpo all have a chance to win the province's top spot.
South Sulawesi Deputy Governor Agus Arifin Nu'mang, on the other hand, has lagged behind in the polls and looks unlikely to mount a serious challenge.
The lay of the land
South Sulawesi is considered a Golkar stronghold, with the party winning 20.09 percent of the vote in the province in the 2014 legislative elections.
Former Golkar chairman Vice President Jusuf Kalla is a native of the province and is immensely popular there. During his failed 2009 presidential bid, Kalla won 64 percent of the vote in South Sulawesi, despite only getting 12.41 percent nationwide.
The parties
Nationwide political allegiances have not held in South Sulawesi, and the candidates are backed by some unlikely coalitions.
Most of the parties in the national ruling coalition -- the National Awakening Party (PKB), the Hanura Party, the NasDem party and Golkar -- are backing Nurdin Halid and his running mate, Abdul Ariz Qahhar Mudzakkar.
Coalition leader the Indonesian Democratic Party of Struggle (PDI-P), on the other hand, has chosen to join forces with the National Mandate Party (PAN) and the Prosperous Justice Party (PKS) to back the Nurdin Abdullah-Andi Sudirman Sulaiman ticket.
The trio makes for strange bedfellows: PAN and PKS are frequent and vocal critics of PDI-P member President Joko "Jokowi" Widodo's administration.
Opposition leader Gerindra has teamed up with the pro-Jokowi United Development Party to back Agus Arifin Nu'mang and Tanribali Lamo.
Meanwhile, Ichsan Yasin Limpo is running as an independent candidate after successfully submitting 1.8 million ID cards in support of his candidacy. He is also supported by the Democratic Party, which only has 11 seats in the regional legislature, short of the 20 percent legally required to nominate a gubernatorial candidate.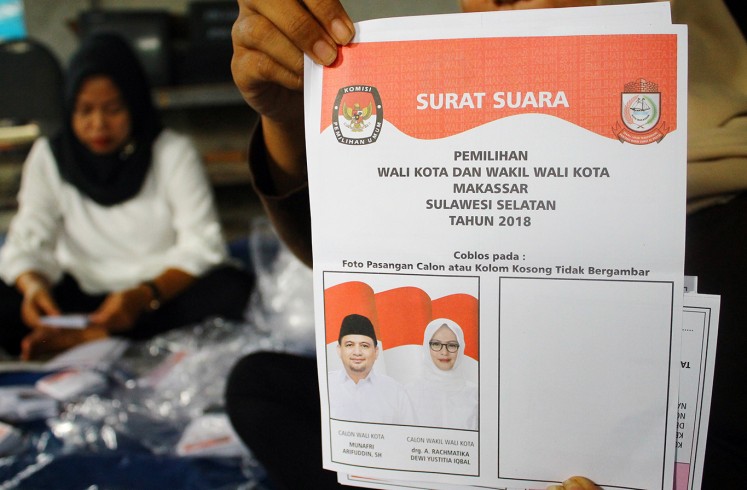 An August 2017 survey from Poltracking put Limpo's electability at 21.87 percent, Halid at 21.27 percent, Abdullah at 20.46 percent and Agus at 9.97 percent, with 26.43 percent of respondents still undecided.  (ANTARA/Darwin Fatir)
The candidates
The four gubernatorial candidates make for an eclectic mix.
Halid, a former Golkar executive board chairman and Soccer Association of Indonesia (PSSI) head, was implicated in several corruption cases in the early 2000s.
In July 2004, he was detained as a suspect for alleged illegal sugar imports. In November 2014, he was once again detained for allegedly embezzling Rp 169 billion from the National Logistics Agency (Bulog) but was later acquitted.
Prosecutors later appealed to the Supreme Court and on Aug. 13, 2007, Halid was found guilty and sentenced to two years in prison.
In June 2005, he was sentenced to two-and-a-half years in prison for a customs violation on the import of rice from Vietnam.
Despite the many cases, Halid is adamant that he is not corrupt, although he acknowledges that he has served prison time on corruption charges.
"If you read the ruling carefully, you will see that it says Nurdin Halid has not been proven to have enjoyed the fruits of corruption," he said during the third gubernatorial debate.
Nurdin Abdullah, a former academic who has a PhD in agriculture, seems to be Halid's polar opposite, having been named a recipient of the 2017 Bung Hatta Anticorruption Award (BHACA).
"Nurdin Abdullah has a very strong commitment to build a corruption-free and advanced regional government," BHACA 2017 jury member Betti Alisjahbana said in the award's press release in December.
Before Abdullah took over the regency in 2008, Bantaeng was on the Villages, Disadvantaged Regions and Transmigration Ministry's list of underdeveloped regions.
During his 10 years as regent, he managed to double the regency's annual per capita income from Rp 15.21 million in 2010 to Rp 34.06 million.
Gowa Regent Ichsan Yasin Limpo is running in his family's longstanding stronghold, which remains intact despite his sister's arrest for graft in 2015.
Ichsan is following in the footsteps of his older brother and governor, Syahrul Yasin Limpo, having previously replaced Syahrul as Gowa regent.
Despite serving two terms as deputy governor, Agus Arifin Nu'mang, remains a low profile figure. He has years of experience in regional government, having served in the regional legislature for nine years before being elected deputy governor.
The polls
The South Sulawesi race remains tight, with no clear winner.
An August 2017 survey from Poltracking put Limpo's electability at 21.87 percent, Halid at 21.27 percent, Abdullah at 20.46 percent and Agus at 9.97 percent, with 26.43 percent of respondents still undecided.
A February survey from Populi Center, on the other hand, had Abdullah in the lead with 32 percent, while Ichsan, Halid and Agus trailed with 20.3, 17 and 10.9 percent, respectively.
Meanwhile, an April poll from the Centre for Strategic and International Studies (CSIS), puts Halid on top with 30.6 percent, while Abdullah and Ichsan nearly level with 21.2 and 20.7 percent, respectively. Agus once again was in last place with 9.9 percent.
The most recent poll, conducted in early June by Indo Barometer, puts Abdullah in the lead with 31.8 percent, Ichsan second with 20.4 percent, Halid third with 18 percent, and Agus last with 7.1 percent. With 22.7 percent of respondents still undecided, it's still anyone's game.
Alauddin Makassar State Islamic University political analyst Firdaus Muhammad said the closeness of the race was due to structured plans from each of the candidates' campaign teams.
He added that the three frontrunners have also used negative campaign tactics to great effect.
"The three candidate pairs have used polling results and their opponents' negative issues as campaign material, instead of their own programs," Firdaus said.
He added that there was a risk of conflict breaking out after the election results came in. "The supporters of the losing candidates will likely not accept it and would consider the winners as cheaters."
Topics :
Join the discussions