W. Jakarta residents claim to have found Grogol River crocodile
News Desk

The Jakarta Post
Jakarta |

Sun, July 1, 2018

| 04:50 pm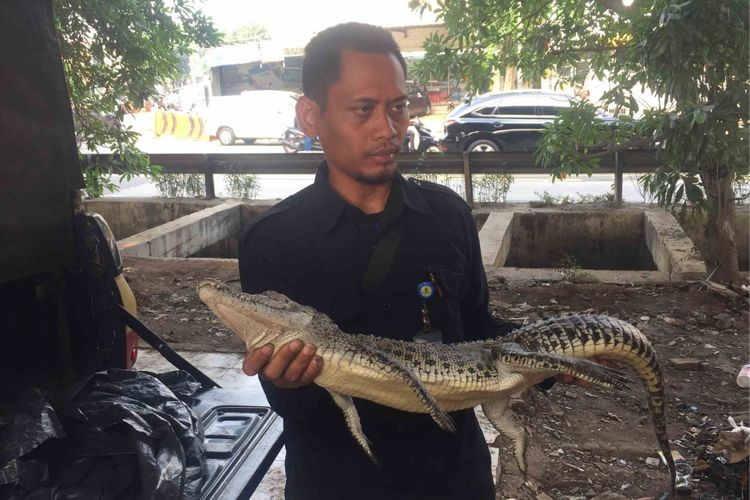 Residents of West Jakarta delivered on Saturday a dead crocodile to the Jakarta Natural Conservation and Resources Agency. They said they had found the animal near Grogol River, where a crocodile had been spotted last week. The agency confirmed that the dead crocodile was not the one they had been looking for. (Kompas.com/David Oliver Purba)
Four residents of West Jakarta claimed on Saturday to have discovered the crocodile that had been spotted swimming in Grogol River. They reportedly found the animal dead on the side of a road, but were unable to provide details of their discovery.
"When I asked them where they found [the crocodile], they said around here [Grogol River], but when I told them to show me the exact location, they said they couldn't," said Bambang Yudi, an official from the Jakarta Natural Conservation and Resources Agency.
He added that the residents claimed to be members of an animal welfare community and did not have their ID cards with them when they handed the crocodile over to the agency.
Read also: Five crocodile sightings in West Jakarta river on Thursday
He believes that the 1-meter animal had been dead for a while because of its state of decomposition and the four residents were simply looking to take credit for the capture of a crocodile that was seen swimming in Grogol River last week.
The agency later confirmed it was not the creature it had been searching for.
The agency has called off its search for the crocodile because large crowds of curious onlookers began to hamper officers' efforts.
It assured, however, that its personnel will be on guard in the area in case the crocodile reappears. (ami/wit)
Join the discussions