Dayak tribes perform rituals to cool electoral tensions
Severianus Endi and Karina M. Tehusijarana

The Jakarta Post
Pontianak |

Mon, July 2, 2018

| 10:19 am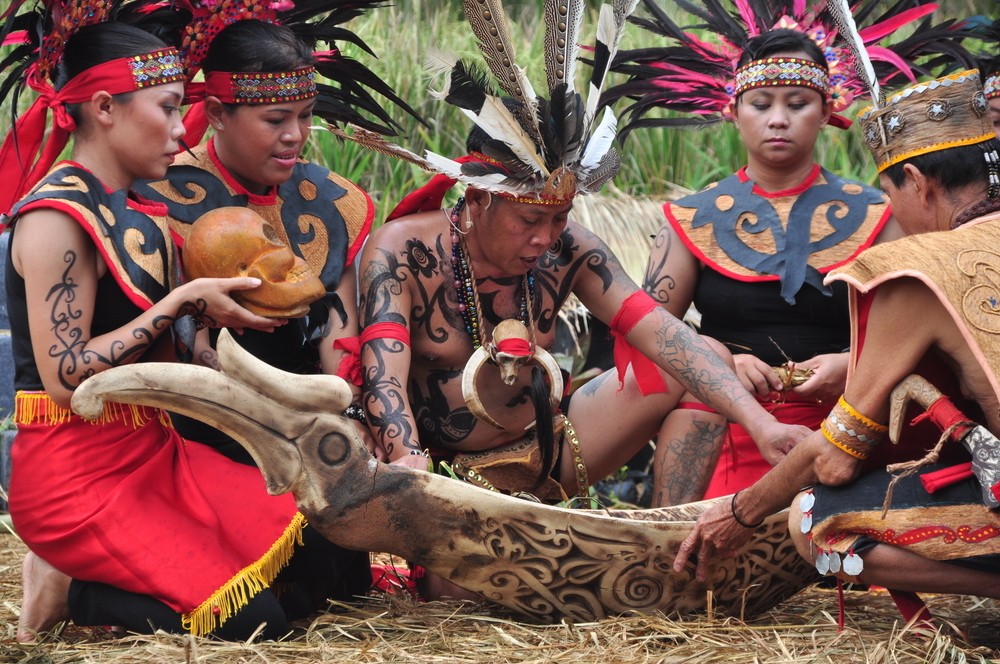 Dayak men and women in a traditional ceremony (Illustration) (Shutterstock/File)
Residents of Ngabang in Landak regency, West Kalimantan, performed on Saturday a traditional Dayak ritual called pamabakng in an effort to cool tensions after a heated gubernatorial race that ended on Wednesday.

The ritual, which is meant to drive out conflict and illnesses, was led by a traditional elder at the Putri Dara Hitam Terminal and attended by West Kalimantan Police chief Insp. Gen. Didi Haryono, as well as Landak regent and gubernatorial candidate Karolin Margret Natasa.

Reports emerged on Friday of vandalism in Ngabang and nearby Pahaiman following gubernatorial election quick count results that projected that Karolin's opponent, Sutarmidji, was the likely winner.

Dissatisfied residents reportedly upended a merchant's cart at a traditional market in Ngabang.

National Police spokesperson Insp. Gen. Setyo Wasisto confirmed that an incident occurred on Friday but said it had been quickly handled by local security forces.

"The situation is now safe and conducive," he said on Saturday, as quoted bykompas.com.

Setyo added that he appreciated the Landak cultural leaders' swift actions to try and reduce tensions in the community.

"That is what traditional, youth and religious figures should prioritize," he said.

Landak Legislative Council head and local Dayak council leader Heri Saman said the ritual was initiated by traditional elders to calm the community down.

"We ask [residents] to return to a normal and peaceful situation and strengthen [the relationships] that we have fostered for so long."

Didi further urged communities not to be easily provoked by rumors on social media.

Meanwhile, Karolin asked residents to remain calm and not be triggered by quick count results.

"Do not become emotional just because of a [social media] post, because what happens in Ngabang can spread to other places."

The Alliance of Independent Journalists' (AJI) Pontianak branch issued a press release urging the media to use a "peaceful journalism" approach in reporting the post-election situation in the province.

"We remind all journalists not to use social media as a primary source, as social media is often used to disseminate false news," said AJI Pontianak head Dian Lestari.

West Kalimantan has a history of violence between its two largest ethnic groups, the Dayaks, who are predominantly Christian, and the overwhelmingly Muslim Malays.

The province has a majority Muslim population of almost 60 percent but has significant Protestant and Catholic communities representing 11 and 22 percent of the people, respectively. It was rated as one of the most conflict-prone provinces holding elections this year.

The two main contending gubernatorial candidate pairs are split among these ethno-religious lines; Karolin-Suryadman Gidot are both Dayaks and are Catholic and Christian, respectively, while Sutarmidji-Ria Norsan are Muslim Malays. The third ticket, which was considered unlikely to win, Milton Crosby-Boyman Harun, is a mix of a Christian Dayak and a Malay Muslim.

Karolin has strong ties to the Dayak community through the Dayak Customary Council, which is controlled by Karolin's father, Cornelis, the former West Kalimantan governor for two terms from 2008 to 2018, according to a February study by the Institute for Policy Analysis of Conflict (IPAC).

IPAC also highlighted three regencies, including Landak, which is Cornelis' stronghold, where clashes might occur between supporters of Karolin and Sutarmidji.

Quick counts conducted by several polling organizations after Wednesday's election put Sutarmidji-Ria in first place, followed by Karolin-Suryadman in second and Milton-Boyman in last place.

The General Elections Commission (KPU) has already started its real count and will officially announce the election on July 9.

Join the discussions