Consulate General to monitor SAR operation of capsized boat in Malaysian waters

Batam, Riau Islands |

Wed, July 4, 2018

| 11:30 am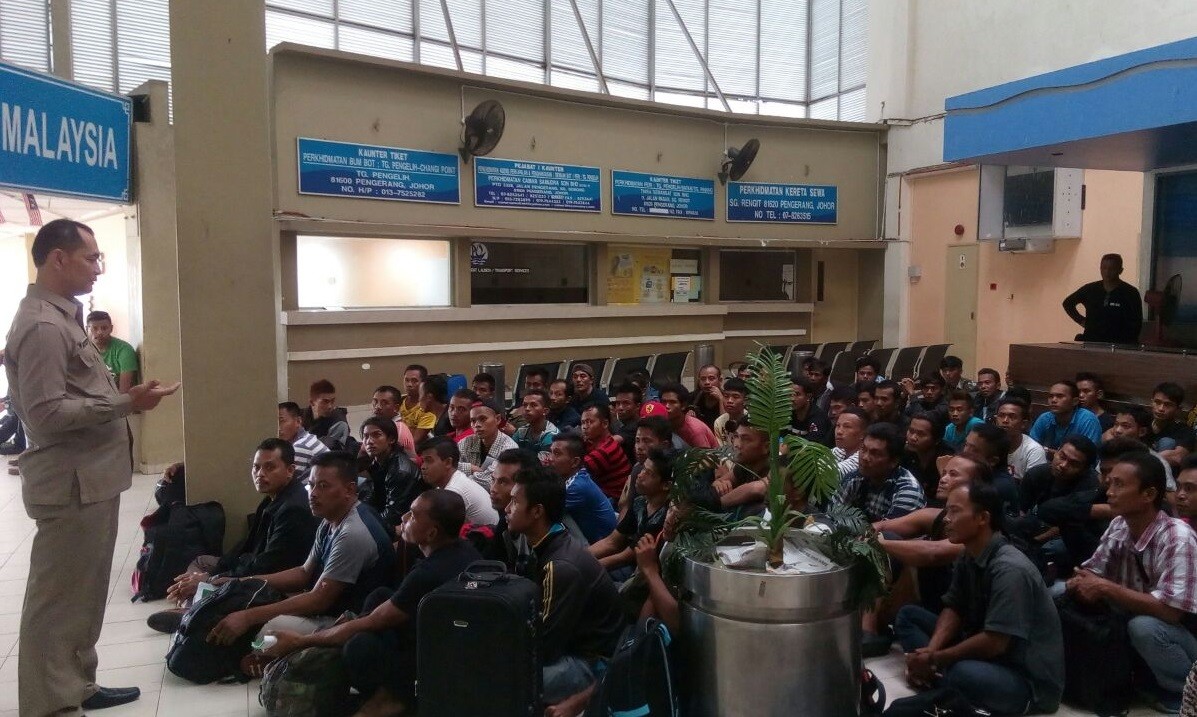 An official from the Indonesian Consulate General in Johor Bahru, Malaysia, speaks to Indonesian migrant workers. (Courtesy of Indonesian Consulate General/-)
The Indonesian Consulate General (KJRI) in Johor Bahru has said it would continue to monitor a search and rescue operation that was launched after a boat carrying 44 people capsized on Monday off the coast of Tanjau Balau in Johor, Malaysia.
A majority of the passengers are believed to be illegal migrant workers from Indonesia. One passenger is confirmed dead and 18 remain missing.
"There are no new developments […] We are leaving the search and rescue efforts to the Malaysian authorities," said Adj Sr. Comr. Wino Sumarno, National Police liaison officer at Johor Bahru, adding that the operation will go on for a week.
According to one of the survivors, the ship departed from Batam early Monday morning and sailed toward Johor Bahru carrying 38 men and six women who were planning to search for work in Malaysia.
The incident is the latest in a string of fatal boat accidents involving illegal migrant workers in both Indonesian and Malaysian waters.
In November 2016, a ship carrying 101 illegal migrant workers sunk off the coast of Batam, Riau Islands, killing more than 50 people.
"This that the route is still being used by Indonesians who want to work in Malaysia," said the Indonesian Migrant Workers Placement, Protection and Monitoring Agency (BP3TKI). (hol/ebf)
Topics :
Join the discussions