Workers trapped by ministry building fire throw messages out of window to plead for help
News Desk

The Jakarta Post
Jakarta |

Sun, July 8, 2018

| 09:51 pm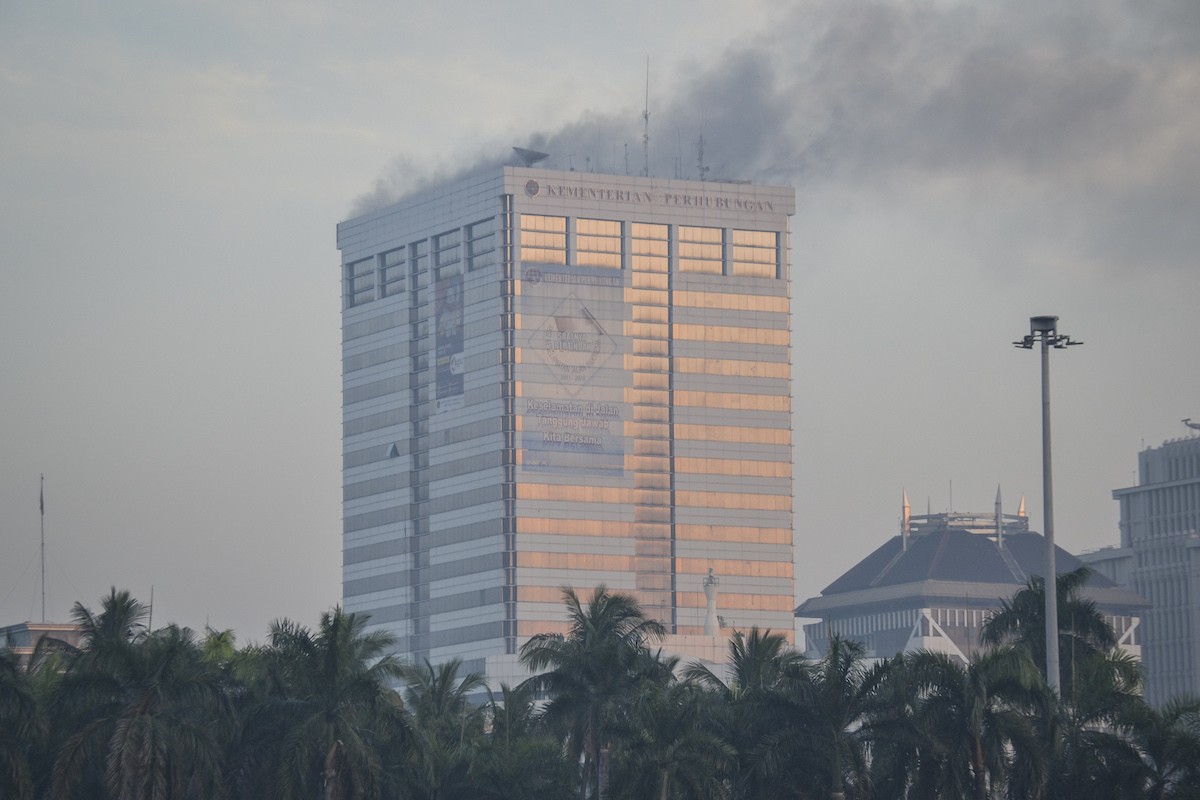 Smoke billows from the Transportation Ministry building on Jl. Medan Merdeka Barat in Central Jakarta on July 8. (Courtesy of Fire and Rescue Agency/-)
A fire, suspected to have been caused by a short circuit, at the Transportation Ministry building on Jl. Medan Merdeka Barat in Central Jakarta resulted in employees becoming trapped inside by the excessive amount of smoke on Sunday morning.
Yono, a construction worker trapped on the 18th floor of the Karya Building in the Transportation Ministry complex, said he had been asleep before he noticed a strong smell coming from downstairs at around 4 a.m.
"At first I thought it was insecticide spray," he said. "But then I heard people screaming."
Affan, another construction worker who was with Yono at the time, said he opened a window so they would not suffocate.
"We needed oxygen," he said.
Yono and Affan tried to go up to the 19th floor, but found the smoke too thick.
"We pleaded for help by writing our names and phone numbers on pieces of paper and throwing them out of the window, hoping someone might notice."
Yono and Affan have been working on an interior remodelling project on the 18th floor for two months.
The fire started at around 3:30 a.m., according to Transportation Ministry secretary general Djoko Susanto.
The Jakarta Fire and Rescue agency dispatched 17 fire trucks, the first of which arrived on the scene at 4:20 p.m.
"We still need to determine which floor the fire started on," he said. "But one thing is for sure, the fire did not spread to the upper levels. There was only smoke."
He added that alarms did not go off during the accident.
As of Sunday afternoon, the Jakarta Fire and Rescue Agency had reported four deaths and 20 survivors from the incident.
"We will cover the survivors' medical expenses," Djoko said. (rfa)
Join the discussions