Police investigate Benoa fire
Ni Komang Erviani

The Jakarta Post
Denpasar, Bali |

Tue, July 10, 2018

| 12:08 pm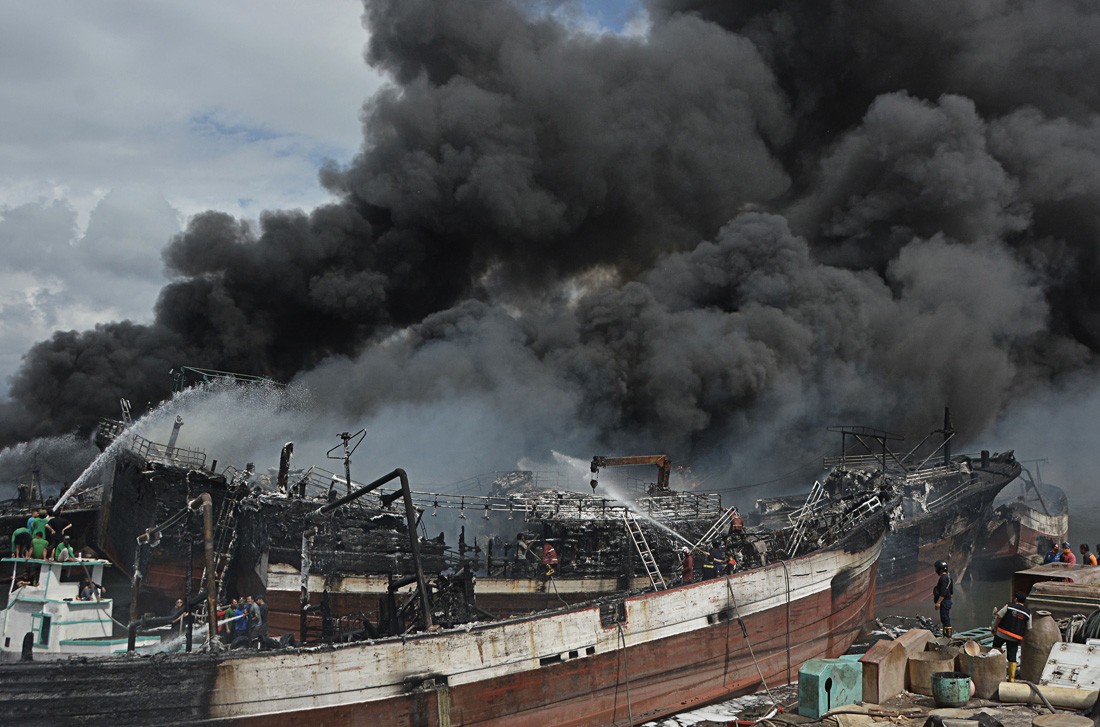 Fire by the water: Firefighters extinguish a fire that engulfed boats at Benoa Harbor in Denpasar, Bali, on July 9. (Antara/Fikri Yusuf)
The Bali Police are investigating a massive fire incident that occurred at Benoa Harbor in Denpasar, Bali, on Monday. Around 40 fishing boats docked at the harbor caught fire.
"Our initial investigation found that the fire was caused by the negligence of crew members on one of the boats. We have questioned crew members of some boats. Our team will conduct a further investigation," Bali Police chief Insp. Gen. Petrus Reinhard Golose told journalists at Benoa harbor on Tuesday.
The fire reportedly broke out on a fishing boat at 1:45 a.m. local time on Monday and quickly spread. Many fishing boats that were docked close to each other caught fire, causing a massive fire that could be seen from the Bali Mandara toll road on Monday afternoon.
More than 11 fire trucks from the Badung and Denpasar fire departments were dispatched to extinguish the fire. The Bali Police dispatched water cannon vehicles.
Petrus said the police were investigating the incident to determine whether the fire was an accident or deliberately started to destroy the boats. "We will find out one whether it was intentionally done," he said.
The police said the harbor lacked the necessary firefighting equipment and facilities. "There is no hydrant pump. This was why the fire could not be extinguished immediately. Moreover, each boat had diesel inside, allowing the fire to easily spread," Petrus said.
The fire reportedly caused more than Rp 120 billion (US$8.36 million) in losses, he added. (ebf)
Join the discussions