Donovan highlights strong US-RI cooperation during July 4th celebration

Batam, Riau Islands |

Wed, July 11, 2018

| 11:33 am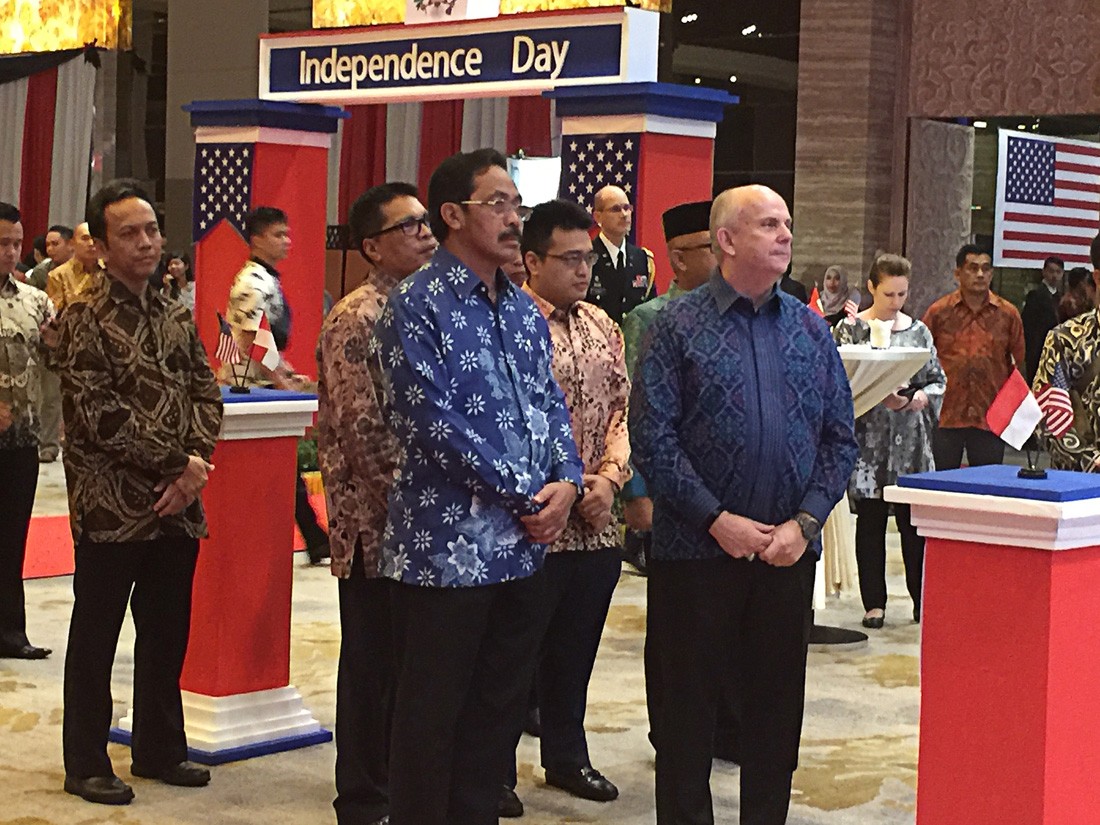 Strong ties: US Ambassador to Indonesia Joseph R. Donovan Jr. (right) and Riau Islands Governor Nurdin Basirun (third left) attend the 242nd anniversary celebration of American Independence, held on July 9 in Batam, Riau Islands. (JP/Fadli)
US Ambassador to Indonesia Joseph R. Donovan Jr. praised the strong maritime cooperation between Indonesia and the US on Monday, during the 242nd anniversary celebration for American Independence held in Batam, Riau Islands.
Donovan said that the two countries' cooperation was especially strong in the fields of maritime conservation, security, education and culture.
"I emphasize this because as we celebrate the 242nd anniversary of the US Independence, we are also celebrating our strategic partnership with Indonesia, a partnership that is located in the heart of the Indo-Pacific," he said.
It is the first time that the US Embassy in Indonesia has held a Fourth of July celebration in Batam.
Donovan said the Riau Islands was the right location for this year's Fourth of July celebration, which was themed "Partnership Across the Oceans", because international shipping routes passed through the province.
The US also had strategic partnerships in Batam and in western Indonesia, he added.
Riau Islands Governor Nurdin Basirun, West Aceh Regent Ramli MS and Nanggroe Aceh Darussalam customary leader Malik Mahmud also attended the event.
Nurdin urged Donovan to bring American businesspeople to Riau Islands to gain better knowledge of the province's potential.
"We are offering a number of potential investments in the technology and fishery sectors," said Nurdin.
Meanwhile, Malik said the US had played a big role during the armed conflict in Aceh, as well as after the devastating tsunami disaster in 2004. He expressed his hope that the US would continue to maintain an interest in Aceh and follow up on the political and economic developments in the province. (swa/ebf)
Topics :
Join the discussions