Muhaimin still on Jokowi's VP hopeful list, PKB claims
Karina M. Tehusijarana

The Jakarta Post
Jakarta |

Thu, July 12, 2018

| 03:20 pm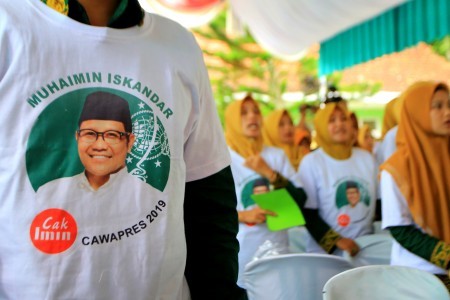 In this file photo taken on Feb. 17, members of Muslim organization Nahdlatul Ulama (NU) join a declaration event in Banyuwangi, East Java, supporting Muhaimin Iskandar as a vice presidential candidate for the 2019 presidential election . (Antara/Budi Candra Setya)
The National Awakening Party (PKB) remains certain that its chairman Muhaimin Iskandar is among the five names that President Joko "Jokowi" Widodo is considering for his vice-presidential slot, despite claims to the contrary.
"The PKB is still very hopeful that the ticket that will be announced will be Jokowi-Muhaimin," PKB executive Jazilul Fawaid said on Thursday.
Politicians from Jokowi's Indonesian Democratic Party of Struggle (PDI-P) have said that Muhaimin was no longer considered, with non-partisan candidates such as former Constitutional Court (MK) chief justice Mahfud MD coming to the fore.
Jazilul denied the claims, saying that Muhaimin regularly communicated with Jokowi, with their last meeting taking place on Wednesday evening, when Muhaimin attended a Quran reciting event at the State Palace.
"Their conversations are private, but we are optimistic," he said. "Muhaimin has received a mandate from Muslim clerics and Jokowi has recently met with young clerics, many of whom have a connection with Muhaimin and given their mandate to him."
Jokowi has been dogged by allegations of non-Muslim heritage, and analysts said that choosing a running mate with a strong Islamic background was needed to deter such attacks.
The PKB's support is important to Jokowi as it is the unofficial political arm of the largest Islamic mass organization Nahdlatul Ulama (NU).
There have been reports that the PKB may leave the pro-government coalition if Muhaimin is not selected.
However, Jazilul said the PKB's support was not conditional on Jokowi's VP choice.
"We have been with Jokowi for five years, and we will still be together next year." (ipa)
Join the discussions