Anies considers reinstating dismissed civil servants
News Desk

The Jakarta Post
Jakarta |

Mon, July 30, 2018

| 07:32 pm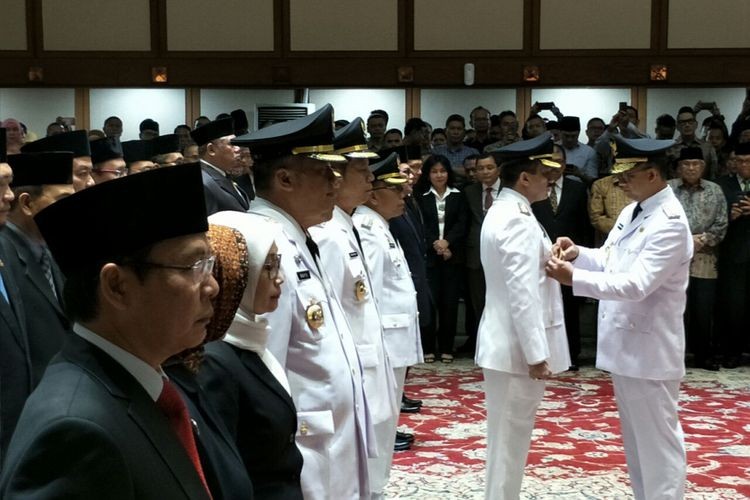 Jakarta Governor Anies Baswedan (right) inaugurates new city mayors and echelon II officials at City Hall on July 5. (kompas.com/Jessi Carina)
Jakarta Governor Anies Baswedan will evaluate his decision dismissing four civil servants who used to be high-ranking officials and are currently serving as regular staffers, an official has said.
"They are: Tri Kurniadi, Sopan Adrianto, Iin [Indrastuty Rosari Okita] and there's another one I forgot," said Jakarta secretary Saefullah on Monday, kompas.com reports.
Tri Kurniadi is the former South Jakarta mayor, Sopan Adrianto is the former Jakarta Education Agency head and Indrastuty Rosari Okita is the former Jakarta Goods and Services Procurement Agency head. They were dismissed earlier this month and currently serve as regular staffers.
"We'll assess their working performance. We aim to provide the best service for the people. We can't work with slow workers and unmotivated people," he added.
The measure will be taken as a follow up to the State Civilian Bureaucracy Commission's (KASN) recommendation. Alongside the four officials, the commission had also urged the city to reinstate Faisal Safrudin.
Faisal was the Jakarta Tax and Levy Board deputy head, who had been inaugurated by Anies as the body's head, although his rank is unsuitable for the position.
"Faisal has been reinstated as deputy head, but currently serves as acting head. He'll have his rank promoted in October," Saefullah said.
Other than those names, Saefullah said no one would be reinstated, mostly because they have entered their retirement.
A total of 16 civil servants were fired by Anies Baswedan for many reasons. The KASN has urged him to reinstate them, arguing that procedures and regulations were violated during the dismissal process. (vla)
Join the discussions