Three migrant workers from NTT die in Malaysia in week
News Desk

The Jakarta Post
Jakarta |

Fri, August 3, 2018

| 12:15 pm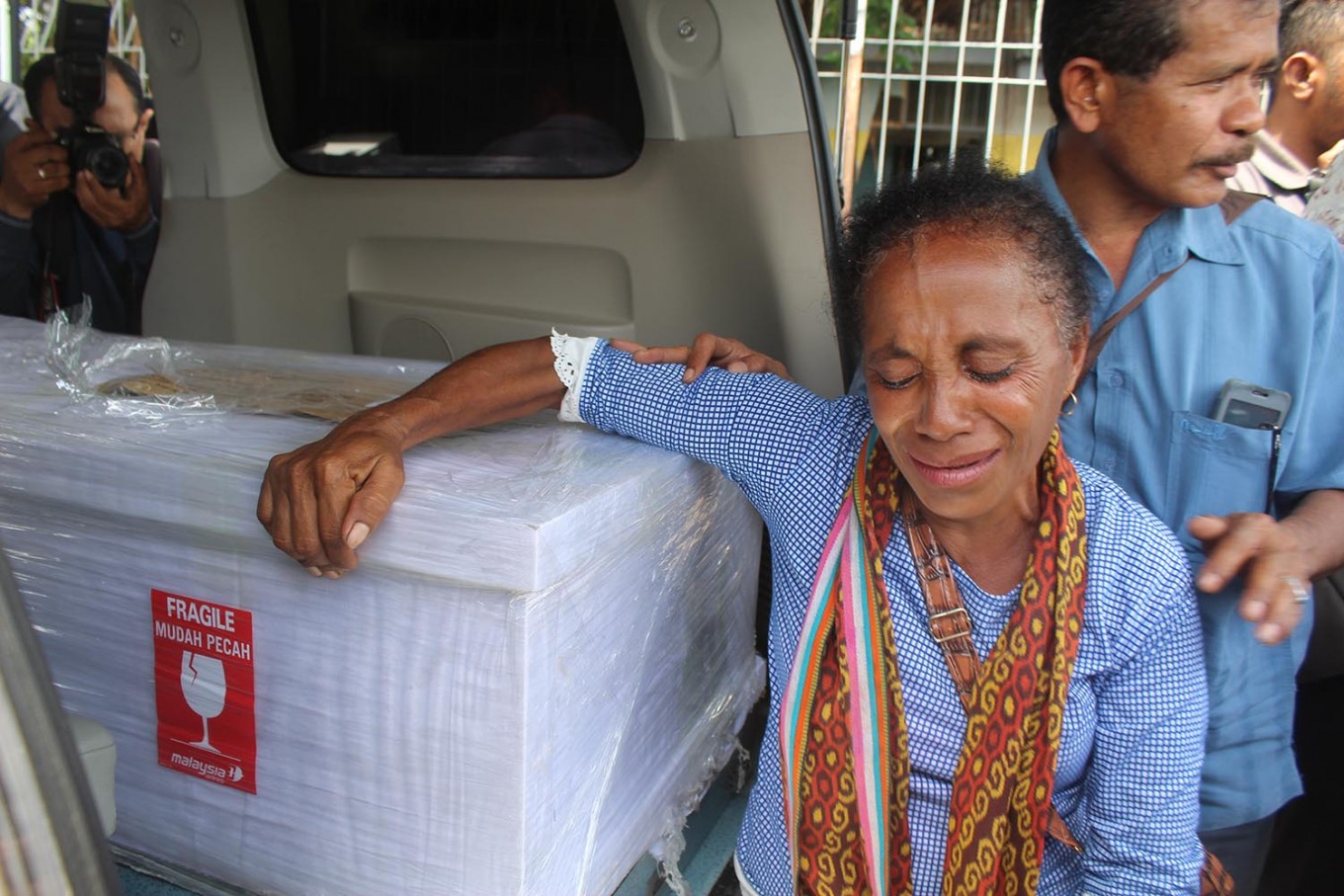 Petronela Koa hugs the coffin of her niece Adelina Sau at El Tari airport, Kupang, East Nusa Tenggara province on Saturday, February 17. The body of Adelina, the migrant worker who was reportedly abused to death by her Malaysian employers, was buried on Sunday in her home village of Ebi, Oenino district, South Central Timur regency on Sunday. JP/Djemi Amnifu (JP/Djemi Amnifu)
Three Indonesian migrant workers from East Nusa Tenggara (NTT), Melkianus Omenu, Dionisius David and Regina Bianco, have died in Malaysia within a week.
Siwa, acting head of the Indonesian Migrant Workers Placement, Protection and Monitoring Agency (BP3TKI) in Kupang, said his agency was still investigating their status of departure to Malaysia.
Melkianus Omenu, a 34-year-old resident of Atmen village, Insana Barat district, North Timor Tengah regency, died on Wednesday. Dionisius David and Regina Bianco, who were from Ende regency and Belu regency, respectively, died on Tuesday.
"So this week, three Indonesian migrant workers have died in Malaysia," Siwa told kompas.com on Friday.
He said Melkianus, who was found in the middle of the forest in Kuching, Serawak, by his colleague, worked for the Malaysian statutory body Land Public Transport Commission (SPAD) Ladang Subis 3 on Jl. Miri Bintulu, Kuching.
"Melkianus registered with the National Agency for the Protection and Placement of International Migrant Workers [BNP2TKI] in Kupang in 2005," he explained.
Siwa added his office did not have any detailed information on the deaths of Regina Bianco and Dionisius David, who both died in Selangor.
Previously, Indonesia recorded 32 deaths abroad of migrant workers from East Nusa Tenggara in the first five months of this year, 31 of whom died in Malaysia and one who died in South Africa.
(stu)
Topics :
Join the discussions