Sandiaga emerges as strong candidate to be Prabowo's running mate
Callistasia Anggun Wijaya and Karina M. Tehusijarana

The Jakarta Post
Jakarta |

Thu, August 9, 2018

| 02:02 pm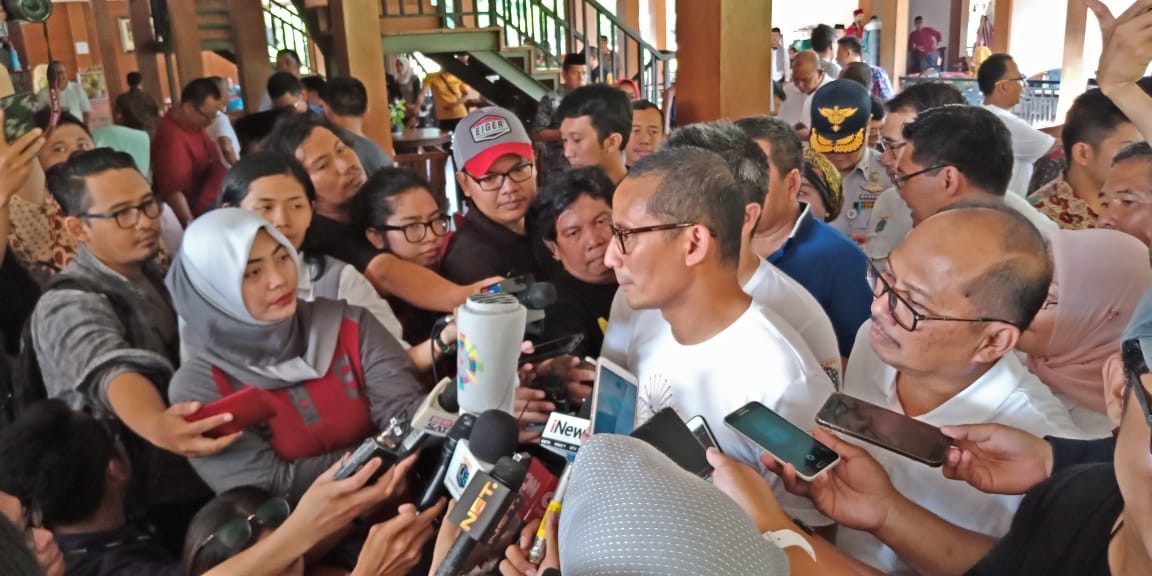 Jakarta Deputy Governor Sandiaga Uno after the launch of the Torch Festival in Setu Babakan, South Jakarta, on Saturday (The Jakarta Post/Ana Cecilia Regalado)
Hashim Djojohadikusumo, the Gerindra Party's deputy chief patron and brother of chairman Prabowo Subianto, has signaled that Jakarta Deputy Governor Sandiaga Uno could be the strongest candidate to be Prabowo's running mate in the 2019 presidential election.
It has been reported that the potential pair would be dubbed "PSSU", or Prabowo Subianto-Sandiaga Uno.
On Thursday, Hashim said there was a possibility that Gerindra might declare the PSSU pair at Prabowo's residence in Jakarta later in the evening.
"Unless God decides otherwise," Hashim said while visiting City Hall on Thursday.
Jakarta Legislative Council deputy speaker Mohamad Taufik, a Gerindra member, said Sandiaga could be the frontrunner.
"The vice presidential candidate may likely be determined this afternoon. One of the potential candidates is Sandiaga," he said, adding that should the slot be given to Sandiaga, he would resign from his position on Friday morning.
However, the party, Taufik said, was still also considering other candidates such as the Democratic Party's Agus Harimurti Yudhoyono and Salim Segaf al-Jufri, an executive of Gerindra's closest ally the Prosperous Justice Party (PKS).
Sandiaga's name emerged amid collapsing coalition negotiations between Gerindra and the Democrats who had proposed Agus, the eldest son of Democrats chairman and former president Susilo Bambang Yudhoyono, as Prabowo's vice president.
Prabowo paid a visit to Yudhoyono at his residence on Thursday morning, only hours after Democrat executive Andi Arief derided Prabowo as a cardboard general in a series of angry tweets,
Andi accused Prabowo of picking Sandiaga because he could pay off the other two parties in Prabowo's coalition, the PKS and the National Mandate Party (PAN).
Gerindra, the PKS and PAN have denied the accusation.
Prabowo emerged from the closed-door meeting after about 45 minutes and remained silent in the face of reporters' questions.
Gerindra's deputy chairman, Fadli Zon, who accompanied Prabowo to the meeting, would only say that they were heading back to Prabowo's house.
Democrat executives have been flocking to Yudhoyono's house, with senior politician Amir Syamsuddin saying that they had been summoned for an emergency meeting.
Democrat deputy chairman Syarief Hasan said the internal party meeting would be about consolidating the Dems position.
When asked if the Gerindra-Democratic coalition was still on, Syarief said: "We will see."
Sandiaga, however, denied his candidacy, saying that he, so far, was still focusing on his job as Jakarta deputy governor. (ipa)
Join the discussions