Sandiaga tight-lipped amid rumors as Prabowo's VP
News Desk

The Jakarta Post
Jakarta |

Thu, August 9, 2018

| 11:39 am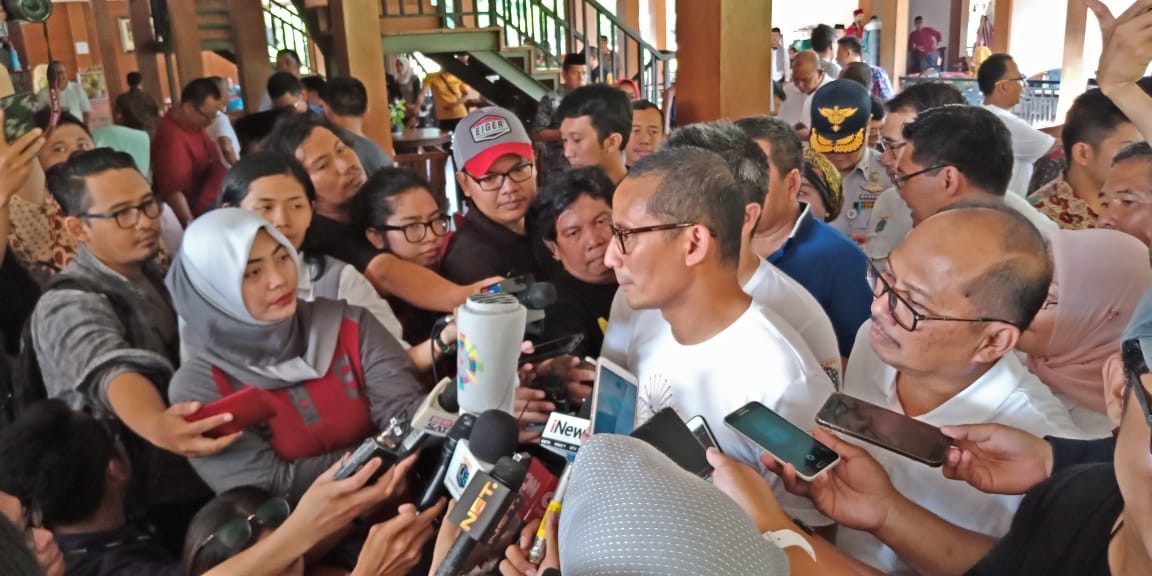 Jakarta Deputy Governor Sandiaga Uno (second right, in white T-shirt) speaks to journalists on June 23 following the launch of the 2018 Asian Games Torch Festival in Setu Babakan, South Jakarta. (The Jakarta Post/Ana Cecilia Regalado)
Jakarta Deputy Governor Sandiaga Uno has remained tight-lipped on politics and the 2019 presidential election amid rumors that he will be Gerindra Party leader Prabowo Subianto's running mate.
On Tuesday, Sandiaga declined to answer journalists' questions on his potential candidacy.
On Wednesday, Sandiaga responded that he preferred to talk about his entrepreneurship program, OK OCE, when asked about the election.
When asked about his meeting with the Prosperous Justice Party (PKS), he proceed to speak at length about a special team that was being formed to manage public events at National Monument (Monas) Park in Central Jakarta.
Sandiaga had stated earlier that he would not talk about politics following the issuance of a General Elections Commission (KPU) regulation that prohibited regional leaders from heading either legislative or presidential campaign teams.
"I am a regional head. Therefore, I can't be appointed as a head, member or spokesman of a campaign team. The regulation must ensure the independence of regional heads," Sandiaga said, as quoted by kompas.com on Thursday.
He added that he would make no more statements on politics following the KPU regulation.
Separately on Wednesday evening, Democratic Party politician Andi Arief posted a series of tweets lashing out at Prabowo, calling him a "cardboard general". Andi alleged that Prabowo had chosen Sandiaga as his running mate because Sandiaga had the money to buy the support of the other two parties in his coalition, the National Mandate Party (PAN) and the PKS.
Earlier, Gerindra has entered into discussions with the Democratic Party, which had proposed Agus Harimurti Yudhoyono, the eldest son of Democrats chairman and former president Susilo Bambang Yudhoyono, as Prabowo's vice president. (cal)
Join the discussions