Fire razes Gurusina traditional village in East Nusa Tenggara
Markus Makur

The Jakarta Post
Bajawa, East Nusa Tenggara |

Tue, August 14, 2018

| 12:22 pm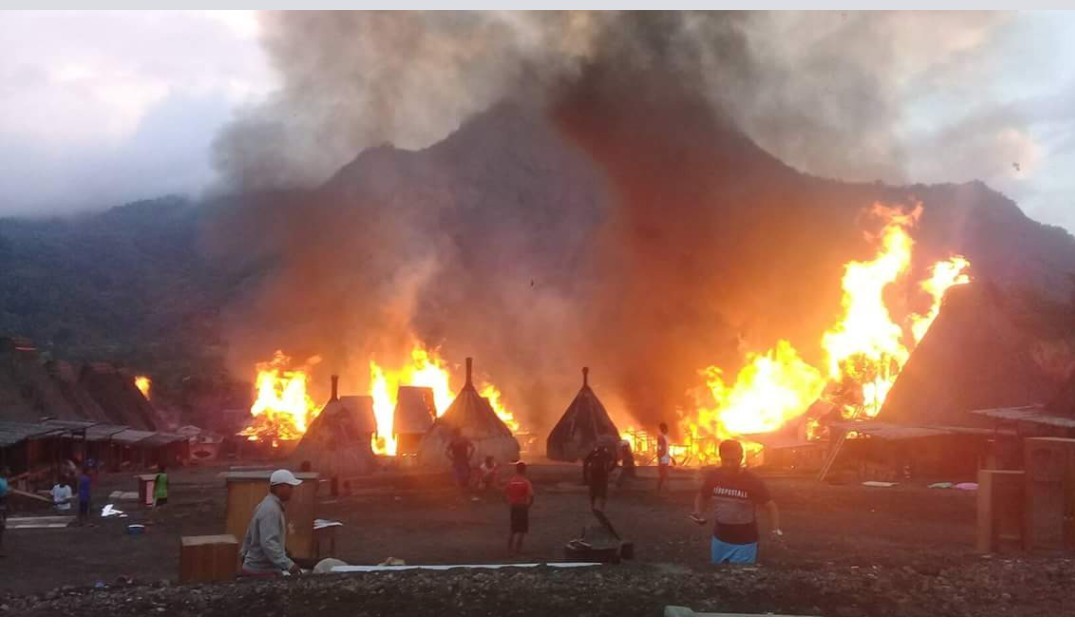 A fire razes Gurusina village in Ngada, East Nusa Tenggara, on Aug. 13. (Courtesy of Gurusina residents/-)
A fire engulfed traditional houses and ritual sites in Gurusina traditional village—a popular tourist attraction—in Ngada regency, Flores, East Nusa Tenggara, on Monday.
Ngada Police chief Adj. Sr. Comr. Firman Affandy told The Jakarta Post that the fire razed 27 traditional houses in the village known for its rich cultural heritage. It also burned six shrines that functioned as a place to give offerings to ancestors during rituals.
No fatalities were reported in the fire. However, it was estimated to cost hundreds of millions of rupiah in damages as it burned traditional jewelry and woven fabric.
According to Pius Daku, 65, who witnessed the fire, the blaze allegedly started from Gode Fridus Neno's house and was caused by an electrical short circuit.
Local residents, Ngada Police and the local disaster mitigation agency (BPBD) tried to put out the fire as it spread quickly to nearby buildings.
The village is nestled between mountainous ravines and forest by a narrow winding road 21 kilometers away from the city of Bajawa in Ngada regency.
Buildings in the village reflect traditional beliefs, decorated with images of buffalo, chickens, horses, humans, weaponry and other forms with the purpose of protecting the inhabitants of the villages and ensuring their sustainable harmony with ancestral spirits and the environment. (ris/ahw)
Join the discussions