Chinese investors can help cut trade deficit, Mahathir says
Beijing, China |

Sun, August 19, 2018

| 08:55 pm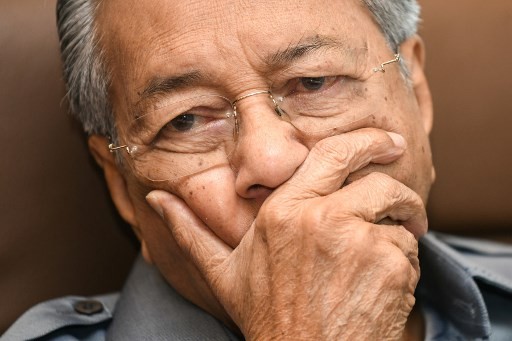 This file photo taken on April 13, 2018 shows former Malaysia's prime minister Mahathir Mohamad listening to questions during an interview with Agence France-Presse (AFP) at his office in Kuala Lumpur. Malaysia's opposition, led by Mahathir, hopes a surge of Muslim support in the multi-ethnic country can carry them to an unlikely victory in the general election on May 9, 2018, as disillusioned members of the country's biggest ethnic group dump the ruling coalition. (AFP/Mohd Rasfan)
Chinese investors can help reduce the country's trade deficit with Malaysia, the Southeast Asian nation's prime minister said in Beijing on Sunday at an event alongside Alibaba Chairman Jack Ma.
During a question and answer session with Chinese executives who expressed concerns about investing in Malaysia given its recent change in power, Prime Minister Mahathir Mohamad insisted it still welcomed companies willing to do deals that help employ the country's workers and improve its efficiency without harming local manufacturers in industries like steel production.
Malaysia wants to learn from Chinese manufacturers, Prime Minister Mahathir said, as he encouraged Chinese businesses to invest in his country.
He welcomed investment in the paper industry, citing rising opposition to the use of plastics. Mahathir recently revived the Look East Policy from the 1980s, which sought to take Japan's industrialization as a road map for the country's development.
Mahathir said Malaysia borrowed money from China it could not repay and used it on unnecessary infrastructure.
He has suspended billion-dollar infrastructure projects backed by Chinese state companies, and sought to renegotiate terms of the contracts if he can't cancel them entirely for being too costly.
Following this, Ma was asked a question about Chinese counterfeiting by a Malaysian businesswoman who said her products had been affected.
He responded by calling for "harsh and firm" measures to protect intellectual property by China's government and companies, saying that Chinese innovation will never appear without this.
Join the discussions