Asian Games: 16-year-old Indian shooting sensation claims gold on debut
News Desk

The Statesman/ANN
Palembang, South Sumatra |

Tue, August 21, 2018

| 06:32 pm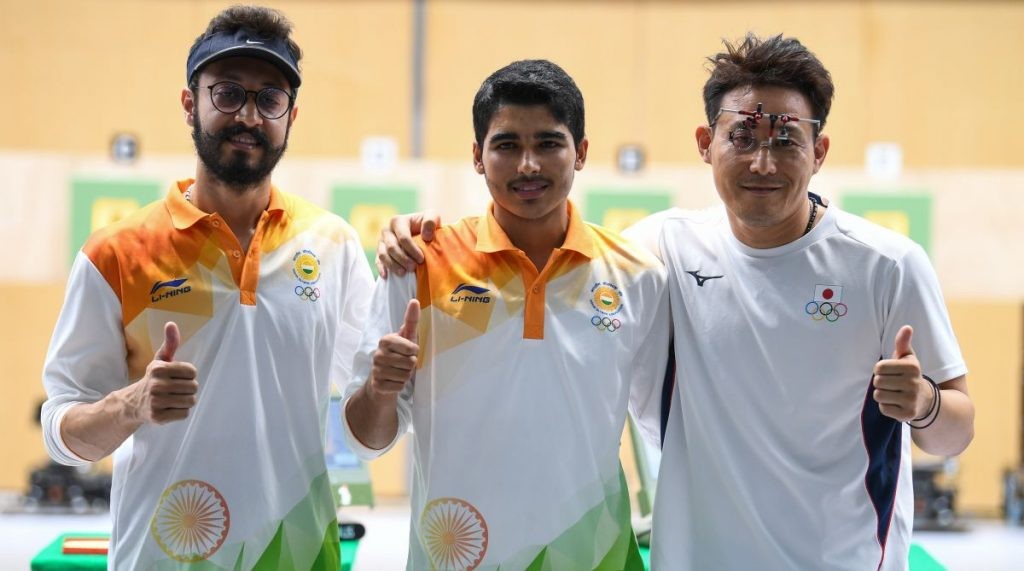 Saurabh Chaudhary flanked by silver medallist Tomoyuki Matsuda of Japan and India's Abhishek Verma, who won the bronze, at the 2018 Asian Games in Palembang on Aug. 21, 2018. (AFP/File photo)
Debutant Saurabh Chaudhary clinched India's first shooting gold at the 18th Asian Games, fetching the top honors in the men's 10m air pistol event at Jakabaring Sports City, Palembang, South Sumatra, on Tuesday.
Sixteen-year-old Chaudhary topped the qualifying round shooting a Games record score of 240.7 to pip Japan's Tomoyuki Matsuda (239.7) in an exciting final.
Hobby shooter Abhishek Verma, 29, who is also making his Asian Games debut, settled for the bronze in the same event with a score of 219.3.
India's tally at this Asiad now stands at three golds, three silvers and two bronze medals.
In second position for most of the final, Chaudhary grabbed the lead after Matsuda fired 8.9 in his penultimate shot. The Indian went ahead with a 10.2 off his second-last shot and held the nerve to stay ahead.
Back home, Uttar Pradesh Chief Minister Yogi Adityanath announced a cash reward of 5 million rupees (US$71,582.50) for Meerut lad Saurabh Chaudhary.
Adityanath congratulated Chaudhary for bringing laurels to Uttar Pradesh. An official spokesman said the CM also declared that Chaudhary would be given the post of a gazetted officer in the state government.
Congratulations poured in for Saurabh Chaudhary on Twitter also for his Asiad feat of winning gold on debut.
Tomoyuki Matsuda of Japan secured the silver with 239.7. He and Saurabh pulled away for the gold medal battle with points of 220.1 and 220.5 respectively as Abhishek was eliminated with 219.3 points after eight series.
Matsuda, 42, was leading the charge going into the ninth and final series having led after each of the series. But in the final series, he came up with first shot score of 8.9 to blow his chances as Saurabh overtook him with a 10.2 in his first shot of the series.
In the second shot of the series, Matsuda scored 10.3 but Saurabh did well with 10.4 to seal the title.
At the beginning, Saurabh, who topped the qualifications after a score of 586, began his finals with a 50.6 in the opening five-shot series. In the second five-shot series, he scored 50.8 to take his total to 101.4, while Matsuda had 103.3 in total at this point of time.
In the third series, a two-shot round, Saurabh scored 18.6. He then produced scores of 19.4, 20.0, 20.6, 20.2 to have a total of 200.2 at the end of seven series when Matsuda and Saurabh totalled 201.3 and 199.7 respectively as the top three places were determined.
In the eighth series, Saurabh, Matsuda and Abhishek got scores of 19.9, 19.2 and 19.6 as the latter was eliminated.
The drama unfolded in the final series, with Matsuda coming up with his worst shot of the entire final round to give the advantage to Saurabh, who grabbed the opportunity with both hands.
Topics :
Join the discussions