Asian Games: Vietnamese boxers ready to fight
News Desk

Vietnam News/ANN
Hanoi |

Fri, August 24, 2018

| 01:02 pm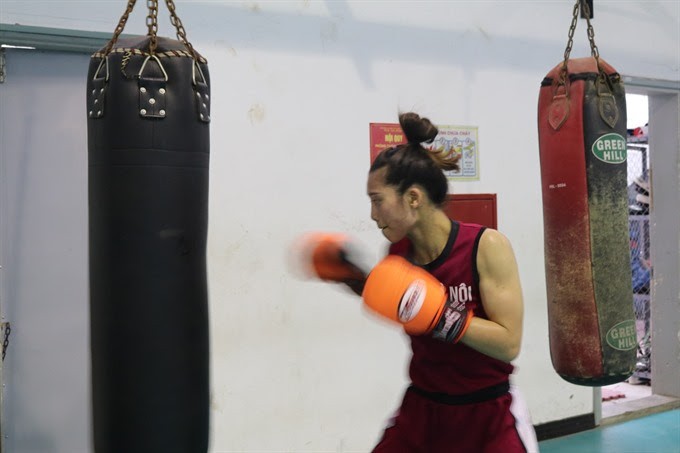 Vietnamese female boxers are ready to fight at the Asian Games. (Vietnam News/File photo)
Vietnamese boxers are ready to fight in the Asian Games in Indonesia on Friday.
The team includes three male boxers, namely Nguyễn Văn Chung, Trần Đức Thọ, Trần Văn Thảo, and three females Lừu Thị Duyên, Nguyễn Thị Tâm and Vương Thị Vỹ.
Among them, Thảo and Tâm are Vietnam's golden hopes. Thảo won the WBC Asia Super Flyweight title last November, while Tâm recently made Vietnamese history as the first Vietnamese female boxer to win an Asian title.
During Thảo's career, he has won all 10 of his fights, with seven coming from knock-outs in the men's 52kg category.
"I and my team have had intensive training in Thailand and now we are ready to fight in Indonesia. For me, every rival is strong so I will try to beat each rival to reach the final," Thảo added.
Vietnamese boxers took part in the Games for the first time in 1990. At the 2014 Asiad in South Korea, Vietnamese boxers only brought home bronze medals thanks to female boxers Lê Thị Bằng in the under 50kg and Lừu Thị Duyên in 60kg category.
"I often train and play with all my heart. I only want to touch the ASIAD gold medal. I will try my best for my country and Việt Nam's boxing," said Thảo.
Meanwhile, Asian champion Tâm said she will also make every effort to win.
"I am very comfortable now. My coaches, especially Nguyễn Như Cường, created a plan for me to train and rest reasonably to ensure I'm in the best physical condition to compete in Indonesia," said Tâm.
"We have talented boxers who will compete to bring glory to the nation. However, the Việt Nam Boxing Federation (VBF) hasn't set any targets to avoid causing pressure for them. But I believe the ASIAD this year is a great chance for them to prove their position in the region," said Trần Minh Tiến, chairman of VBF.
Before heading to Indonesia, the VBF also announced that every gold medal winner will receive VNĐ100 million (US$4,350), while silver and bronze medal winners will get VNĐ60 million ($2,600) and VNĐ40 million ($1,700), respectively.
Besides Tâm and Thảo, both Duyên and Vỹ have experience in international events and won silvers at the Asian championship last year, while Chung and Thọ are elite boxers of HCM City.
Topics :
This article appeared on the Viet Nam News newspaper website, which is a member of Asia News Network and a media partner of The Jakarta Post
Join the discussions