Asian Games: Parents behind Indonesian athletes' medal success
Apriadi Gunawan

The Jakarta Post
Palembang |

Fri, August 31, 2018

| 10:44 am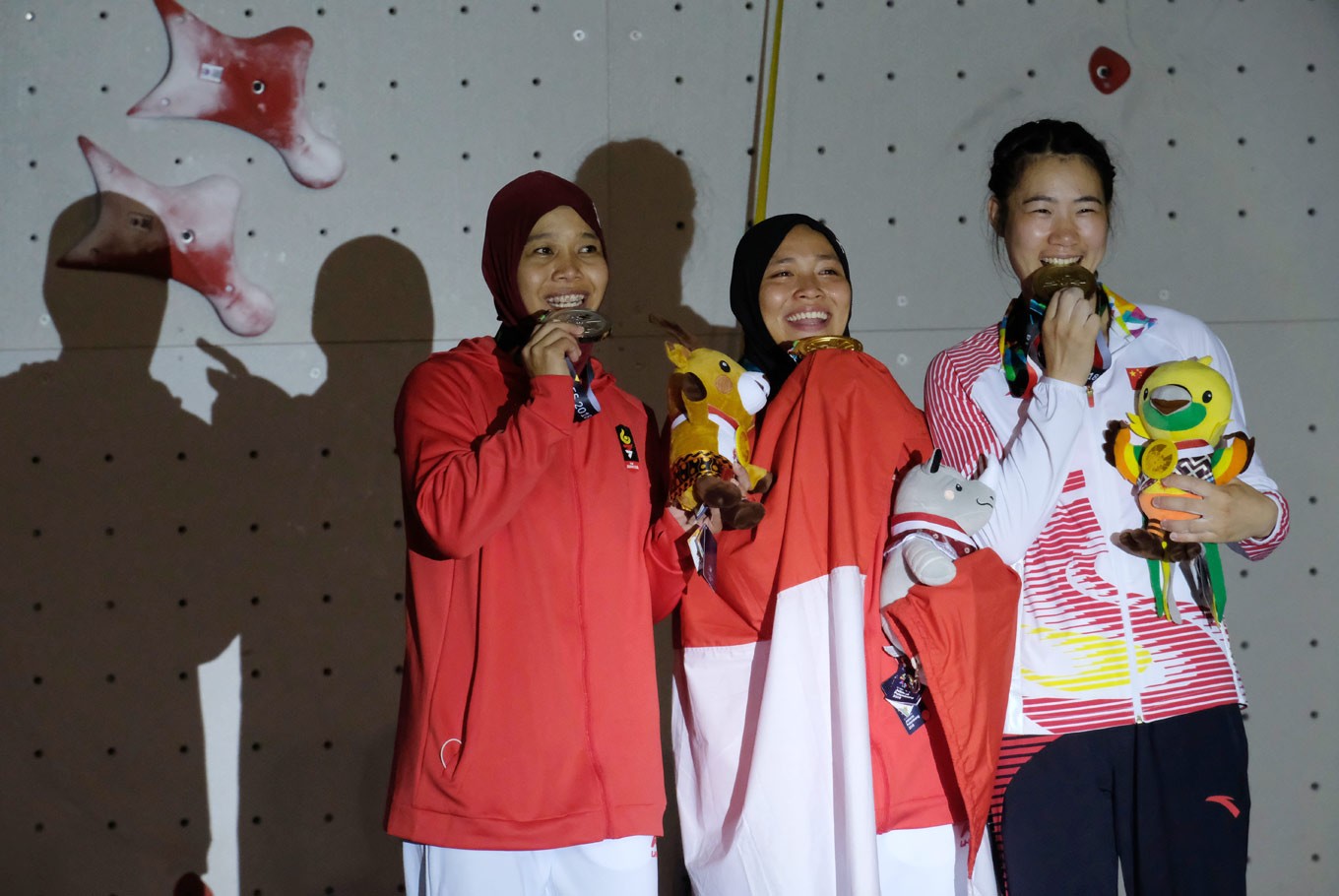 Silver medalist Puji Lestari (left), posing with gold medalist Aries Susanti Rahayu and bronze medalist He Cuilian from China. (JP/Jerry Adiguna)
Padang State University lecturer Damrah came all the way from Padang, West Sumatra, to Palembang, South Sumatra, to support his daughter, Dwi "Ayang" Rahayu Pitri, who competed in soft tennis at the Asian Games.

Damrah acknowledged that he had always sent his prayers to his daughter, wishing her every success.

"I always prayed that she would find her way to success this time, winning the competition," he told The Jakarta Post on Thursday.

Damrah said he had been satisfied with Ayang's results in the qualifying rounds. But there was a time when he was deeply worried that she would not defeat Srirunreang Dares of Thailand in the quarterfinals.

Before the match, he added, he told Ayang to remain calm and focused. In the end, she secured a semifinal spot by beating Dares 4-3.

"That was her critical moment. She faced a tough opponent."

Ayang's run ended when she bowed out 2-4 to Cheng Chuling of Chinese Taipei in the semifinals. However, she earned a bronze medal while Cheng Chuling, who lost 3-4 to Japan's Takahashi Noa in the final, claimed silver.

Commenting on his daughter's bronze medal, Damrah said he was happy for her. "This is her first Asian Games medal."

Damrah added that he had been at his daughter side when she won the Soft Tennis championship in Germany this year.

He said the medal was the fruit of her years of training and dedication to the sport.

Damrah revealed that Ayang was a former tennis player, adding that she turned to soft tennis after she failed to make the national squad in 2009.

When asked where Ayang got her talent from, he said the family had always been fond of sport, especially tennis. He added that he and his wife, Pitnawati who also lectures at the same university, also played tennis.

"I introduced the sport to Ayang when she was 6 years old," said Damrah who is the West Sumatra Soft Tennis Association's chief.

Another proud father is Marimin.

His daughter, climber Puji Lestari, won a gold medal in the women's speed relay and silver in the speed climbing events at this year's Games.

Marimin said his daughter's passion for climbing came from him.

"My daughter always paid attention whenever I climbed a coconut tree," he recalled, half-smiling.

Marimin said Puji started climbing when she entered senior high school.

He added that he did not object to his daughter's passion for climbing even though, for some, it was still considered a dangerous sport for women.

Marimin said he always made time to support his daughter whenever she competed.

This time, he came to Palembang from Java with wife, Nuryati, and some family members to support Puji.
Join the discussions