Lula banned from Brazil presidential race
Simone Iglesias and Vinícius Andrade

Bloomberg
Sao Paulo, Brazil |

Sun, September 2, 2018

| 08:15 pm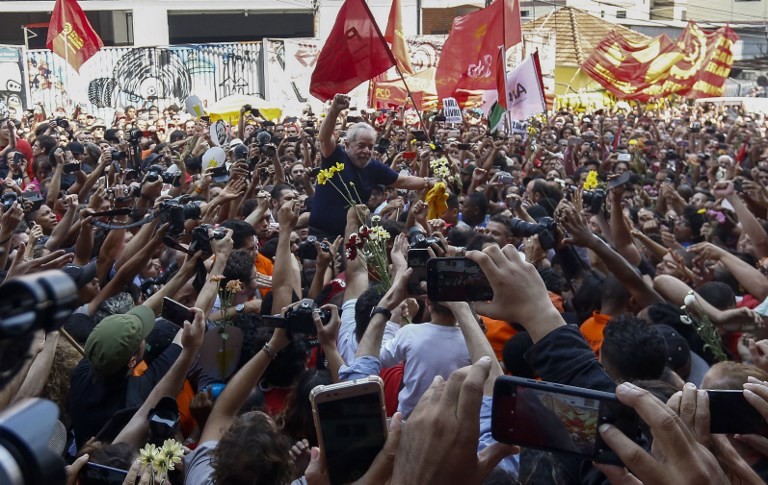 Brazilian ex-president (2003-2011) Luiz Inacio Lula da Silva raises his fist after attending a Catholic Mass in memory of his late wife Marisa Leticia, at the metalworkers' union building in Sao Bernardo do Campo, in metropolitan Sao Paulo, Brazil, on April 7, 2018. (Agence France-Presse/Miguel Schinchariol)
Brazil's imprisoned Luiz Inacio Lula da Silva has been banned from running for president in October after months of commotion that had tainted what is already the most unpredictable election in decades.
In a 6-1 ruling, the country's top electoral court decided that Lula's candidacy cannot stand, given his 12-year sentence for corruption and money-laundering by an appeals court earlier this year. Brazil's currency and equity markets gained in anticipation of the decision as investors wary of a possible Lula comeback gained hope.
In a note published after the ruling, the Workers' Party said it would appeal."I declare the candidate ineligible and I deny his application to run for the presidency," said Luis Roberto Barroso, the lead judge reading out a summary of the ruling at the court. "I veto electoral propaganda until the candidate's name is replaced on the ballot."
Since his indictment over two years ago, the still popular Lula has denounced a conspiracy to prevent his return to power, with his supporters blasting the message on streets, to courts and in media at home and abroad.
Now, barring an extraordinary upset through appeal, it looks all but certain that the iconic former metalworker won't run on Oct. 7 and will be replaced by his running mate, former Sao Paulo mayor Fernando Haddad.
In a press conference in Pernambuco state on Saturday, Haddad said the next steps will depend on a meeting with Lula on Monday. "We'll study the legal possibilities over the weekend and show them to the president, discussing collectively what to do," Haddad said.
"We'll make a decision on Monday," he said. The question now is how much of his huge support Lula can transfer to Haddad from his prison cell. Opinion polls suggest it could be enough to push his protege, a 55 year-old academic, into a runoff with the front-runner, former Army Captain Jair Bolsonaro.
Even if the Workers' Party -- known as PT -- chooses Haddad to replace Lula in the race, it can continue to appeal the electoral court's decision, XP Investimentos' political analyst Richard Back said in an interview.
"The PT's next move is a great unknown," he said. Campaign ads that circulated on social media in recent days showed images of Lula before he was jailed, and of Haddad, both promising better days for Brazil.
Free radio and TV air time allotted to presidential candidates begins on Saturday. A few hours after the electoral court's ruling, which prohibited the Workers' Party from making "acts of campaign" for Lula's candidacy, there were radio ads mentioning the jailed leader as PT's pick for the presidential election, local media reported.
Yet investors are concerned about the possible return of the same left wing party that oversaw the worst recession on record, and whose president Dilma Rousseff was impeached in 2016.
Join the discussions