Police nab youngsters carrying machetes in Depok
News Desk

The Jakarta Post
Jakarta |

Mon, September 3, 2018

| 03:28 pm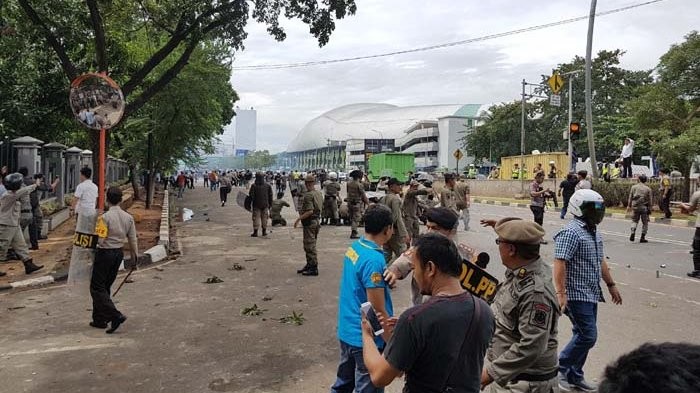 Police disperse a crowd during a brawl in front of the office of the Bekasi administration in West Java on Jan. 25. (Warta Kota/Fitriyandi Al Fajri)
The police arrested several youngsters suspected of wanting to start a brawl in front of SMA 6 state senior high school on Jl. Raya Meruyung, Limo, Depok, West Java, on Sunday night and confiscated traditional machetes they were carrying.
"Initially, we received information from local residents at 3 a.m. about a group of youngsters loitering on the side of the road, looking like they wanted to start a brawl," Limo Police chief Comr. Muhamad Iskandar said on Monday, kompas.com reported.
He said the patrolling police officers approached the youngsters, some of whom then fled the scene.
"There were more than a hundred youngsters loitering. After we walked over to them, they ran away, so we could only bring 13 of them to the police headquarters for questioning," Iskandar said.
He said most of the youngsters were senior high school students.
The police confiscated six machetes from the 13 detained youngsters, he added.
"We found six [machetes], but when we questioned the 13 students, none of them admitted that the [machetes] were theirs," he said.
He said police had asked the students to write statements not to become involved in any brawls, supervised by their schoolteachers and parents.
"We made them write a statement to not become involved in any brawl; if we find that they are in a brawl, we will have to arrest them," he said. (ami)
Join the discussions