Israel court okays demolition of West Bank village
Jerusalem |

Wed, September 5, 2018

| 07:45 pm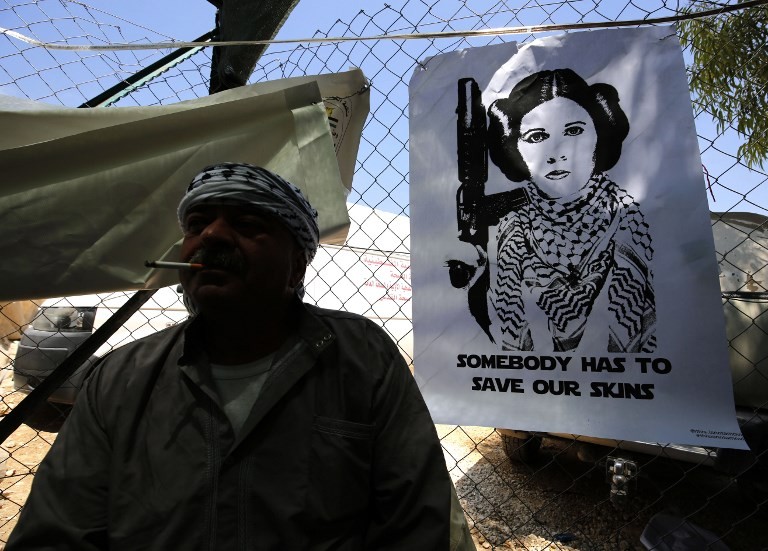 A Palestinian man smokes by a poster during a protest on August 1, 2018 in support of the inhabitants of the Bedouin village that the Israeli authorities plan to demolish in the occupied West Bank. Israel says the Bedouin village, located in a strategic spot east of Jerusalem near Israeli settlements and on the road to the Dead Sea, was constructed illegally and is seeking to move its 191 residents elsewhere. On May 24, the Jewish state's supreme court allowed authorities to go ahead with demolition of the small hillside village that sits between a highway, the desert and two Israeli settlements. (Agence France Presse/Abbas Momani)
Israel's top court on Wednesday upheld an order to raze a Palestinian Bedouin village in the occupied West Bank, after debating petitions challenging the decision.
There has been strong international pressure on Israel to reverse its plans to raze Khan al-Ahmar, which the Israeli authorities say was built illegally.
"We reject the petitions" against the directive to demolish Khan al-Ahmar, the supreme court panel said in its ruling, adding that a temporary order preventing the razing of the village during court hearings "will be cancelled within seven days from today."
It will now be down to the authorities to decide when to carry out the demolition after the restriction order ends.
The present village consists mainly of makeshift structures of tin and wood, as is generally the case with Bedouin sites.
In May, the Supreme Court rejected a final appeal against its demolition after nine years of hearings before various tribunals.
The court said Khan al-Ahmar residents had rejected proposals by the state regarding the site of their relocation, and expressed hope "the dialogue" would continue.
Activists say the villagers had little alternative but to build without Israeli construction permits that are almost never issued to Palestinians in the large parts of the West Bank where Israel has full control over civil affairs.
Tawfiq Jabareen, one of the lawyers representing Khan al-Ahmar residents in the petitions, said the court "was following Israel's rightwing government" in its ruling, which he said was "legally wrong".
"It is not based on legal arguments and contradicts past supreme court rulings," he told AFP. "This is unfortunately what the government wants, and the court doesn't want to intervene."
Jabareen said there were currently no understandings between the state and residents on a voluntary relocation.
"I've never seen someone who's being expelled and whose house is being destroyed sitting idly by," he said.
Defence Minister Avigdor Lieberman, who oversees the occupation of the West Bank, praised the judges for their decision in the face of "the coordinated attack of hypocrisy by (Palestinian president Mahmud Abbas), the left and European states."
"Nobody is above the law, nobody will keep us from acting on our sovereignty and responsibility as a state," he said.
Topics :
Join the discussions