Five ways Jakartans share space with deceased
News Desk

The Jakarta Post
Jakarta |

Fri, September 14, 2018

| 07:27 am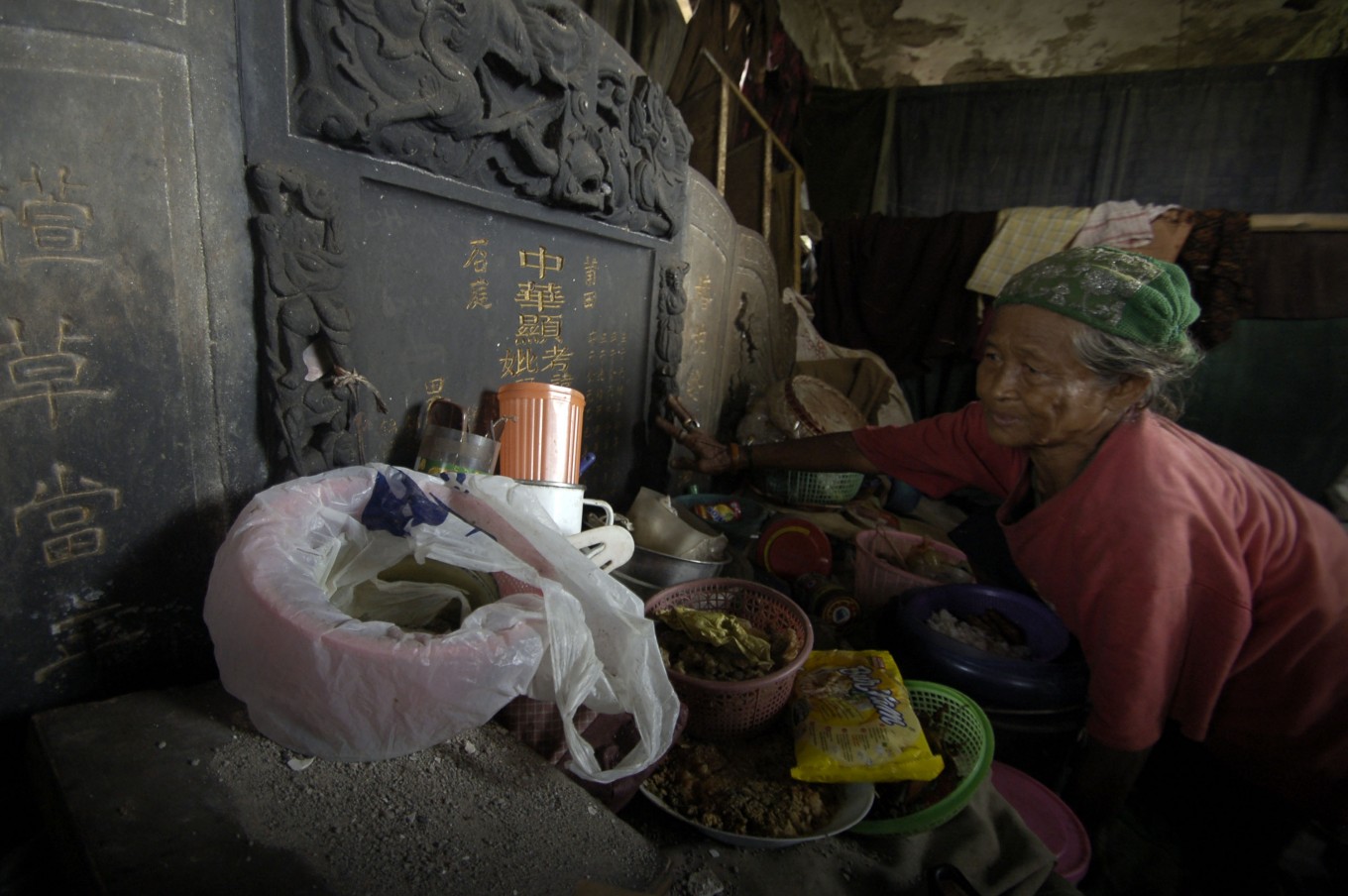 Mak Iyah tidies up her belongings in a Chinese cemetery in Cipinang Besar Selatan in East Jakarta. She lived in the cemetery in 2004 along with hundreds of others. In 2011, the East Jakarta administration demolished shacks in several cemeteries. (Antara/-)
Jakarta's rapid development has been land hungry and some people find it hard to get some space, and that is why they use public cemeteries for other purposes. The latest news about how the living "borrowed" space from the dead was when a family held a party to celebrate their boy's circumcision at a graveyard.
Here are some ways Jakartans repurpose cemeteries:
Public backyard
Jakarta does not have enough public spaces so locals turned public cemetery Grogol Kemanggisan into a park. In the mornings, children come and play at the cemetery. At night, the cemetery is filled with young people, hanging out with their friends, often until after midnight. On Saturday nights, the graveyard is lit up by lamps.
On special days, people come to the graveyard to celebrate. On Independence Day, locals staged games and a dancing competition. On the afternoon of Idul Adha, locals had a barbeque where they grilled beef and mutton at the cemetery, which is the only open space in the crowded area.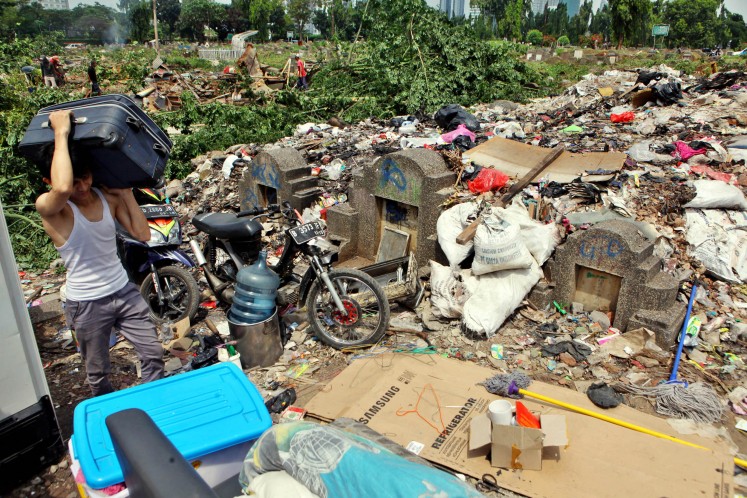 A resident of Menteng Pulo Cemetery collects his belonging after he was evicted in April 2016. Over 250 illegal buildings, which were built on graves, were demolished. (The Jakarta Post/Seto Wardhana)
Vehicle parking
Graveyards are also drawing motorcycles and cars. For example, Grogol Kemanggisan Cemetery, situated at the back of locals' houses, has become a parking lot for vehicles. Locals park their cars and motorcycles among the headstones as they find it easier to afford a motorcycle than buying a house with a garage.
The cemetery management does not allow vehicles to be parked in the area but locals can get around that rule.
Housing
Public cemeteries are also home for the living. Graveyards that have a section for Confucian believers are popular because the tombs are large and some have a type of roof. But desperate Jakartans, who find that renting is too costly, build shacks on the tombs. The Jakarta administration has regularly evicted cemetery squatters, but after they always seem to return.
In December 2011, the East Jakarta administration evicted hundreds who lived in shacks in the Cipinang Besar, Rawabunga and Pondok Kelapa cemeteries. In April 2016, the administration evicted several families who lived in the Menteng Pulo Cemetery in South Jakarta.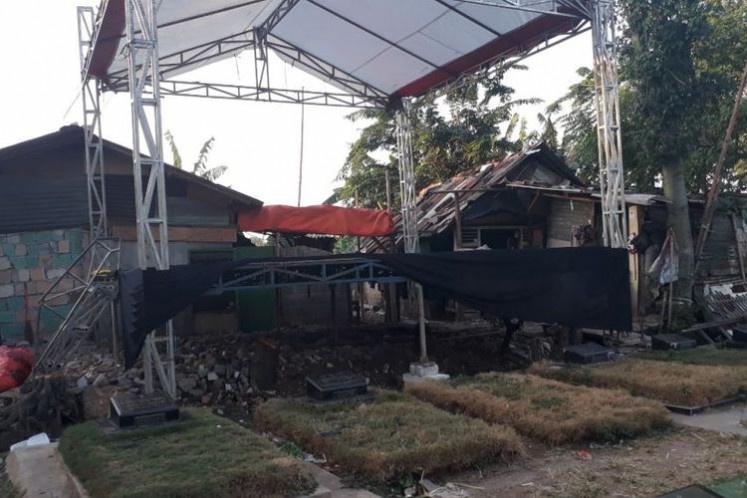 The photo shows the stage used for a circumcision celebration party that was erected near the Pondok Kelapa Public Cemetery in East Jakarta. (Kompas.com/Dean Pahrevi)
Dangdut time
Public cemeteries also serve as party venues with live music. A dangdut concert was held on a stage next to the Pondok Kelapa public cemetery in East Jakarta. The party, featuring Bofita Entertainment, was to celebrate the circumcision ritual of a boy who lived nearby. The concert ended at midnight, according to band member Boih.
The video of the dangdut party went viral on social media after it was posted on Twitter by a user identified as Yuwandi on Sept. 9. It has been retweeted more than 6,000 times.
Kondangan di tengah jalan ✔️
Kondangan di rel kereta ✔️
Kondangan di kuburan ❓ pic.twitter.com/yQOL0us0fc
— yͮuͣwͩaͥndi (@juriglagu) September 9, 2018
The city administration has asserted that parties without permits were not allowed in public cemeteries. The Jakarta administration's Forestry, Parks and Cemeteries Agency has urged the public to use other open spaces instead, such as integrated child-friendly public spaces (RPTRA).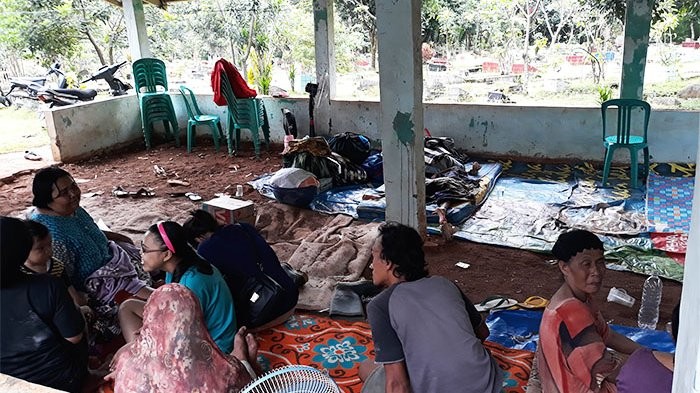 Residents of Pejaten Timur in South Jakarta take shelter to a nearby cemetery after their houses were flooded in February this year. (Tribunjakarta.com/Satrio Sarwo Trengginas)
Shelter from the flood
Several cemeteries have become shelters for residents whose houses were flooded. In February, several residents in Pejaten Timur, South Jakarta, took shelter at the nearby cemetery when a flood inundated their house. The cemetery is situated on higher ground making it flood-free. In March 2017, Kampung Arus residents in Cawang, East Jakarta, also took shelter in a nearby cemetery because of flooding.
Join the discussions