Bantar Gebang residents ask for increase in 'smelly money'
News Desk

The Jakarta Post
Jakarta |

Thu, October 25, 2018

| 09:02 am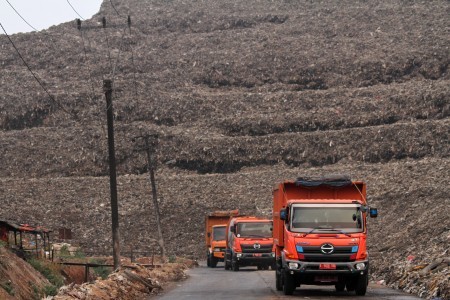 Garbage trucks pass through the Bantar Gebang landfill in Bekasi, West Java, carrying waste from Jakarta on Oct. 19. (Antara/Risky Andrianto)
The Bekasi and Jakarta administrations have been urged to reevaluate a cooperation deal on the Bantar Gebang landfill in Bekasi, with local residents in the area asking for an increase in their uang bau (smelly money) compensation.
"The [compensation increase] is a part of an evaluation that is needed because they [Jakarta] used Bekasi [to dump their trash] and the effects are felt by Bekasi residents, especially those in Bantar Gebang," Bekasi City Council member Ariyanto Hendrata said on Tuesday, kompas.com reported.
He said the deal had not been evaluated since 2016. "I pity the residents there [in Bantar Gebang] because Jakarta is not committed to reducing the amount of trash it sends [to the landfill]. This is about the health of the locals and it is only valued at Rp 200,000 [US$13] per month [per family]," Ariyanto said.
Residents living in the vicinity of the landfill are given a regular compensation fee of Rp 600,000 per three months because of the severe odor of the landfill.
Bekasi Mayor Rahmat Effendi said he would keep the residents wants in mind when discussing the issue with the Jakarta administration on Thursday.
"We would welcome it if Jakarta handles all the problems that are there [in Bantar Gebang], such as educational facilities and the environment," Rahmat said.
Supriadi, a Bantar Gebang resident, said he wished the amount in compensation was greater.
"We are very affected here with the odor, the dust and the noises. It's also high risk for the children because of a lot of trucks [pass by]," Supriadi said. (ami)
Join the discussions