Wisconsin governor, bane of labor, loses re-election
News Desk

Agence France-Presse
Chicago, United States |

Wed, November 7, 2018

| 04:40 pm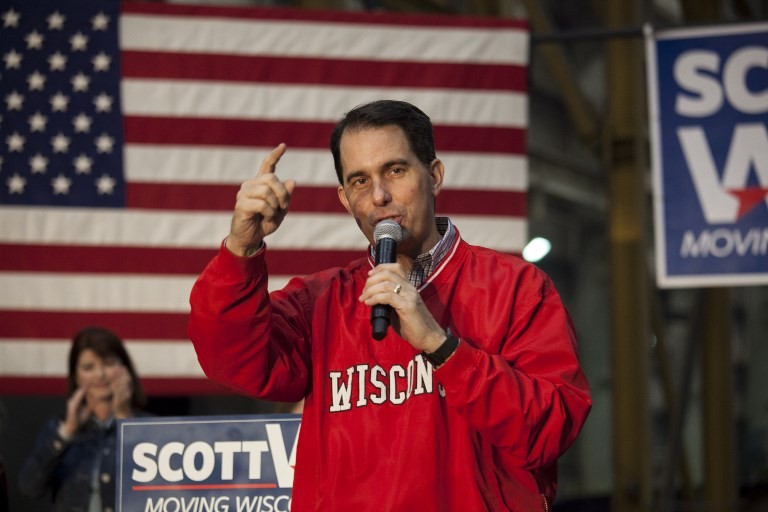 Governor Scott Walker (WI-R) speaks to supporters at a last minute get out the vote rally the night before the midterm elections at the Weldall Mfg., Inc. on November 5, 2018 in Waukesha, Wisconsin. Incumbent Republican Governor Scott Walker is being challenged for the seat by Democrat Tony Evers in Tuesday's midterm elections. Darren Hauck/Getty Images/AFP Darren Hauck / GETTY IMAGES NORTH AMERICA / AFP (AFP/-)
Wisconsin Governor Scott Walker, whose take-no-prisoners assault on organized labor once propelled him to be a leading Republican presidential hopeful, was projected Tuesday to lose his bid for a third term.
Democrat Tony Evers, the mild-mannered superintendent of schools in the Midwestern state, enjoyed a narrow lead and was projected by major media outlets as the winner on a night of midterm elections.
Walker, however, did not concede, with his campaign saying it wanted to verify a count of ballots by soldiers overseas.
Walker made his name after his 2010 election by taking aim at unions in Wisconsin, once the cradle of the US labor movement, in a political feud that led Democratic lawmakers temporarily to flee the state in a legislative move to stop the governor.
Defying protests, Walker slashed most public sector unions' right to collective bargaining and later banned mandatory union membership, decimating Wisconsin's ranks of organized labor.
Evers campaigned on promises to bring widespread health care coverage, following Walker's opposition to former president Barack Obama's reforms, and to shift to a more civil tone.
"I will be focused on solving problems, not picking political fights," Evers, 67, told a victory rally in the state capital Madison.
Evers has pledged to scrutinize a deal championed by Walker for Foxconn, the Taiwanese company known for assembling iPhones, to build a plant in Wisconsin.
The state provided some $4 billion in tax breaks, leading to criticism that the job benefits do not warrant the public cost.
Walker was briefly considered a frontrunner for the Republican presidential nomination but faced heated attacks by eventual winner Donald Trump and dropped out early.
Topics :
Join the discussions