Seashells make up 'land' for city kampung in North Jakarta
Vela Andapita

The Jakarta Post
Jakarta |

Mon, December 3, 2018

| 09:28 am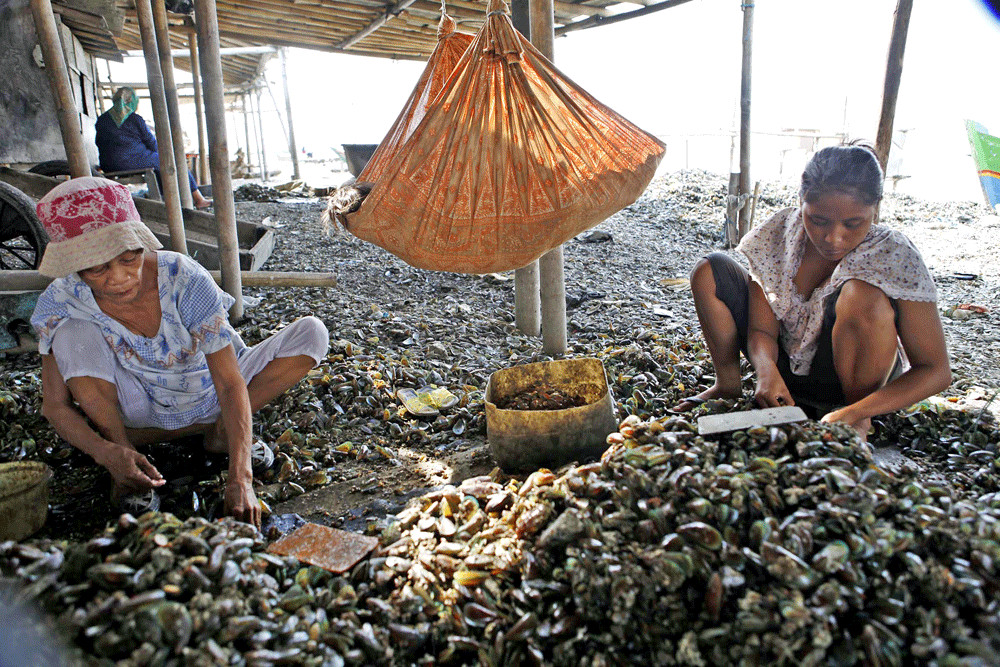 Land of shells: Women shuck green mussels in Kampung Kerang Hijau in Muara Angke, North Jakarta, recently. Living up to its name, the kampung stands upon massive piles of green mussel shells discarded by dozens of businesses in the area for years. (The Jakarta Post/Wendra Ajistyatama )
It was 3 p.m. on Saturday when Beti, Umi Kulsum and five other women were busy shelling green mussels in front of a house facing North Jakarta Bay in Kampung Kerang Ijo (Green Mussel Village) in Pluit subdistrict in Penjaringan, North Jakarta.

The fetidness of large, old shells mixed with the smell of the ocean did not seem to bother them, as they talked non-stop and threw jokes at each other while skillfully shucking mussels before throwing them into a plastic container and discarding the shells onto a pile beside the container. They had been working since 9 a.m. and would finish at 5 p.m.

"Here is your payment for today," the owner of the house and green mussels business owner, Arti "Tati" Astati, said, handing out Rp 30,000 (US$2) to each of the women. That day, they shucked around 30 kilograms of mussels, which were collected by Tati's husband, a fisherman, on the same day.

"When the mussels are thick, we can get more than this. But this is also fine," Beti said as she folded and put the money into a small pouch.

She said that, on a good day, they could shuck up to 40 kg of mussels, which could increase their earnings to Rp 35,000.

Soon after Beti and Umi Kulsum completed their job, Tati laid the empty shells alongside older shells in her front yard.

Tati's house, along with dozens of other houses in Kampung Blok Empang, Tembok Bolong and Blok Eceng, the three areas of which were recently recognized as part of community unit (RW) 22 by the city administration, sits on piles of mussel shells. RW 22 comprises 12 neighborhood units (RT).

Many homes in the area, including Tati's, used to be stilt houses that stood above empang (fish ponds).

"Six years ago, when I started living in this house, this place was surrounded by water. Now, after years of piling up the shells and stacking them all over the place, our house stands over a solid surface," Tati explained.

"There are currently around 20 green mussel businesses in the kampung, including mine. Each of the businesses employ up to 15 workers and we treat the shells the same way," Tati, who also is the head of RT 6, said.

Thanks to the mussel shells, residents do not need to spend money to buy sand to elevate the surface around their houses to prevent tidal floods from affecting them.

"Many of my neighbors take [the shells] for free. Those who don't have time to do it by themselves and need my help can pay Rp 2,000 per sack," the 37-year-old woman said.

Head of RW 22 Arpani said there were over 1,000 families residing in the four kampungs. Since the RW and RT were established, as officiated by the Pluit subdistrict head's instructions in December 2017 and April this year respectively, many residents are now eligible to receive social assistance and facilities all Jakartans are entitled to, such as Jakarta Smart Card Plus (KJP Plus).

Wearing a sleeveless shirt and sarong in his modest house, Arpani told The Jakarta Post that he was among the first wave of people to move to Muara Angke in the 1970s. He and many other men created empang along the shore and lived above them, developing one of the first kampungs in Muara Angke as a result.

An eviction that took place in Kapuk, North Jakarta, in 1995 led hundreds of families to seek refuge along the northern edge of the kampung. Other waves of evictees came in 2003 from Kali Adem and Kali Asin.

"It was during the era of the late governor Sutiyoso. People came, reclaimed the fish ponds using mussel shells, piled them up and built houses on them," he said.

"But that's OK, now we're living here together as residents of RW 22," the 74-year-old added.

Arpani, however, said that, although they lived in an area recognized as a RW, many were still hesitant to update their address on their ID cards.

"Many of them are still 'borrowing' addresses from other RWs for their ID cards. But now that RW 22 is established, it's their loss," he said.
This article was originally published in The Jakarta Post's print edition on Dec. 3, 2018, with the title "Seashells make up 'land' for city kampung".

Join the discussions