Prabowo answers all your burning questions in his little blue book
Karina M. Tehusijarana

The Jakarta Post
Jakarta |

Thu, December 6, 2018

| 01:34 pm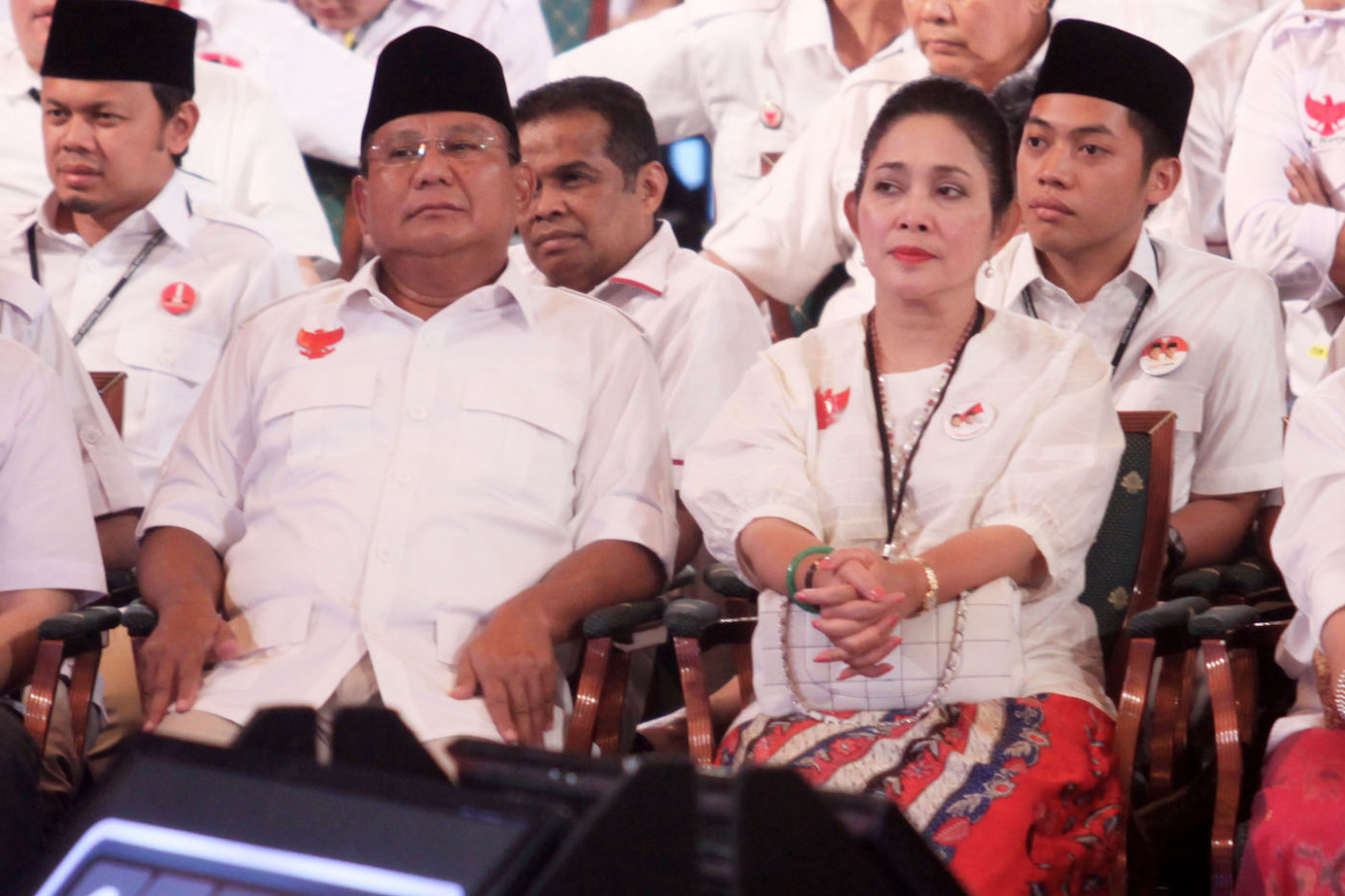 Presidential candidate Prabowo Subianto (left) and Titiek Soeharto during a presidential debate in 2014. (JP/Dhoni Setiawan)
Presidential hopeful Prabowo Subianto's history has been the subject of many attacks from political opponents. A former Indonesian Military (TNI) general and son-in-law of former president Soeharto, Prabowo has been accused of being involved in human rights violations and wanting to bring back the New Order.
The "blue book" recently released by the Prabowo-Sandiaga Uno campaign team has sought to address all these allegations and more in the Frequently Asked Questions (FAQ) section. The questions answered range from the gravely serious ("Is Prabowo a human rights violator?") to the trivial ("Why does Prabowo like horses?"). Below is a selection from the 36 questions and accusations covered in the chapter:
Read also: Salient points in Prabowo-Sandiaga's plans for Fair and Prosperous Indonesia
Question: Is Prabowo a kidnapper?
Background: Prabowo was allegedly involved in the forced disappearances of 13 pro-democracy activists between 1997 and 1998 in his capacity as commander of the Army's Special Forces (Kopassus) at the time.
Blue Book Answer: "It was not kidnapping but securing. And it was not Prabowo who secured [the activists] but Tim Mawar [a team of soldiers implicated in the action]. Nine people were secured and they are now free and alive and some are Gerindra Party members."
Is Prabowo a human rights violator?
Background: Besides the alleged kidnappings, Prabowo has also been accused of being involved in other human rights abuses, including during the Army's counter-insurgency operations in East Timor.
"If he violated human rights why is he allowed to freely go to any country? He was even chosen by [Indonesian Democratic Party of Struggle (PDI-P) chairman] Megawati to be her vice presidential candidate during the 2009 election."
Was Prabowo fired?
Background: Shortly after the fall of Soeharto in 1998, Prabowo was discharged from the military. Both Prabowo and then-TNI commander Wiranto denied that the discharge was for disciplinary reasons, but military documents leaked in 2014 showed that the TNI Officers Honorary Council had fired him because of his involvement in the forced "securing".
"He was not fired, but honorably retired early. If he was fired, how could he still receive pension payments every month."
Did Prabowo get divorced?
Background: Prabowo married Soeharto's daughter Siti Hediati Haryadi, popularly known as Titiek Soeharto, in 1983. The couple separated not long after Soeharto's fall in 1998.
"He did not get a divorce, but was banished by the Cendana [Soeharto] family who were incited by anti-Prabowo generals."
Who will be Prabowo's first lady if he does not have a wife?
"This is a presidential election not a first lady election, so there is no requirement from the KPU [General Elections Commission] for a candidate to have a wife. One's mate is in the hands of the ALMIGHTY ALLAH SWT, not in the hands of KPU [General Elections Commission]."
Why does Prabowo like horses?
Background: Prabowo is known for his love of horses and has often appeared on horseback during party and campaign events.
"What is wrong with horses? Horses are not something new to Indonesia. [Horses have been part of Indonesian history] from the Majapahit period to Prince Diponegoro. Horseback riding is an analogy for ability and competence in leadership. The philosophy of horseback riding is how to work together with another of God's creatures. If Prabowo can communicate and work together even with horses, then how much better will he be with his fellow humans and citizens? Horseback riding is also part of sunnah, which was exemplified by the Prophet Muhammad SAW."
Will Prabowo revive the New Order?
Background: Prabowo's background and closeness to Soeharto, as well as previous statements that he has made about democracy, have raised concerns that he wants to turn Indonesia into a dictatorship.
Blue Book Answer: "Every government has positive and negative sides to it. We will continue the positives, and abandon the negatives."
Will Prabowo form an Islamic state?
Background: Prabowo has allied himself with conservative Islamic groups that advocate for further implementation of sharia in Indonesia.
Blue Book Answer: "He is a TNI general, whose duty is to safeguard the NKRI [Unitary State of the Republic of Indonesia]. [His] commitment toward the NKRI is final!"
How will Prabowo act toward minorities if he wins the election?
Blue Book Answer: "[He will] guarantee a harmonious life among citizens regardless of their tribe, religion, social background, or race based on the Pancasila and the 1945 Constitution."
What would be the difference between Prabowo and Jokowi as president of Indonesia?
Background: The Blue Book's choice of the term petugas partai (party officer) is a reference to Indonesian Democratic Party of Struggle's (PDI-P) chairwoman Megawati Soekarnoputri's repeated statements that President Joko "Jokowi" Widodo is a petugas partai. She first said it in 2014, and most recently repeated it in January this year.
Blue Book Answer: "Prabowo has a proven ability to lead, a wide network and is not just a party officer."
Topics :
Join the discussions