Papua mass killing: What happened
Karina M. Tehusijarana

The Jakarta Post
Jakarta |

Fri, December 7, 2018

| 09:43 am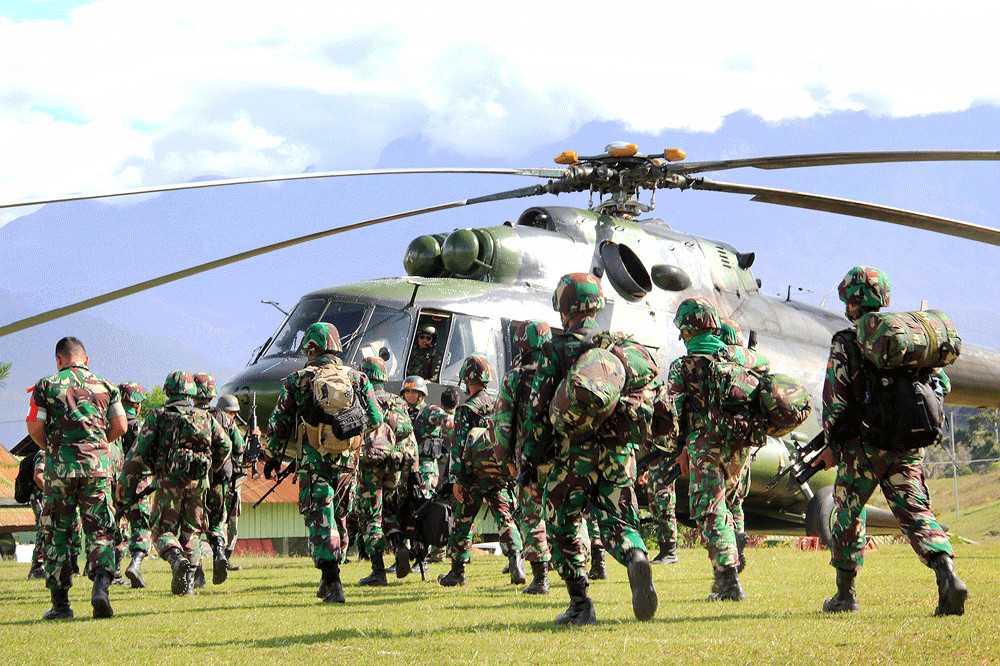 Ready for action: Indonesian Military personnel prepare to board a helicopter in Wamena in Papua on Wednesday to retrieve the bodies of the construction workers killed in Nduga. The soldiers hunted for rebels suspected of killing 19 construction workers and one soldier in the restive province of Papua, as an eyewitness account supplied by the military described a grisly mass execution. (AFP/Anyong)
At least 20 people have been killed in Nduga regency, Papua, by an armed group with ties to the Free Papua Movement (OPM).
The casualties include 19 workers of state-owned construction company PT Istaka Karya, who were assigned to build a 275-kilometer section to connect Wamena and Mamugu as part of President Joko "Jokowi" Widodo's flagship trans-Papua road project. One Indonesian Military (TNI) soldier was also killed.
What happened?
According to the account of surviving Istaka Karya worker Jimmi Aritonang, which he relayed to the Cendrawasih Military Command, an armed group kidnapped 25 workers from the Istaka Karya camp in Nduga regency on Saturday and forcefully marched them to the nearby Karunggame River.
On Sunday, the workers were once again forced to move, this time toward the Puncak Kabo hill. On the way there, they were ordered to squat and line up in five rows. The gunmen then shot at the workers, killing 14 on the spot, while the remaining 11 pretended to be dead.
Read also: They played dead on the ground: Survivor recounts OPM massacre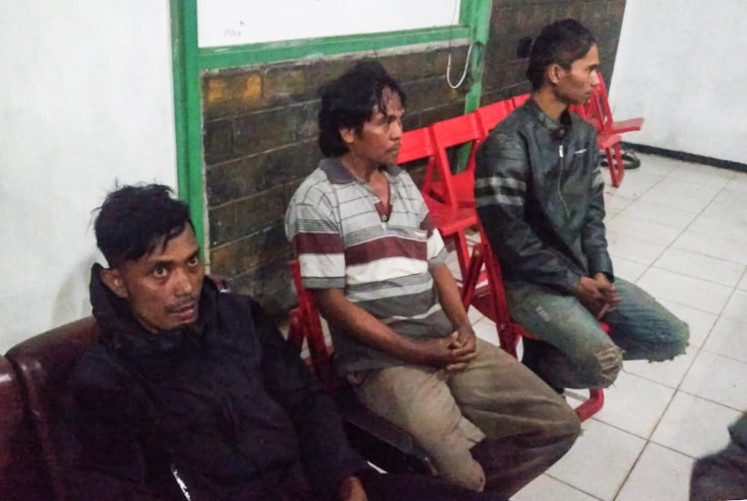 In this picture taken and release on December 5, 2018 by Indonesian military shows alleged survivors in Wamena, Papua province, of an alleged killing in Nduga a day before. - Indonesian soldiers hunted for rebels suspected of killing a group of construction workers in restive Papua province, the military said, as they supplied one survivor's account of a grisly mass execution. (AFP/Indonesian Military)
The gunmen then left the victims and continued their journey to Puncak Kabo. The 11 workers who had played dead attempted to escape, but they were spotted. The rebels caught and killed five of them, while the other six managed to escape toward Mbua. Four, including Jimmi, have been secured by TNI forces, but the other two were still missing as of Wednesday.
Early on Monday, the TNI post where Jimmi and his friends were being protected was reportedly attacked by a group of rebels armed with guns, arrows and spears. One soldier was killed and another injured in the attack.
How many casualties?
National Police chief Gen. Tito Karnavian and Coordinating Political, Legal and Security Affairs Minister Wiranto confirmed on Wednesday that 20 people had been killed by the rebels.
"Nineteen workers and one TNI [Indonesian Military] soldier died," Tito said on Wednesday. This number seems to be based on Jimmi's account.
Initially, police had said that 31 workers were feared to have been killed by the gunmen. Istaka Karya president Sigit Inarto said, however, that there were only 28 workers at the location.
A joint military-police task force recovered 15 bodies from the area near the location of the incident on Wednesday night.
"Our joint forces have found 15 bodies and will continue the search tomorrow," Papua Police chief Insp. Gen. Martuani Sormin Siregar told The Jakarta Post on Wednesday.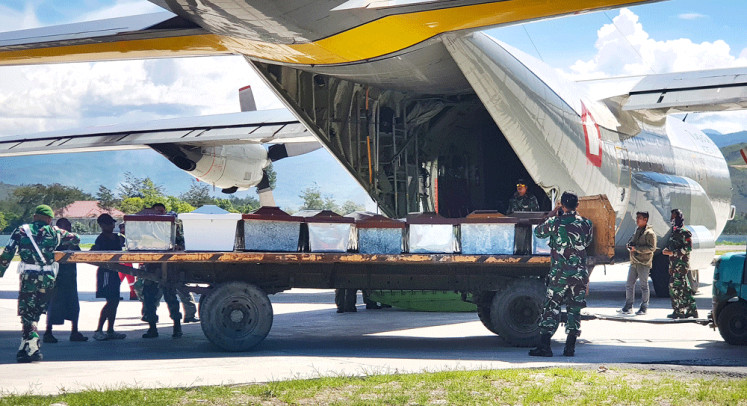 Time of loss: Indonesian Military officers load coffins into a carrier aircraft in Wamena, Papua, on Thursday. Indonesian security forces have retrieved the bodies of 16 people in the aftermath of a massacre of construction workers by separatist rebels in restive Papua province, the military said on Thursday. (AFP/Staf Steel)
Cendrawasih Military Command spokesperson Lt. Col. Dax Siburian said the joint military-police search team in Yigi district had found the bodies and a survivor named Johny Arung in the area around Tabo hill. Johny was evacuated to the Mbua TNI post.
"The bodies have not yet been identified, so we cannot confirm whether the 15 victims are all PT Istaka Karya workers," Dax told the Post.
Who was responsible?
A faction of the National Liberation Army of West Papua (TPNPB) led by Egianus Kogoya has claimed responsibility for the deaths of the construction workers and the TNI soldier.
"Yes, we conducted the operations in Kali Aworak, Kali Yigi and at the Mbua TNI post, and we are ready to take responsibility. The attacks were led by Makodap III Ndugama commander Egianus Kogeya and operations commander Pemne Kogeya," OPM spokesperson Sebby Sanbom said in a written statement on Wednesday.
Sebby denied, however, that the workers killed were civilians, claiming that they were members of the Indonesian Army Corps of Engineers (Zipur).
"Our targets are not wrong, we know which are civilian workers and which are TNI Zipur members, even if they wear plain clothes," he said.
What is the government's response?
Jokowi has pledged that the government will hunt down those responsible for the shootings and that it will not halt infrastructure development in Papua.
"Currently, the TNI commander is in Papua to handle the attack by an armed group in Papua that has resulted in the deaths of workers that were assigned to build the trans-Papua road," Jokowi said on Wednesday. "Let us pray together that the heroes of the trans-Papua development are welcomed at God's side. I have also ordered the TNI commander and the National Police chief to pursue and arrest all the perpetrators of that savage act."
He said there was no room for such armed groups in Papua or anywhere in Indonesia.
"This only makes us more determined to continue our great duty to develop Papua," he said.
Presidential Chief of Staff Moeldoko called on the police and military to be proportionate in their response to the attack.
"The TNI should not be provoked," he said on Wednesday. "The TNI and police have to show professionalism and work proportionately."
He also called on domestic and foreign human rights groups to look at the incident with "open eyes."
Join the discussions