Teacher killed in Thailand's insurgency-plagued deep south
Bangkok |

Fri, October 28, 2016

| 07:05 pm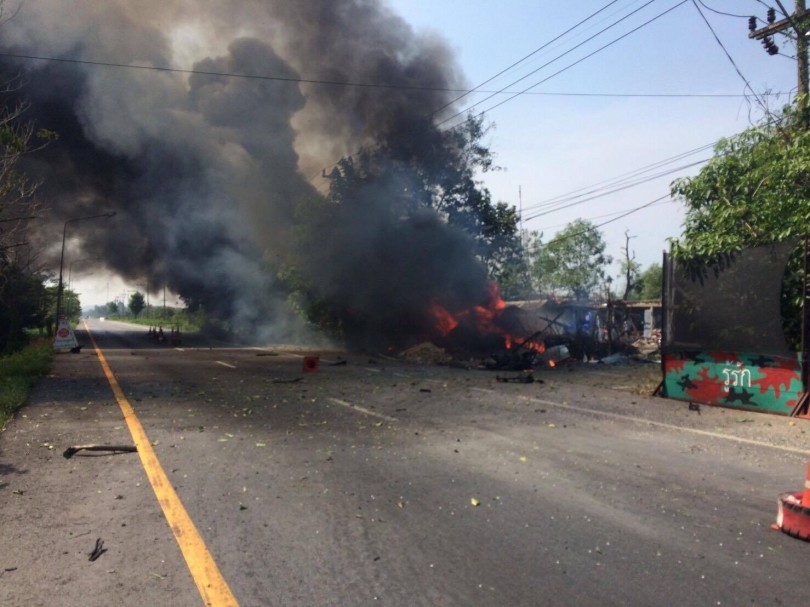 A huge explosion occurred at a road checkpoint in Songkhla's Thepha district, southern Thailand on July 5, 2016 is seen in this photograph. (The Nation/-)
A teacher was shot and killed as she arrived at school Friday morning in Thailand's deep south, the latest of thousands of people who have died in the region during an insurgency that began over a decade ago, police said.
Sunisa Boonyen parked her car in front of the school where she teaches in Pattani province when two people on a motorbike drove up. One of them fired into the driver's seat. Nopsit Temonghla, a police official in Pattani's Mayo district, says the 49-year-old teacher died immediately and a wounded passenger was hospitalized.
The assailants fled. Police were investigating whether the killing was related to political unrest. Muslim separatists in Thailand's southernmost provinces of Pattani, Yala and Narathiwat demand autonomy from the majority Buddhist country's government.
Teachers have frequently been targeted since the insurgency began in 2004. Of the more than 6,500 people killed, more than 180 were educators.
Topics :
You might also like :
Comments