8 of 10 Filipinos fear getting killed in drug war
Manila |

Mon, December 19, 2016

| 03:39 pm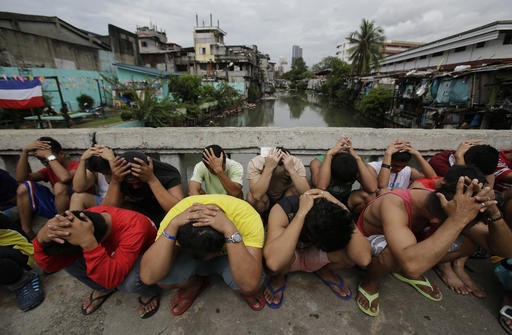 Filipino men place their hands over their heads as they are rounded up during a police operation as part of the continuing "War on Drugs" campaign of Philippine President Rodrigo Duterte in Manila, Philippines, Oct. 7, 2016. (AP/Aaron Favila)
At least 78 per cent of respondents feared they would fall prey to extrajudicial killing amid the government's anti-drug campaign.
Nearly 8 out of 10 adult Filipinos are worried that they, or someone they know, would fall victim to extrajudicial killing amid the ongoing anti-drug campaign of the Duterte administration, the latest Social Weather Stations (SWS) survey showed.
A total of 78 per cent of 1,500 respondents asked in the nationwide SWS survey expressed worry that they or someone they know would be killed.
The results of the study done from December 3 to 6 first came out of BusinessWorld. It had a margin of error of + or – 3 percentage points.
Despite the high incidence of worry, 85 per cent of the respondents said they were satisfied with the government's war on drugs. With 8 per cent "dissatisfied," this equates to an "excellent" net rating of +77 per cent.
This article appeared on the Philippine Daily Inquirer newspaper website, which is a member of Asia News Network and a media partner of The Jakarta Post
You might also like :
Comments