Thai PM says king seeks change in pending constitution
Bangkok |

Tue, January 10, 2017

| 06:27 pm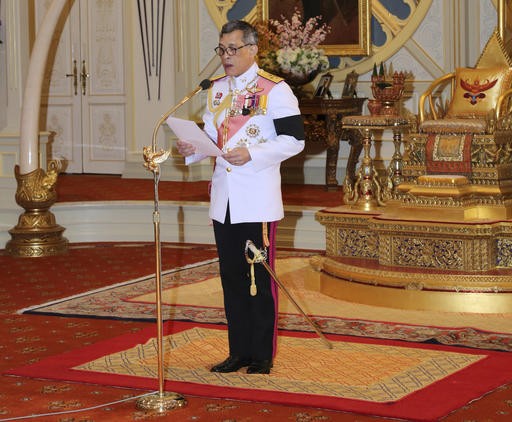 Thailand 's new King Maha Vajiralongkorn Bodindradebayavarangkun delivers a speech after accepting the throne at the Dusit Palace in Bangkok, Thailand, Dec. 1, 2016. (Bureau of the Royal Household via AP/-)
Thailand's prime minister says he will honor a request from the country's new king that several changes be made to a constitution that was approved in a referendum last August.
Prime Minister Prayuth Chan-ocha said Tuesday that King Maha Vajiralongkorn Bodindradebayavarangkun told his royal advisers that he wished to have several articles about the monarchy amended. Prayuth did not specify what changes he desired, but said three or four points were involved.
Vajiralongkorn took the throne on Dec. 2, succeeding his father, King Bhumibol Adulyadej, who died in October after an extended illness. An interim constitution put in place after the army seized power in 2014 calls for the approved charter to be endorsed by the king within 90 days, and Vajiralongkorn's failure to yet do so had caused concern.
Topics :
You might also like :
Comments