Malaysia gets more tourists from China since visa-waiver program introduced
Beijing |

Wed, January 11, 2017

| 03:57 pm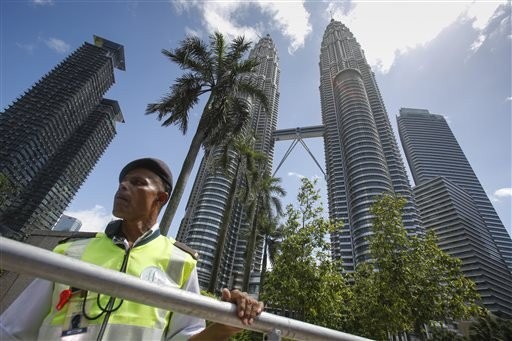 A security guard stands in front of a barricade at the Malaysia's landmark building, Petronas Twin Towers in Kuala Lumpur, Malaysia on Dec. 31, 2015. (AP/Joshua Paul)
There has been an increase in Chinese tourists visiting Malaysia since the introduction of the visa-waiver program.
Deputy Prime Minister Ahmad Zahid Hamidi said since the program was launched in March last year, the number of entry passes issued for Chinese tourists had increase by 74%, compared with the same period in 2015.
Last year, a total of 2.2 million passes were issued for those who applied via visa, e-visa and the Electronic Travel Registration and Information (Entri) services, compared to 1.2 million visas in 2015.
Under the visa-waiver Entri program, a tourist is allowed to stay in Malaysia for a maximum of 15 days.
On tourist arrivals, about 1.7 million Chinese tourists including those residing outside of China, visited Malaysia in 2015. They spent some RM5.7 billion (US$ 1,2 billion), or an average of RM500 per day, during their stay.
"This is one big contribution to the country's economy," Ahmad Zahid told Malaysian reporters here on Wednesday morning.
This was one of the topics of discussion between Ahmad Zahid and China's State Counsellor and Public Security Minister Guo Shengkun at a meeting on Tuesday night.
Ahmad Zahid, who is also Home Minister, is on a six-day working visit to China, beginning Tuesday, at Guo's invitation.
He will also meet with other officials on issues related to security, crime and prison affairs.
This article appeared on The Star newspaper website, which is a member of Asia News Network and a media partner of The Jakarta Post
You might also like :
Comments