Police to get tougher with traffic rules violators in Bangkok
Bangkok |

Wed, April 5, 2017

| 04:28 pm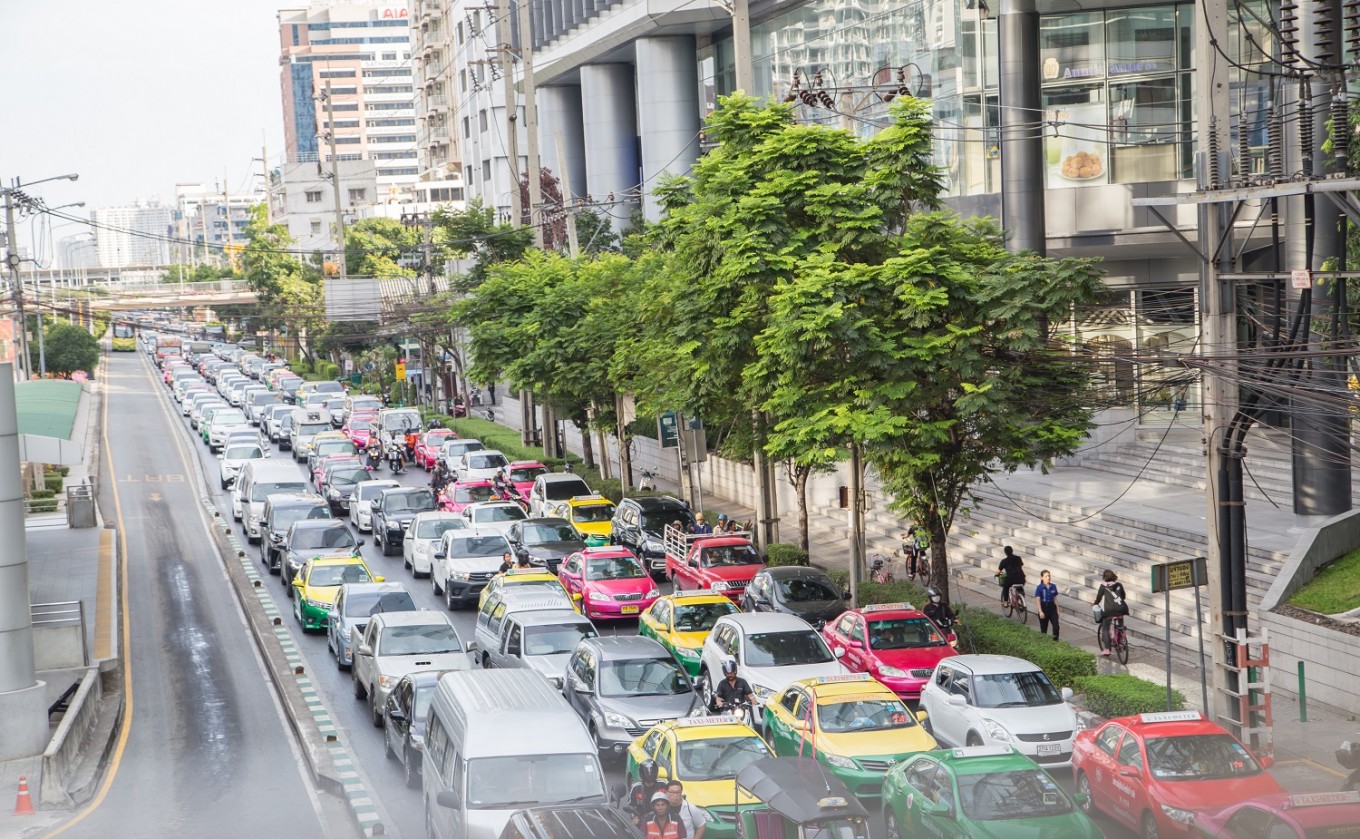 Traffic congestion in Bangkok, Thailand, in this file photo dated on March 25, 2017. (Shutterstock.com/Chainarong Suriya)
Bangkok police from all 88 precincts would on Wednesday to strictly check drivers and their passengers to ensure they have fastened seat belts on the first day of the implementation of the junta order to boost road safety.
Violators would face fines starting at 100 baht (US$2.8) per seat for personal cars, public transport vans and taxis.
Deputy chief of the Metropolitan Police Bureau, Maj. Gen. Jirapat Phumjit who oversees traffic regulations in the city, said the fines on motorists violating the law would depend on the vehicle type and the period of their registration.
Citing the Land Transport Act 1979, Jirapat explained that sedans, taxis, and four-door pickup trucks registered before January 1988 did not have belts for all seats; those registered between Jan. 1, 1988 and Dec. 1, 2010 must have seat belts for the driver and the front passenger, while those registered after Jan. 1, 2011 must have belts for all seats. Personal vans with seating of up to 15, registered before January 1994, would have no seat belts but those registered since April 2012 must have belts for all seats.
Pickup trucks that carry goods and animals on the rear and trucks, locally known as song taew, require the driver and front passenger to fasten their seat belts. Small trucks, known as kapor, were required since April 2012 to have seat belts for the two front seats, he added.
A survey by city police found that most taxis tug the seat belt sockets under the backseat. Officers have asked the cabbies to take the seat-belt sockets out so that passengers at the back could fasten their seat belts as per the new rule.
Jirapat admitted that in practice officers could not stop every car to check if the seat belt rule was being followed. He said arrests would be made if violations were visible to the officers. He said motorists were required to lower their car windows to facilitate police inspection at checkpoints.
The fine rates would differ depending on the vehicle registration. Those registered under the Automobile Act – such as personal cars, pickup trucks and taxis – would face a fine of up to 500 baht, while those registered under the Land Transport Act – such as public transport vans, buses and cargo trucks – would face a fine of up to 5,000 baht per head.
Vehicles that take public passengers and are found to have violated this new rule could face an additional charge of failing to provide a seat belt to passengers. However, if the driver instructs passengers to wear their seat belts or has a visible sign to the effect, those found to be negligent would have to pay the fine.
National police chief Gen. Chakthip Chaijinda plans a meeting with related units about the road safety measures for the Songkran holiday period later today.
This article appeared on The Nation newspaper website, which is a member of Asia News Network and a media partner of The Jakarta Post
Topics :
You might also like :
Comments