ASEAN legislators 'alarmed by Cambodia crackdown'
Bagus Saragih

The Jakarta Post
Jakarta |

Sat, September 2, 2017

| 05:25 pm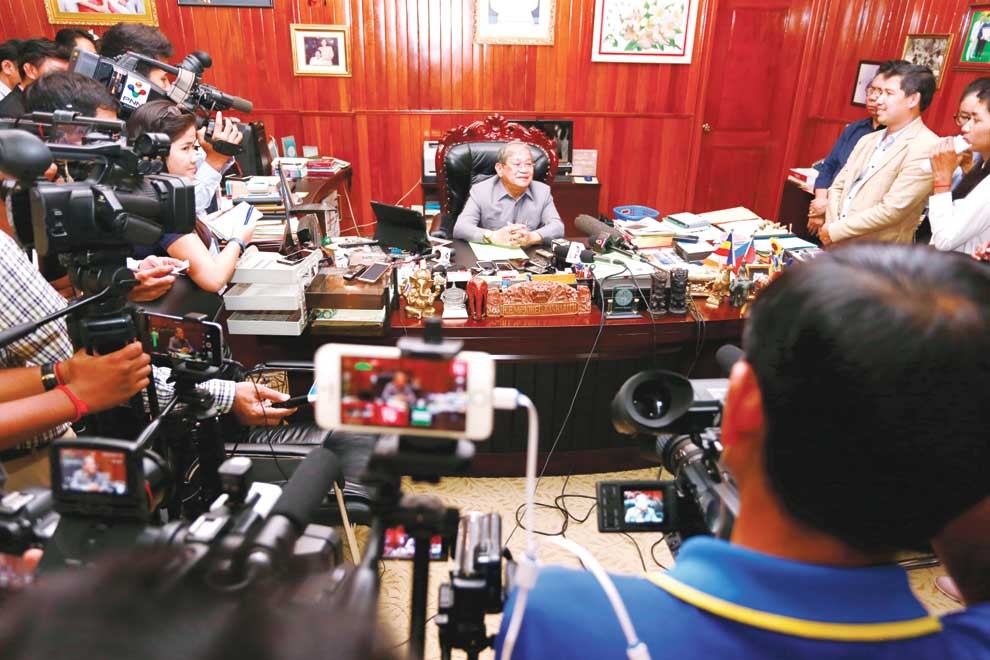 A Cambodia Ministry of Information official talks to the press about the government's decision to shut down 15 radio stations across the country including independent broadcasters. (The Phnom Penh Post/File)
Members of parliament from ASEAN countries have expressed grave concerns over the "worsening human rights situation in Cambodia" which has seen authorities continue to crack down on independent media outlets and civil society organizations.
"This crackdown is a dramatic escalation of the [Cambodian] government's moves against critical, independent voices and is deeply concerning for the fate of Cambodian democracy, particularly with national elections less than a year away," ASEAN Parliamentarians for Human Rights (APHR) Chairperson Charles Santiago of Malaysia said in a statement made available to The Jakarta Post on Friday.
Last week also saw attacks against Cambodia's independent press, ahead of the national elections, scheduled for July 2018.
Read also: Jokowi's vague ASEAN policy
At least 15 independent radio stations were ordered off the air by the government, along with all broadcasts of Voice of America and Radio Free Asia outside the capital. Meanwhile, The Cambodia Daily, a prominent independent newspaper publishing in both Khmer and English, has been hit with a US$6.3 million tax bill and ordered to shut down by Sept. 4 if it fails to pay up.
"The closing down The Cambodia Daily is nothing more than a transparent attempt at limiting the amount of information Cambodian people can access on controversial issues," said Philippine Congressman Tom Villarin, an APHR member.
Parliamentarians called on ASEAN member states, as well as the wider international community, to work to uphold commitments to support the development of democracy and human rights in Cambodia, including those contained in the 1991 Paris Peace Accords.
Join the discussions