IS Southeast Asia chief killed in Philippines
Marawi, Philippines |

Mon, October 16, 2017

| 01:54 pm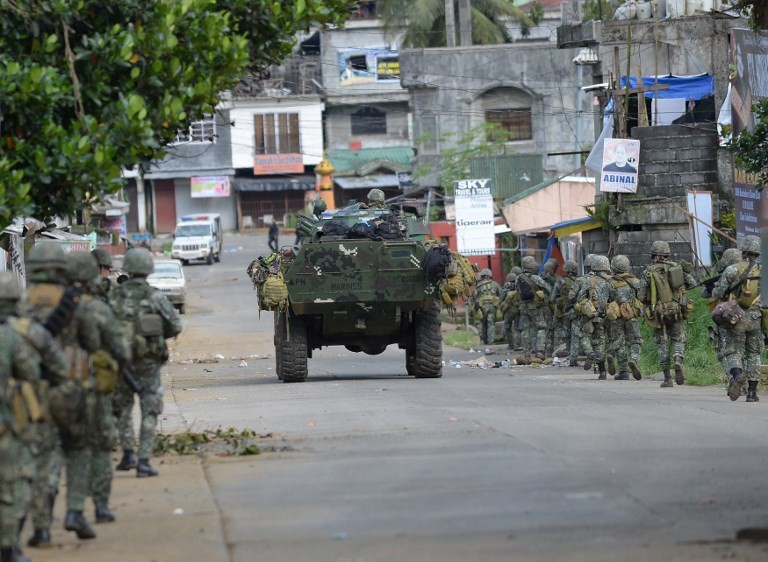 Police special forces prepare to assault the hide-out of militants near the city hall in Marawi, in southern island of Mindanao on May 28, 2017. Islamist militants who have gone on a rampage in a southern Philippine city have killed 19 civilians including women and children, the military said on May 28, as fighting entered the sixth day. (AFP/Ted Aljibe)
The head of the Islamic State group in Southeast Asia, who figures on the US "most wanted terrorists" list, has been killed in the battle to reclaim a militant-held Philippines city, the country's defense minister said Monday.
Isnilon Hapilon's death came during a push to end the four-month siege of Marawi, a battle that has claimed more than 1,000 lives and raised fears that IS was seeking to set up a regional base in the southern Philippines.
President Rodrigo Duterte and security analysts say Hapilon has been a key figure in the jihadist outfit's drive to establish a Southeast Asian caliphate as they suffer battlefield defeats in Iraq and Syria.
"(Our troops) were able to get Isnilon Hapilon and Omar Maute. They were both killed," Defence Secretary Delfin Lorenzana told reporters, referring to another fighter who led the attack with Hapilon on Marawi in May.
The US government had offered a $5 million bounty for information leading to Hapilon's arrest, describing the 51-year-old as a senior leader of the southern Philippines-based Abu Sayyaf group, which the US considers a "foreign terrorist organisation".
Lorenzana said Philippine ground forces mounting a final assault on the militants in Marawi killed Hapilon and Omarkhayam Maute, one of two brothers who led a militant group allied to Hapilon, early Monday.
DNA tests will be carried out on the two bodies because of the reward offer from the US and Philippine governments, he added.
"The implication of this development is that the Marawi incident is almost over and we may announce the termination of hostilities in a couple of days," Lorenzana said.
Philippine authorities have made several previous announcements on the imminent end of the conflict, but observers believe this time the forecast is likely to be accurate.
Pro-IS gunmen occupied parts of Marawi, the Islamic capital of the mainly Catholic Philippines, on May 23 following a foiled attempt by security forces to arrest Hapilon, authorities said.
The Philippine military says Hapilon joined forces with the Maute group to plan the rampage.
Since then more than 1,000 people have been killed and 400,000 residents displaced.
Duterte has imposed martial law across the southern third of the Philippines to quell the militant threat.
The insurgents have withstood a relentless US-backed bombing campaign and intense ground battles with troops that have left large parts of Marawi in ruins.
Defence chiefs last month said other Philippine militant leaders had been killed in the battle for Marawi.
Troops were still pursuing Malaysian Mahmud Ahmad in the Marawi battle zone, Lorenzana said on Monday, describing him as the "conduit" between IS and local militant groups.
Topics :
Join the discussions