Duterte vows to get to truth of deadly mall blaze
Manila, Philippines |

Tue, December 26, 2017

| 05:55 pm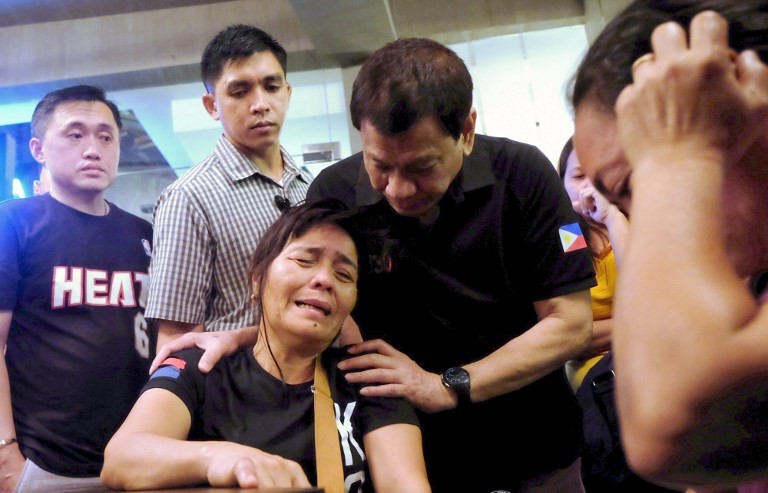 This photo taken on December 23, 2017 shows Philippines' President Rodrigo Duterte (2nd right) comforting a relative of one of the victims after a fire engulfed a shopping mall in Davao City on the southern Philippine island of Mindanao. Thirty-seven people, including staff of an American call centre firm, are believed to have perished in a fire that tore through a shopping mall in the southern Philippine city of Davao, local authorities said on December 24. (Agence France-Presse/KIWI BULACLAC / PRESIDENTIAL PHOTOGRAPHERS' DIVISION )
Philippine President Rodrigo Duterte vowed Tuesday to get to the truth about a blaze in his home city that killed 37 call centre workers.
He said he made the promise during a meeting on Monday night with the families of those killed in a shopping mall fire in the southern city of Davao.
"I assured them... that the truth will -- let the truth come out," Duterte said. "That is what they are asking for. Just the truth of what happened."
The justice and labour departments have ordered separate investigations into Saturday's blaze.
Justice Secretary Vitaliano Aguirre has said his office would investigate with a view to bringing criminal charges.
A spokesman for Davao City mayor Sara Duterte, the daughter of the president, also quoted her as promising to press charges if warranted by the results of the investigation.
The fire broke out in the four-storey NCCC Mall shortly before it opened to shoppers. But it killed 37 people working in a 24-hour call centre for US-based market research firm SSI on the top floor.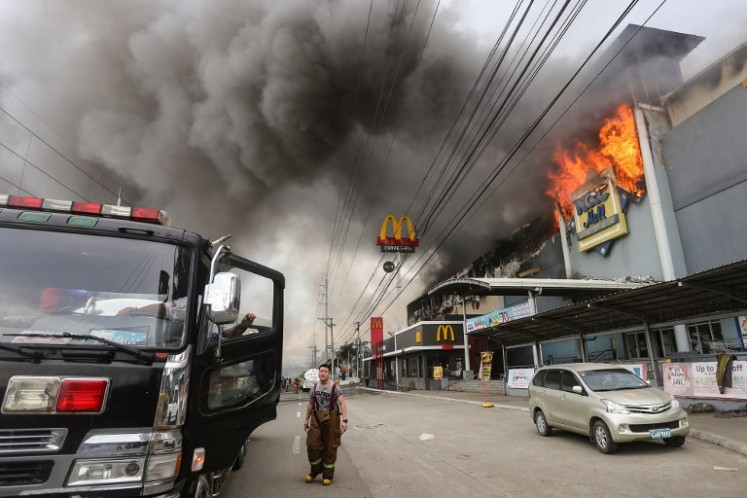 This photo taken on December 23, 2017 shows a firefighter standing in front of a burning shopping mall in Davao City on the southern Philippine island of Mindanao. Thirty-seven people were believed killed in a fire that engulfed a shopping mall in the southern Philippine city of Davao, local authorities said on Dec. 24. (Agence France-Presse/Manman Dejeto)
At a Davao hospital Tuesday families of the dead waited in a silence broken only by occasional sobs as government workers tried to identify the charred remains before releasing them to relatives.
Social welfare officers said that so far, five bodies had been turned over.
Rhen Muyco recalled the last words his 25-year-old daughter Renzi Nova spoke to her family as the fire raged Saturday.
"Ma, there is a fire here. If something happens to me, I love you all," she said by mobile phone.
Labour Secretary Silvestre Bello said Tuesday his office was launching an inquiry separate from the justice department's investigation.
"We just want to find out the cause of the fire and if there was compliance with safety and health standards," he told AFP.
The Associated Labor Unions said the high death toll and the extent of the blaze suggested that rules on fire exits, sprinkler systems and other safety measures had not been followed.
Mall administrators have denied that fire exits were inadequate or blocked.
Topics :
Join the discussions