Singaporean couple accused of abusing Myanmar domestic helper
Shaffiq Idris Alkhatib

The Straits Times/ANN
Singapore |

Mon, January 8, 2018

| 05:42 pm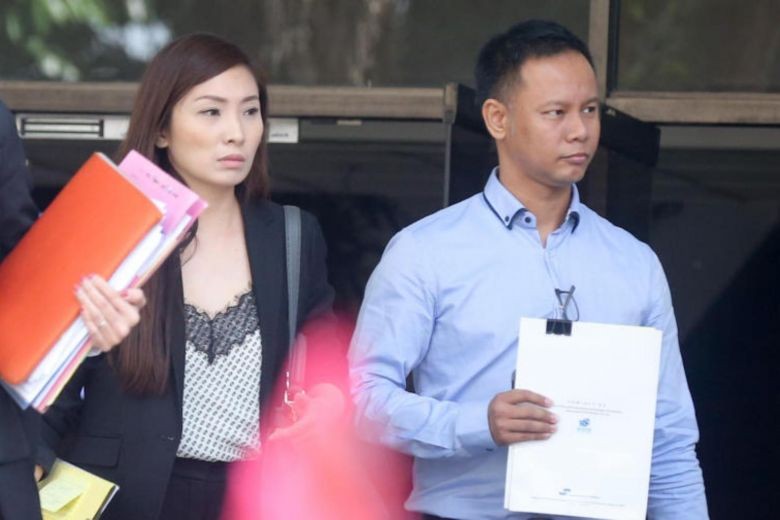 Linda Seah Lei Sie and her husband Lim Toon Leng are accused of abusing their maid. (The Straits Times/ANN/ONG WEE JIN)
A maid was subjected to a range of abuse by her employers, including physical assault and being forced to pour boiling water on her own shoulder, a Singaporean court heard on Monday.
It was alleged that one of the employers caused the maid to drink water mixed with floor cleaner and made the maid knock her own head on the floor.
Linda Seah Lei Sie, 38, is additionally accused of pulling the maid's hair and shaking her until "quite a lot" of hair fell out and hitting her with a mobile phone, causing bruising on her forehead, left eye and left hand.
Seah, who is the "boss" at her husband's Anew Me Beauty Aesthetic salon, is accused of physically abusing Myanmar national Phyu Phyu Mar multiple times.
She faces six charges in all, the court heard on Monday, the first day of the trial.
Seah's husband Lim Toon Leng, 43, faces one assault charge. He is accused of punching the maid's forehead twice.
The couple allegedly committed the offenses in their Punggol Walk flat between August and October 2016.
Former employee Lee Lee Yen told the court that she worked as a nutritionist at Anew Me between December 2015 and October 2016.
Lee, who is now an insurance agent, said Seah first brought Phyu Phyu Mar to their workplace in February 2016. The maid performed jobs like cleaning windows and dusting shelves.
"She was quite chatty. She had long hair and looked a bit chubby," Lee said.
She testified that the maid had slimmed down by September 2016 and that she complained of being hungry. Lee said she gave her some biscuits and drinks, which were consumed "at a very fast speed".
On Oct 14 , 2016, Lee noticed that the maid had a swollen left eye and a bruise around it. When asked about this, the maid showed her an injury on her left shoulder.
Lee told District Judge Olivia Low: "It was a hot-water scalding mark. It was red and the skin was starting to peel off... She told me Linda... made her pour hot water onto herself."
Lee alerted the police later that evening, the court heard.
Seah is represented by lawyer Kasturibai Manickam while Lim's lawyer is T. U. Naidu.
When cross-examined by Naidu, Lee said that Phyu Phyu Mar did not mention his client in her allegations.
The trial resumes on Monday afternoon.
Offenders convicted of maid abuse can be jailed for up to three years and fined up to $7,500.
Topics :
Join the discussions