Mahathir wishes not to return even if Najib were to step down
Michel Ch'ng and E Met Yeat

Sin Chew Daily/ANN
Putrajaya, Malaysia |

Wed, March 14, 2018

| 10:31 am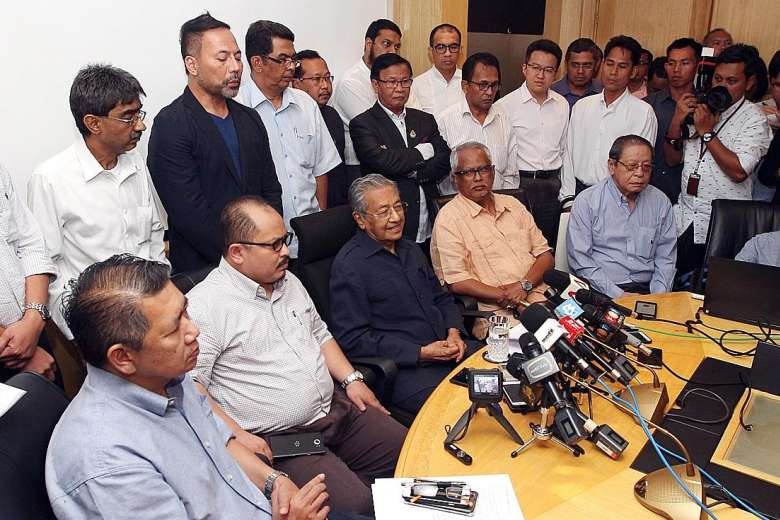 Mahathir Mohamad (seated, third from left) speaking to the press on Thursday. With him are (from left) Parti Amanah Negara deputy president Salahuddin Ayub, PKR vice-president Shamsul Iskandar, PAS MP Mahfuz Omar and DAP supremo Lim Kit Siang. (The Star/-)
Former Prime Minister Mahathir Mohamad has no plan to return to UMNO, a ruling party of the coalition, even if incumbent Prime Minister Najib Razak were to step down, claiming that the party is no longer the party founded by Onn Jaafar. He then founded another Malay-based party, the Parti Pribumi Bersatu Malaysia but he does not wish to form a joint government with UMNO even without Najib.
Mahathir said he was unhappy with Abdullah Badawi who took over from him for changing his mind not to build Johor Bharu - Padang Besar double track rail project and allowed his children to join the government meetings. He would just leave the party then and criticized Abdullah.
"I did not only leave the party but also form a new party to oppose UMNO with Muhyiddin Yassin (former Deputy Prime Minister cum president of Parti Pribumi Bersatu Malaysia). In the past Tunku Abdul Rahman expelled me. I did not oppose UMNO. I left the party when Abdullah Badawi was the Prime Minister but this is the first time I set up a new political party," Mahathir told Sin Chew Daily at his office in Putrajaya.
He said Parti Pribumi Bersatu Malaysia founded by him is a Malay-based political party and different from the multi-ethnicity of Parti Keadilan Rakyat and Parti Amanah Negara. Rural voters are fearful of multi-racial political parties.
"As a Malay political party, it is easier for UMNO party members and supporters to accept us in rural areas," he said.
The opposition achieved breakthrough in May 5, 2013 election which won 52 percemt of votes but still lost to Barisan Nasional. Mahathir said opposition would need 20 to 30 more seats to be ruling government.
"The opposition would need our participation to secure enough seats. I think we can deliver and we are only targeting against UMNO," he added.
Mahathir stressed that even if Najib were to step down after the general election, he would not return to UMNO. Pribumi would not form joint government with UMNO even without Najib or carry out any political collaboration.
"No. We can't. The problem is not Najib only," he said. "They [UMNO] are completely corrupted. I am unable to accept this. I can't return."
"In terms of performance, ideology and operating style, it is no longer UMNO. So I would not return."
This article appeared on the Sin Chew Daily newspaper website, which is a member of Asia News Network and a media partner of The Jakarta Post
Join the discussions