79 people die on the roads during Labor Day in Vietnam
News Desk

Viet Nam News/ANN
Hanoi |

Wed, May 2, 2018

| 06:27 pm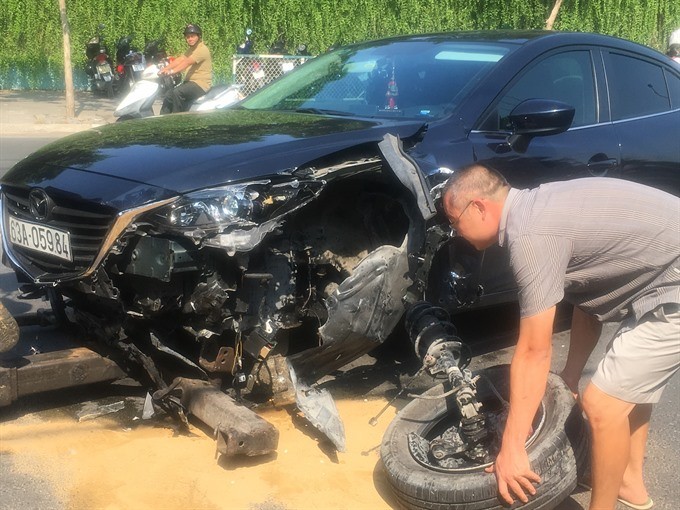 Two motorbike riders were severely injured in a traffic collision with a tire-exploded car when driving through Tân Hoá Canal, Ho Chi Minh City on May 1. (Viet Nam News/ANN/File photo)
Seventy-nine people were killed and another 79 were injured in 113 traffic accidents nationwide during the Reunification Day-Labor Day holiday combo that ended on May 1, the National Traffic Safety Committee reported.
The number was recorded from the beginning of the holiday on April 28 until May 1 when people started flocking back to big cities like Hanoi and Ho Chi Minh City.
Thirty seven accidents occurred on May 1 alone, killing 27 road users and injuring 33.
The traffic situation this year was slightly improved compared to that in the same period last year. The number of crashes went down by 12 while tolls of dead and injured also decreased by 19 and 11, respectively.
Accidents disproportionately occurred on roads with 112 crashes, killing 78 and injured 79 people. Only one accident was recorded on the rail tracks.
The main reason for the accidents, according to the National Traffic Safety Committee, was drunk driving, speeding and driving without helmets or in the wrong lane. The majority of those who died were motorbike drivers.
The committee also noted serious congestion on a number of national highways and particularly the gateways to Hanoi and Ho Chi Minh City on the first and last days of the holiday as city folks left and returned to the cities.
It received more than 140 phone calls and messages from citizens to complain mostly about overcrowded and overpriced coaches running from Hanoi to other provinces like Thanh Hoa, Nghe An, Ninh Binh, and Yen Bai and vice versa.
The traffic police forces nationwide reported to have dealt with 25,904 traffic violations during the holiday, levied fines of up to VND13.9 billion (US$619,500) and revoked 872 driving licences.
This article appeared on the Viet Nam News newspaper website, which is a member of Asia News Network and a media partner of The Jakarta Post
Join the discussions