As Malaysians vote in cliffhanger election, bots hit politicians' phones
Joseph Sipalan and A. Ananthalakshmi

Reuters
Kuala Lumpur |

Wed, May 9, 2018

| 01:34 pm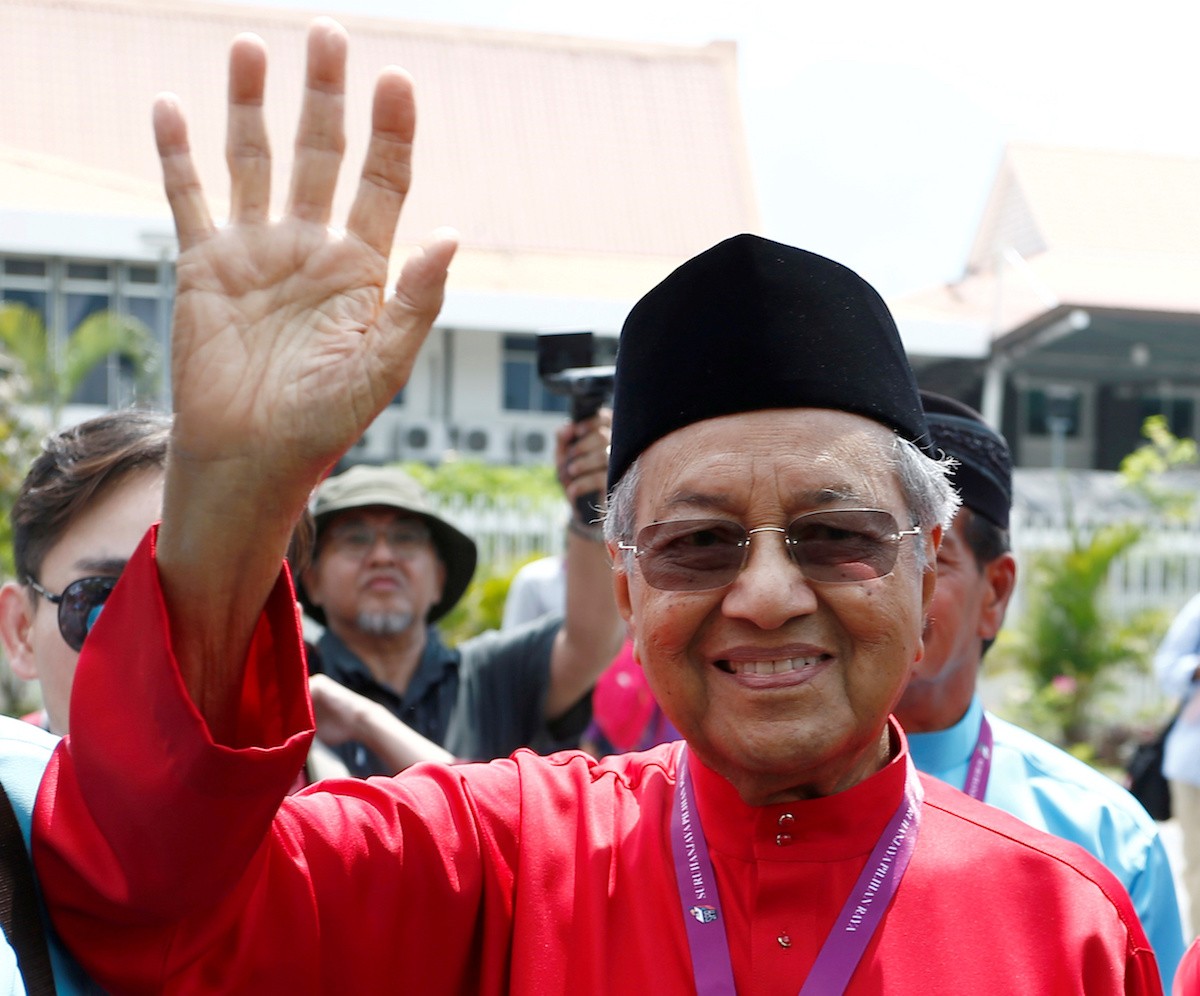 FILE PHOTO: Former Malaysian Prime Minister and candidate for opposition Alliance Of Hope, Mahathir Mohamad, waves to his supporters after his nomination, on Langkawi island, Malaysia April 28, 2018. (Reuters/Lai Seng Sin)
Malaysians voted on Wednesday in a cliffhanger election pitting Prime Minister Najib Razak's coalition against a resurgent opposition led by 92-year-old former leader Mahathir Mohamad, but the government is expected to clinch a narrow win.
Leaders from both the opposition alliance and the ruling party claimed their communications were being disrupted by non-stop spam calls on their mobile phones as voting progressed.
Najib's Barisan Nasional (BN) coalition is expected to win despite an election-eve opinion poll suggesting that its support was slipping and that Mahathir's Pakatan Harapan (Alliance of Hope) would land more votes in peninsular Malaysia, home to 80 percent of the population.
Under Malaysia's first-past-the-post system, the party or alliance with the majority of seats in the 222-member parliament wins. Most experts believe that is within Najib's reach despite allegations of kleptocracy in a multi-billion-dollar graft scandal that have dogged him since 2015.
Najib has been cleared of any offense by the attorney general.
"I think right now, it looks more favorable to BN ... however, the margin that we're talking about is very small," said Mohamed Nawab Mohamed Osman, a Malaysia scholar at the S. Rajaratnam School of International Studies in Singapore.
Polling stations for the 14.9 million registered voters will close at 5:00 p.m. (0900 GMT). The Election Commission said that after four hours of voting the turnout had been 47 percent, which - according to media reports in 2013 - compared with 59 percent in the last election.
Most results are expected before midnight (1600 GMT) but the count may spill into the early hours of Thursday.
"This is a big day for Malaysia as this is when we decide our future," said cardiologist Hasri Samion at a polling station in central Kuala Lumpur. "I think the people have been complacent for too long. We need a visionary to lead Malaysia."
Najib, casting his vote, said he was confident of victory following what he described as "quite vicious" personal attacks during the campaign.
The Malaysian Communications and Multimedia Commission said in a statement that an initial investigation into the spam calls pointed to anonymous bot (automated program) attacks from various sources and on various targets irrespective of political parties.
"We have lost contact with all of our polling agents," said Lim Guan Eng, a senior leader of the opposition Democratic Action Party. "Our campaign workers are also affected. This is a dirty tech attack on us, we have been paralysed."
In a tweet, Najib condemned the "tactic of spam calls" from international numbers received by his camp's leaders and said web sites of the BN alliance could not be accessed. He said he had ordered immediate action to be taken.
Join the discussions