Mahathir in his own words: On markets, Islam and Anwar Ibrahim
Rosalind Mathieson

Bloomberg
Singapore |

Thu, May 10, 2018

| 03:00 pm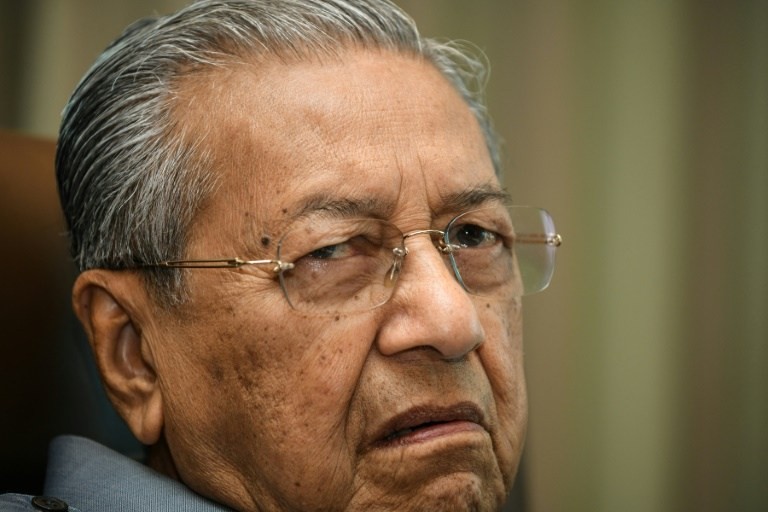 Former Malaysian prime minister Mahathir Mohamad is coming out of retirement at the age of 92 to win against his former protege Najib Razak in elections on May 9, 2018. (AFP /Mohd Rasfan)
Mahathir Mohamad, 92, incoming prime minister of Malaysia, ruffled plenty of feathers during his prior stint in power, when he governed the country for more than two decades.
While he steered Malaysia through the Asian financial crisis of the late 1990s and presided over periods of strong economic growth, he was also a vocal critic of currency traders and institutions like the International Monetary Fund. And he was never shy about calling out other countries, including neighbor Singapore.
Financial Markets
"Currency trading doesn't create any jobs or spin off any business. What we should do is stop this silly thing called currency trading." -- November 2010 interview with Bloomberg. "This idea that the market should fix the exchange rate is a new thing."
"There's no point in treating a currency like a commodity, devaluing it artificially and causing a lot of poverty among poor countries." -- July 2017 interview with Bloomberg
A "moron" who epitomized the "self-serving rogues" who would suck Southeast Asian economies dry. -- In 1997 about Hungarian-born investor George Soros, who rose to fame as the man who broke the Bank of England in 1992, netting US$1 billion with a bet that the UK would be forced to devalue the pound.
Islam
"We are actually very strong. 1.3 billion people cannot be simply wiped out. The Europeans killed 6 million Jews out of 12 million. But today the Jews rule the world by proxy. They get others to fight and die for them." -- October 2003, in a speech to a summit of Islamic countries
"The Jews are not merely hook-nosed, but understand money instinctively." -- Mahathir's 1970 book "The Malay Dilemma"
"I am glad to be labeled anti semitic." -- Writing on his blog in 2012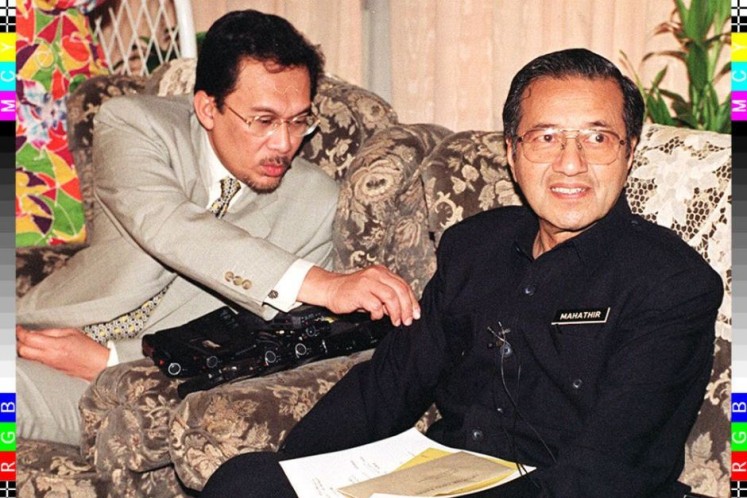 Anwar Ibrahim removes a ball of dust from Mahathir's sleeve during a press conference in 1997. ( AFP/Francis Silvan)
On Foe-Turned Ally Anwar Ibrahim
"I cannot have a person who is like that in my cabinet who may succeed and become the prime minister. Imagine having a gay prime minister. Nobody would be safe." -- September 2005
"The belief that I dismissed him because I was afraid he would oust me is without basis. I dismissed him for two reasons only: he was unsuitable to continue serving in the Government and he was unsuitable to succeed me as Prime Minister." -- Mahathir's 2011 book "A Doctor in the House," on his sacking of Anwar as his deputy during the Asian financial crisis. "I may have made many mistakes, but removing Anwar was not one of them."
Race Relations at Home
"The Malays are spiritually inclined, tolerant and easy-going. The non-Malays, and especially the Chinese, are materialistic, aggressive and have an appetite for work. For equality to come about, it is necessary that these strikingly contrasting races adjust to each other." -- in "The Malay Dilemma"
"I achieved too little result from my principal task, the task of making my race a race that is respected, a race that is honourable, a race that is highly regarded." -- June 2002 speech
Singapore
"We can skin a cat in many ways. To skin Singapore, there is not just one method." -- Quoted from the Berita Harian (Malaysia) report, May 3, 2002
"He's not democratic at all! You see, he goes through the formalities, but if there are any opposition politicians elected, he makes sure that they will be incapacitated, and the suits will be settled with huge payments, compensation and all that; or the opposition will come in and be very quiet and not say anything." -- On late Singapore leader Lee Kuan Yew, in his book "Conversations With Mahathir Mohamad"
China
"Lots of people don't like Chinese investments. We are for Malaysians. We want to defend the rights of Malaysians. We don't want to sell chunks of this country to foreign companies who will develop whole towns" -- in an interview in early April
"We have to ensure our voice is heard because Malaysia does have islands in the area and this we must uphold" -- the same interview, on China and Malaysia's competing claims in the South China Sea
Australia
"This country stands out like a sore thumb trying to impose its European values in Asia as if the good old days when people can shoot Aborigines without caring about human rights." -- December 2002
Australia "talks down to Asia -- it tells the Asians how to behave themselves, even when the Australians themselves are not very well behaved." -- in 1993 to reporters after then-Australian Prime Minister Paul Keating called him a recalcitrant.
Join the discussions