Four boys rescued from flooded Thai cave
Mae Shai, Thailand |

Sun, July 8, 2018

| 08:23 pm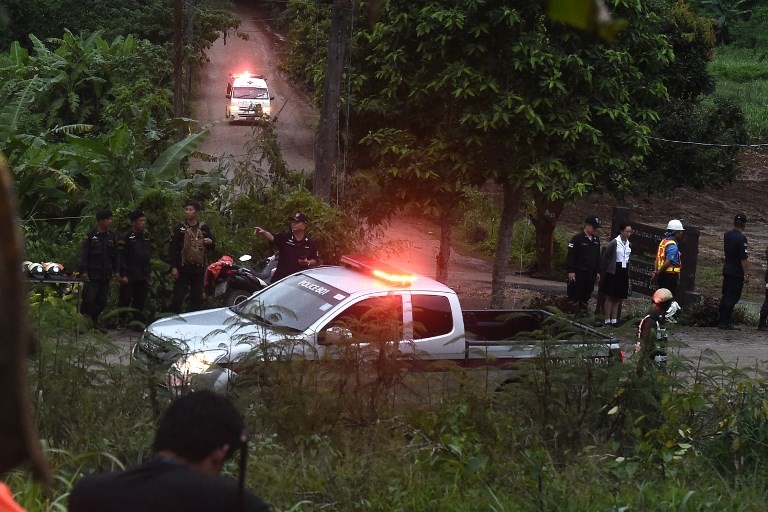 An ambulance and an escort vehicle leave the Tham Luang cave area as divers evacuated some of the 12 boys and their coach trapped at the cave in Khun Nam Nang Non Forest Park in the Mae Sai district of Chiang Rai province on July 8, 2018. Elite divers on July 8 began the extremely dangerous operation to extract 12 boys and their football coach who have been trapped in a flooded cave complex in northern Thailand for more than two weeks, as looming monsoon rains threatened the rescue effort. (Agence France -Presse/LILLIAN SUWANRUMPHA )
Four boys among a group of 13 trapped inside a flooded Thai cave have been rescued, the operation commander said on Sunday.
The first two emerged from the Tham Luang cave complex after navigating a treacherous escape route of more than four kilometres (2.5 miles) through twisting, narrow and jagged passageways.
"Two are out of the cave. Two more are likely to follow shortly," Lieutenant-General Kongcheep Tantrawanit told AFP.
Kongcheep said that the other two boys had also reached a base camp inside the complex from where they could walk the rest of the way.
Foreign elite divers and Thai Navy SEALS on Sunday morning began the extremely dangerous operation to extract the 12 boys and their football coach as they raced against time, with imminent monsoon rains threatening more flooding that would doom the rescue operation.
"Today is the D-day. The boys are ready to face any challenges," rescue chief Narongsak Osottanakorn told reporters near the cave site on Sunday morning.
The group became trapped in a cramped chamber deep inside Tham Luang in a mountainous area of northern Thailand on June 23, when they went in after football practice and got caught behind rising waters.
Their plight transfixed Thailand and the rest of the world, as authorities struggled to devise a plan to get the boys -- aged between 11 and 16 -- and their 25-year-old coach out.
Topics :
Join the discussions