11 out of Thai cave, hopes rise all will survive
Mae Shai, Thailand |

Tue, July 10, 2018

| 05:50 pm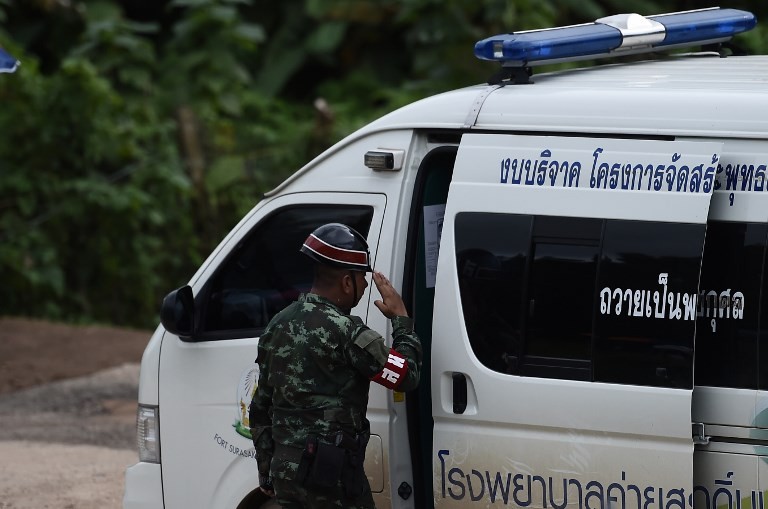 A Thai military police salutes an ambulance leaving from the Tham Luang cave area as the operations continue for those still trapped inside the cave in Khun Nam Nang Non Forest Park in the Mae Sai district of Chiang Rai province on July 10, 2018. (Agence France Presse/Ye Aung Thu)
An eleventh person was rescued from a Thai cave on Tuesday evening, a navy source and a provincial official told AFP, as the dramatic bid to free 12 youth footballers and their coach inched towards a successful end.
"The eleventh is out," a navy source told AFP, requesting anonymity, but not confirming if the person was a boy or the 25-year-old coach. A provincial Chiang Rai official added "the eleventh was taken to a field hospital."
The hoped-for final chapter in an ordeal that has gripped the world came after elite foreign divers and Thai Navy SEALs escorted eight members of the "Wild Boars" football team out of the Tham Luang cave in northern Thailand on Sunday and Monday.
Then on Tuesday afternoon multiple sources involved in the operation said three more had been escorted out. However it was not clear if the 25-year-old coach was among them or if he remained inside.
The 12 boys, aged from 11 to 16, and their coach, ventured into the cave on June 23 after football practice and got caught deep inside when heavy rains caused flooding that trapped them on a muddy ledge.
They spent nine harrowing days trapped in darkness until two British divers found them.
Authorities then struggled to devise a safe plan to get them out, mulling ideas such as drilling holes into the mountain or waiting months until monsoon rains ended and they could walk out.
Join the discussions