Cambodia bans alcohol amid general election
Agnes Anya

The Jakarta Post
Phnom Penh |

Sun, July 29, 2018

| 11:17 am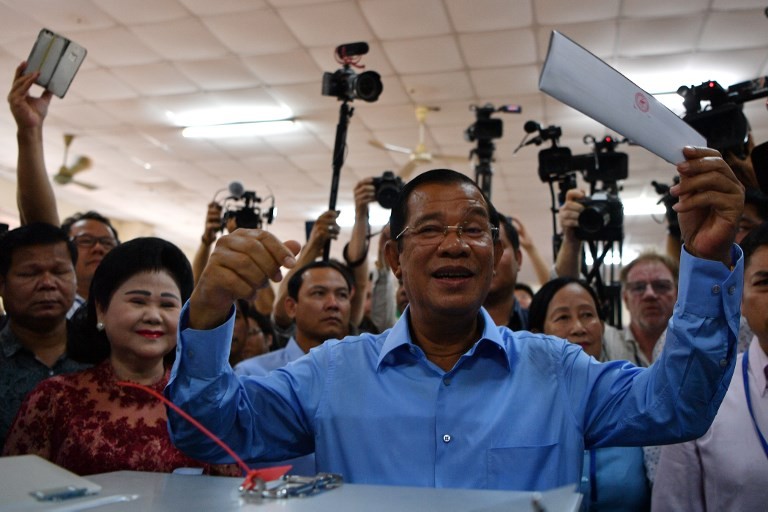 Cambodian Prime Minister Hun Sen (right) prepares to vote during the general election as his wife Bun Rany (left) looks on in Phnom Penh on July 29. Cambodia went to the polls early on July 29 in an election set to be easily won by strongman premier Hun Sen after the only credible opposition was dissolved last year, effectively turning the country into a one-party state. (AFP/Manan Vatsyayana)
The Cambodian government banned alcohol on Sunday to ensure the country's security amid its electoral election.
"The prohibition will last only 24 hours," said Yara Suos, spokesperson for the ruling Cambodia's People Party, on Saturday.
Yara said the measure had been taken to ensure no incidents took place that could disrupt the poll, which is set to choose lawmakers for 125 seats.
Cambodian Prime Minister Hun Sen on Friday –the last day to campaign– had urged the public to vote "to support democracy" ahead of the weekend election, which many experts have deemed an unfair ballot.
Hun Sen, the world's longest ruling prime minister and also incumbent candidate from the Cambodian People's Party, told his supporters to vote in Sunday's election as a form of contribution to their community.
"Those who vote support democracy, while those who don't destroy democracy. Thus, if you don't vote, how can you still live in the community?" said Hun Sen, who has ruled the Southeast Asian country for over 32 years, during his speech on the last electoral campaign day on Friday.
The campaign to vote was initiated following a "clean finger" boycott call from the unlawful main opposition party, Cambodia National Rescue Party (CNRP).
CNRP, through its exiled leaders, called on its supporters not to vote after Hun Sen's government disbanded the party last year and put its leader, Kem Sokha, in jail over accusations of plotting to overthrow the government.
Hun Sen's administration said calls to boycott the vote were illegal, but rights groups argue the calls were not against the law.
A source who requested anonymity told The Jakarta Post that there was also pressure to vote at the neighborhood level, with local leaders telling people that they would be denied public services should they abstain from voting.
"The last time, we implemented law in order to crackdown on traitors who wanted to overthrow government and bring the country to war," Hun Sen said in Friday's speech. "We want to maintain peace. So, we punish those who destroy national security and the nation."
Hun Sen said if his party won, he would prioritize attracting investment in human resource training and health facilities.
Sunday's election will be Cambodia's sixth since it emerged from decades of war in 1993. Many fear the vote will be a sham following a crackdown by Hun Sen on critics, including civil society and independent media. (evi)
Join the discussions