In memory of Kota Tua
Jakarta |

Fri, May 5, 2017

| 08:31 am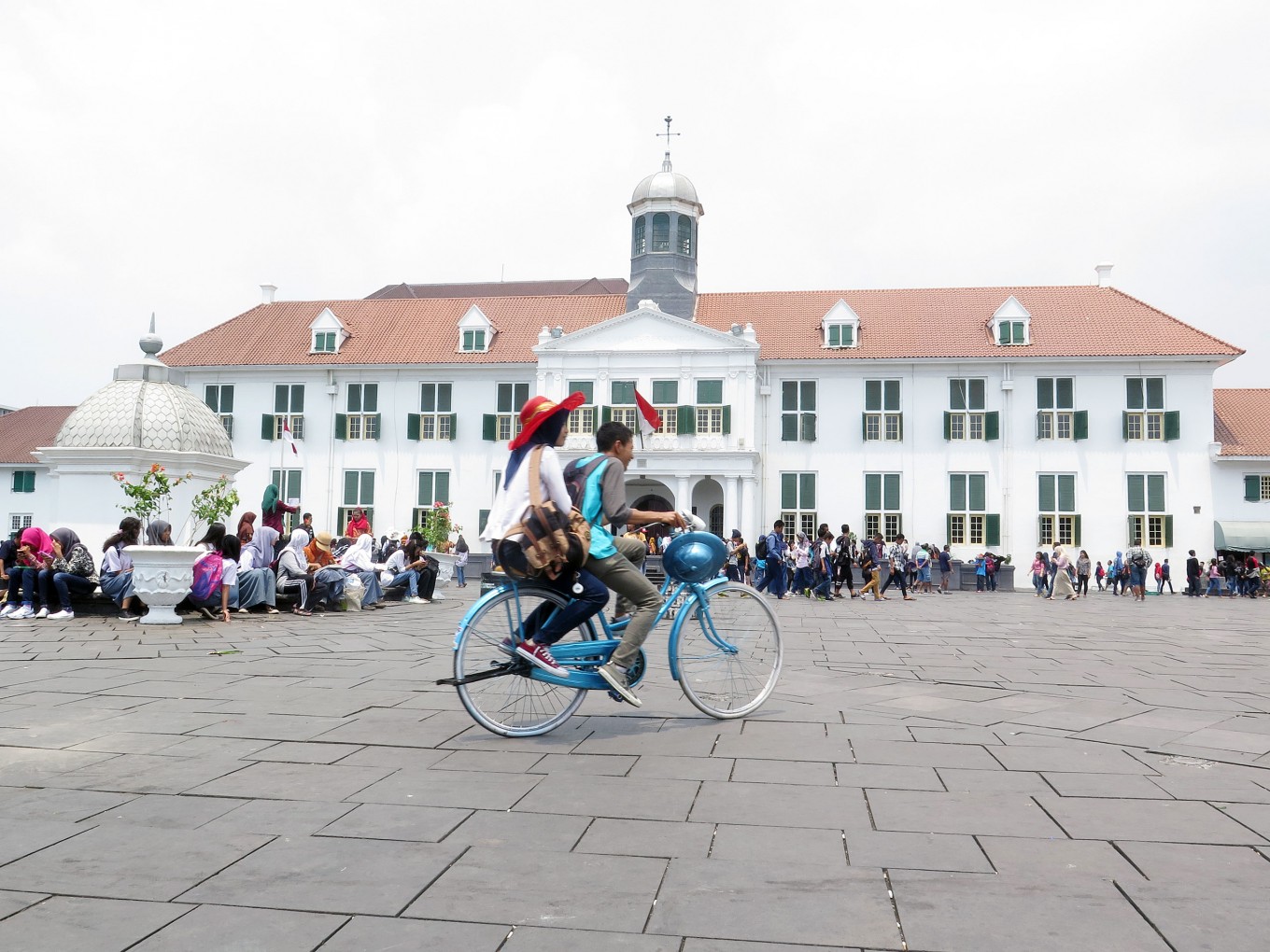 A couple rides a bicycle in front of the Fatahillah Museum in Kota Tua. (JP/A. Kurniawan Ulung)
As I washed down my final piece of terribly delicious poffertjes with a cup of coffee, I glanced out of the window and observed an ocean of people—shrunk in size to monopoly pieces—loiter about the plaza with selfie sticks and pocket cameras. Most were posing for pictures with friends, others sang their hearts out in the hopes of some cash and some were interested in the many bules (foreigners) who choose to indulge themselves in this part of Jakarta.
One of them, however, was different from the rest of the pack. She couldn't have been older than 13—her Disney Princess themed shirt and perky ponytails suggested so—but she was doing something most adult visitors had neglected. She stared at the colonial structure that is the Fatahillah Museum, allowing herself to be captivated by the Dutch-esque architecture. Marble-like eyes explored every detail of the structure, mouth agape with wonder.
She was in love.
Read also: Jakpost guide to Kota Tua
In love with the building. In love with the atmosphere, in love with the history and in love with Kota Tua. Just as the first signs of a drool began to form, a woman—presumably her mother—nudged at her back and saved her from a moment of embarrassment.
A waiter came by and asked if I wanted my check. I smiled, and told him to bring me another round of that terribly scrumptious poffertjes and another cup of coffee. Looking back, I probably shouldn't've ordered the coffee (it kept me awake till an eye-watering 2 a.m.), but at that moment I didn't care.
I didn't want to leave, because I was in love too.
Kota Tua (Old Town) is one of a kind. In the midst of all the smog and screams of the streets, it's refreshing to know that other than the mall, we Jakartans have an alternate place to kick back, relax and actually enjoy being part of the city.
The look of its run-down buildings may be disheartening, but years ago they were the sites of scandals and conflicts, inspiration and resolution, love and hope. Its walls once eavesdropped on plans for a not-so-legal trade deal, its rooms sheltered young couples from cold nights, and its kitchens once sizzled with appetizing aromas.
Read also: Millennials fuel RI tourism wave
Once a bustling hub of capitalism, it has since relayed its noble duties to the districts of Sudirman and Thamrin. It once hosted the ambitious businessman and the boisterous banker. Now it hosts the aspiring musician and the humble hawker. Unfortunately, since its retirement as the city's business district, Kota Tua began to fizzle out of our memories, until the point where its grandeur is nothing more than a mere reminiscence of the frail-bodied.
Yes, certain buildings endure the trials of the ages, but many stand fractured and forgotten—lost to the passage of time and consumed by the elements. Despite recent efforts to revitalize the area, an alarming majority of Kota Tua's buildings are still in a disheartening condition. Moss-covered walls and collapsed roofs are a common sight whilst circling the district. The more prominent buildings are of course, fully renovated and restored to their former glory, but the others have become victims of vandalism and act as shelters for roaming rodents.
With the second round of poffertjes now gone and the orange orb descending rapidly towards the horizon, I finished my coffee and settled my check.
As I made my way out, I glanced around at the pulsing hubbub laid before me and took a deep breath. The air was humid. Hints of body odor and greenhouse gases crashed onto my nostrils like a freight train, but it was good. It was the smell of home—a genuine indicator that I'm in Jakarta.
It is disheartening to realize how easy it is to simply abandon our roots when we live in a massive metropolitan. We must never forget how fortunate we are to live in the nation's capital, and we owe it to the Jakartans of the past, present and the future to help preserve its heritage for years to come.
***
Timothy is a member of the Kota Tua Project, a dual-functioning association run by students, which aims to work together with the Kota Tua governing body in implementing effective urban strategies while carrying out government-initiated campaigns targeted to the youth of Jakarta. Find out more about this initiative at https://ginjakarta.org/kota-tua-project/ and https://www.instagram.com/kotatuaproject/?hl=en.
---------------
Interested in writing for thejakartapost.com? We are looking for information and opinions from experts in a variety of fields or others with appropriate writing skills. The content must be original on the following topics: lifestyle ( beauty, fashion, food ), entertainment, science & technology, health, parenting, social media, travel, and sports. Send your piece to [email protected] For more information click here.
Disclaimer: The opinions expressed in this article are those of the author and do not reflect the official stance of The Jakarta Post.
Join the discussions