Bandung gears up for Independence Day Carnival
Jakarta |

Sat, August 26, 2017

| 10:05 am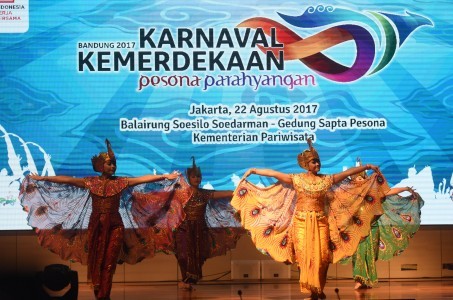 Three dancers perform Peacock Dance during the expose of "Pesona Parahyangan Independence Carnival" in Jakarta on Aug. 22. The carnival will be held in West Java provincial capital of Bandung on Aug. 26. (Antara/Akbar Nugroho Gumay)
A day prior to the Parahyangan Charm Independence Carnival 2017 (Karnaval Kemerdekaan Pesona Parahyangan 2017), the city of Bandung held a final rehearsal around the carnival route.
Social media was inundated with hashtags #KarnavalPesonaParahyangan (Parahyangan Charm Carnival) and #StartJam2Siang (Starts at 2 p.m.) as well as preparation photos and videos.
With the theme Nyalakan Api Semangat Kerja Bersama (Light up the Spirit of Collaboration), the event is being held on Aug. 26 and features three carnival curators Aat Suratin, Dynan Fariz and Heru Mataya.
"Up until now, the Bandung city administration has been working hard in preparing for tomorrow's Independence Day carnival," said Bandung mayor, Ridwan Kamil.
One of the preparations is clearing out the roads that carnival group is set to pass through.
"We can confirm that President Joko Widodo will attend the carnival," added Ridwan.
The carnival is scheduled to start at 02:00 p.m. and end at 05:00 p.m, passing through Gedung Sate, Vinda Park and Bandung Town Hall.
President Jokowi together with first lady Iriana Joko Widodo will tour around the town in Kereta Pancasila, a carnival vehicle designed by five artists from Bandung.
There are around 43 contingents from different provinces, cultures, communities, cities and regencies that partake in this event.
Other performers at the carnival include Drumband Changka Panorama Secapa TNI AD, Paskibraka Jawa Barat, Jember Fashion Carnival, Solo Batik Carnival, Jack Obin Engrang Players, Bandung gymnastic athletes, rebana group from Pondok Pesantren Nurul Iman, Barisan Jaka Tarub, Kuda Renggong Sumedang and Bandung Cosplay Community among others.
"This carnival is the final event of the 72nd Anniversary of Indonesia's Independence Day, which will showcase different kinds of cultures from each province. The three best Indonesian carnivals that also take part in the festivity include the Jember Fashion Carnaval, Solo Batik Carnival and Tomohon Flower Carnival" said tourism minister, Arief Yahya.
"By choosing Bandung to host this carnival, we hope that in the future it will strengthen Bandung's position as the center of creative industry and as a world-class carnival destination," added Arief. (asw)
Topics :

Join the discussions