Celebrity ambassador for Banyuwangi tourism joins ASITA's 2nd National Working Meeting
Jakarta |

Sun, November 12, 2017

| 03:04 pm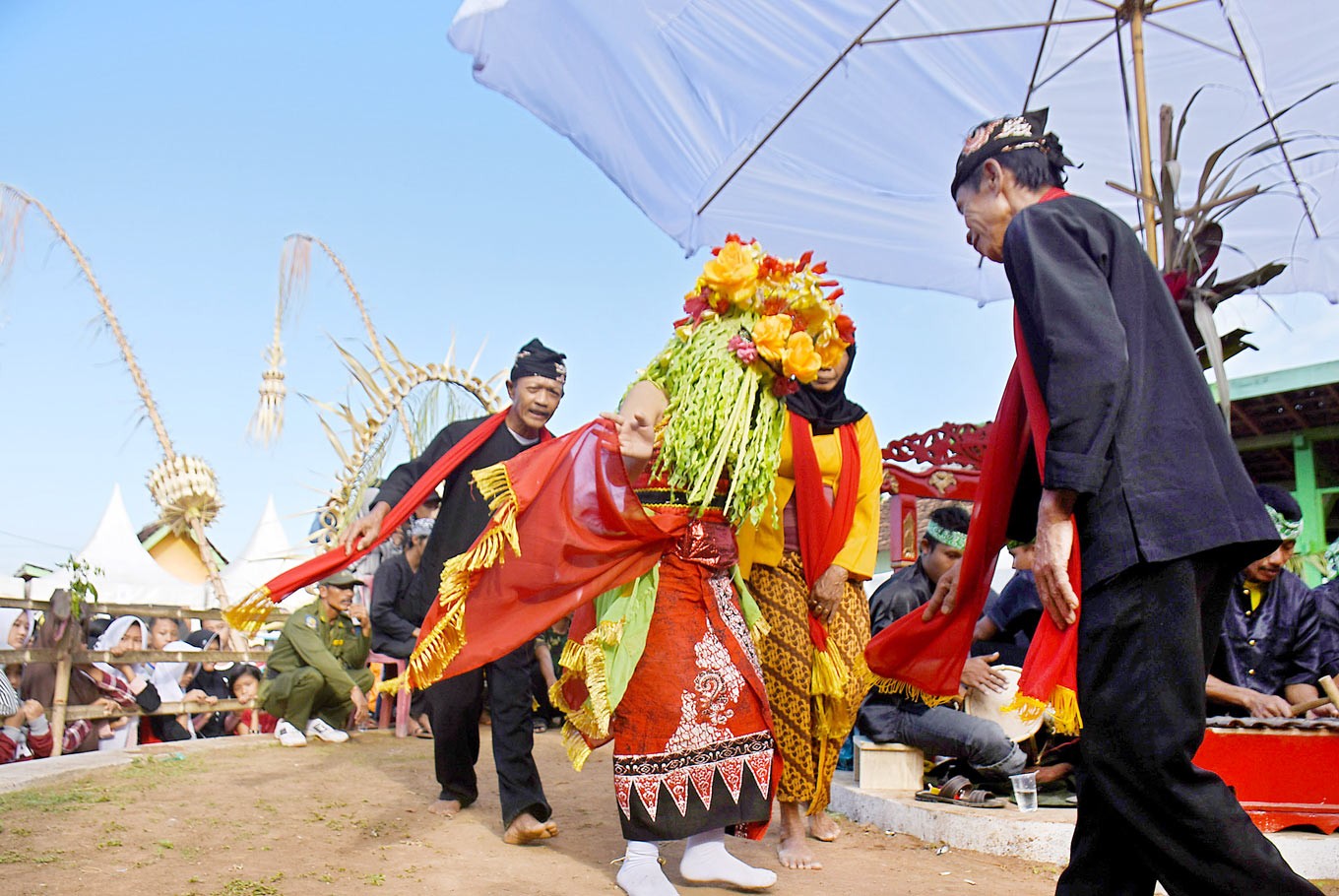 Signature dance: A dancer performs the Seblang dance while in a trance as part of an annual ritual in Olehsari village, Banyuwangi, East Java. (JP/Aman Rocman)
While talking and discussing about tourism industry in Indonesia, participants of 2nd National Working Meeting (Rakernas II) hosted by the Association of Indonesian Tour & Travel Agencies (ASITA) were also entertained by several music and dance performances.
The event that runs for three days on Nov. 10-12 is held at Ciputra World in Surabaya, East Java. During the gala dinner, the participants were entertained by contemporary dance performances, fashion show of traditional outfits and performance by dangdut singer Fitri Carlina who also serves as tourism ambassador of Banyuwangi city.
"I'm proud and truly appreciate this opportunity to contribute to the tourism development. I hope Indonesian tourism grows rapidly under the leadership of [Tourism Minister] Arief Yahya and the target number for tourist visits is achieved," said Fitri.
During her performance, Fitri sang some of her hit singles such as "Pulang Pagi" (Came Home Early in the Morning) and "Gantengnya Pacarku" (My Boyfriend is So Handsome).
Read also: Three selfie-worthy spots in Semarang
Tourism Minister Arief Yahya who was one of the guests at the gala dinner made a presentation in front of the audience about digital tourism,
"During the Rakernas Asita meeting, I told travel agents to head towards digital tourism as we need to anticipate the changing of consumer behavior or else conventional travel agents will die," told Arief.
Prior to the gala there was a B2B and B2C round table event between buyers and sellers for one day. Up to 30 sellers attended the forum ranging from tour agents, hotels to MICE organizers and management of tourist attractions in East Java.
"While the buyers are travel agents from Indonesia and overseas who want to sell tour packages to East Java," said ASITA Indonesia DPP head Asnawi Bahar.
The Rakernas II discussed three topics: Fun Business, Explore the Beauty of Mount Bromo and Effective and Efficient B2B Forum. The event is held in Surabaya as part of an effort to promote destinations in East Java.
After the meeting, participants will join a post-tour trip to Mount Bromo and other places such as Madura and Kota Batu.
The post-tour is specifically designed for buyers to directly see tourist destinations in East Java. The tour will be held for two days with destinations include Mount Bromo, Batu, Malang, Prigen and Surabaya City Tour. Another option is Madura.
During the Surabaya City Tour, participants will be entertained with theatrical performances to commemorate the Heroes' Day that falls on Nov. 10. (kes)
Topics :

Join the discussions