Local designers in spotlight at Banyuwangi Ethno Carnival
Jakarta |

Mon, November 13, 2017

| 01:01 pm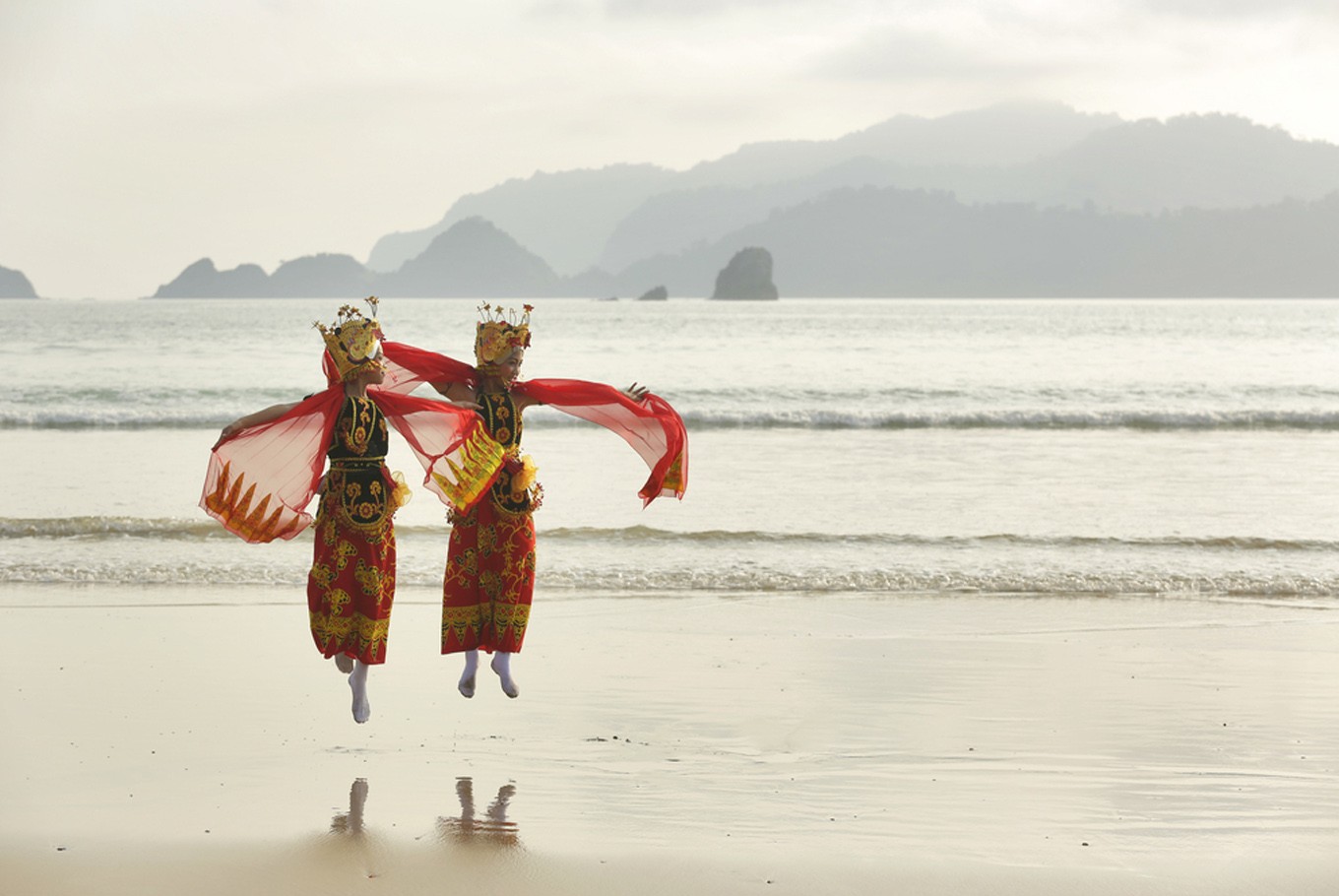 In this May. 24, 2015 picture, two Indonesian folk dancers are dancing in the coastline of Merah Beach in Banyuwangi regency, East Java. (Shutterstock.com/Yavuz Sariyildiz)
Banyuwangi regency in East Java recently hosted Banyuwangi Ethno Carnival (BEC) on Nov. 11 that was attended by Tourism Minister Arief Yahya and Coordinating Minister for Human Development and Cultural Affairs Puan Maharani.
"What makes [BEC] different is everything is run by the people of Banyuwangi; from dance studio, musicians, dancers to the committee," said Banyuwangi Regent Azwar Anas.
Themed "Majestic Ijen", BEC presented a total of 160 local-designed costumes inspired by the beauty of Ijen Volcano.
Additionally, participating in BEC is a stepping-stone for these designers. One BEC alumni named Annisa Feby Chaurina who first gained recognition for her work at the event is currently an award-winning costume designer.
Read also: The lesser-known birthplace of Sukarno
Annisa was the mastermind behind the costume Barong Sunar Udara that won best national costume at the Miss Supermodel International 2016 in New Delhi, India. She also designed The Exotica of Gandrung Banyuwangi worn by Putri Indonesia Jawa Timur at the Putri Indonesia 2016, which was among the top three list of the pageant's best traditional costume category.
"Banyuwangi Ethno Carnival shines the spotlight on local culture; it shows that BEC has become an art installation that's worth praising," told Puan.
BEC has always been consistent in highlighting the local culture. The previous six BEC events were themed Gandrung, Damarwulan and Kundaran, re- Barong Using, Kebo-Keboan, The Mystic Dance of Seblang, Kemanten Using and The Legend of Sritanjung Sidopekso, respectively. This year marks the seventh anniversary of the carnival.
BEC is one of the 72 events being held in Banyuwangi this year. Apart from BEC, other big events hosted by the regency include Gandrung Sewu and Tour de Ijen.
"Banyuwangi is one of the cities with the most events; it hosts up to 72 events in a year, meaning that there's always a festival being held every week. The income per capita in Banyuwangi also went up from Rp 14 million to Rp 41 million," told Arief. (kes)
Topics :

Join the discussions