Exploring hip spots on Gold Coast
Irawaty Wardany

The Jakarta Post
Gold Coast |

Tue, December 12, 2017

| 10:03 am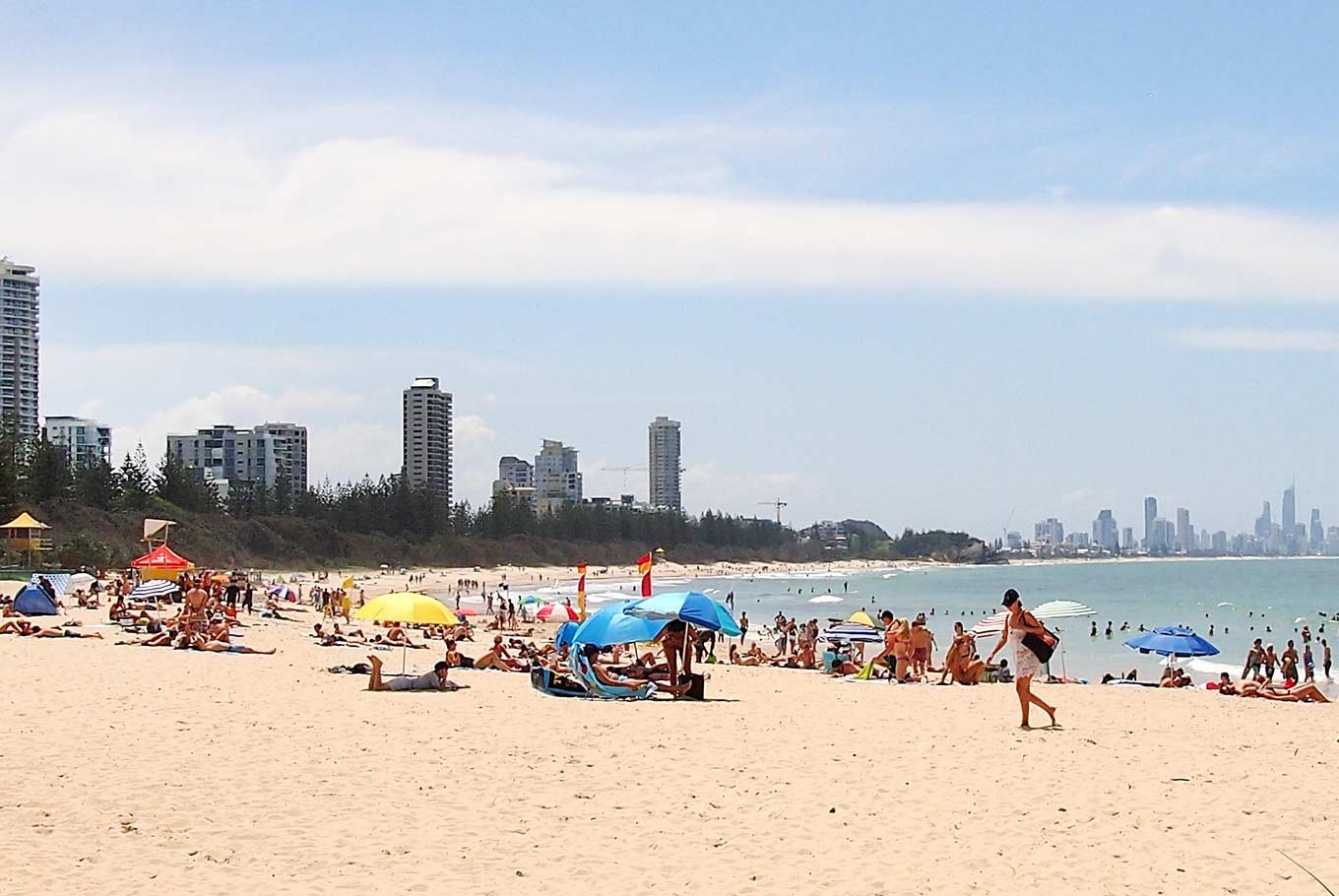 Relaxing: People enjoy their weekend at Burleigh Heads beach on the Gold Coast, Australia. (JP/Irawaty Wardany)
The Gold Coast in Queensland, Australia, ranks fourth on TripAdvisor's top 10 destinations in Australia for 2017.
The city has so much to offer for single backpackers, lavish business travelers as well as families.
Therefore low-cost carrier AirAsia X, works together with Tourism and Events Queensland and Gold Coast Tourism in conjunction with AirAsia X's 10thanniversary celebration to familiarize people with the city's tourist attractions.
They invited journalists and travel bloggers from four countries, including The Jakarta Post's Irawaty Wardany, for a four-day trip across the city. This is her report.
With lines of high-rise buildings as a background, and white sandy beaches along its coastline, the Gold Coast seems like a utopian city straight out of a sci-fi movie.
Walking along Surfers Paradise beach, people can easily feel the laid-back atmosphere of the city. Locals and tourists alike were sunbathing in the early summer of late October, while children indulged their playful mood by chasing birds.
When night falls, the city changes into a vibrant entertainment scene where cafés and nightclubs welcome party-goers.
The coastal town is currently gearing up to host the 2018 Commonwealth Games from April 4 to 15. Over 6,000 athletes and officials from 70 countries are expected to flock to the city.
Hence construction projects are seen everywhere. Hotels are being revamped, including the construction of a 6-star hotel that will provide guests with a private butler. Major transportation projects are also under way in some areas of the city.
"Our aim is for visitors to spend their money here," said Mish Lockington from Gold Coast Tourism.
As of October, the Gold Coast recorded a total of 12.9 million visitors, a million of them foreigners.
The top five international source markets are China with 303,000 visitors, followed by New Zealand (206,000); the United Kingdom (71,000), Japan (68,000) and the United States (41,000).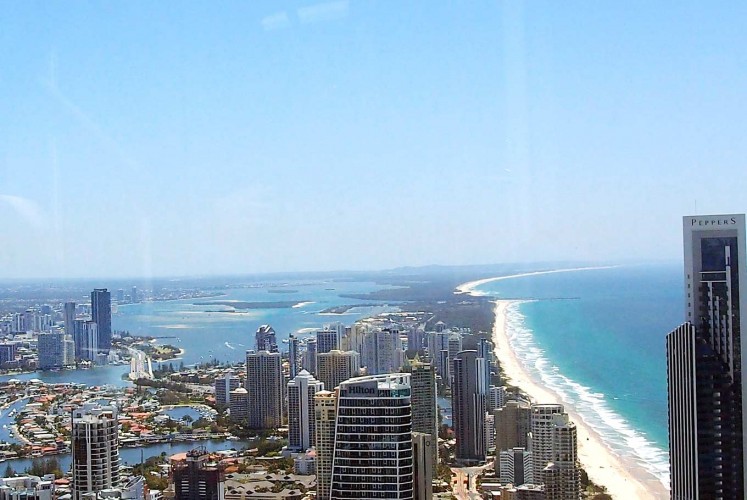 Quite a view: The Gold Coast skyline as seen from the Skypoint observation deck on top of the Q1 building. (JP/Irawaty Wardany)
Catching the wave
To say that the Gold Coast is a surf heaven is not an exaggeration. There is no shortage of beaches and waves to catch in this city of almost 600,000 people. Burleigh Heads, Kirra Beach, Rainbow Bay and Greenmount are some of the places recommended for surfers, according to the Gold Coast tourism booklet.
In March last year, a 16-kilometer stretch of the Gold Coast from Burleigh Heads to Snapper Rocks was declared a World Surfing Reserve, joining the likes of California's Malibu and Punta de Lobo in Chile.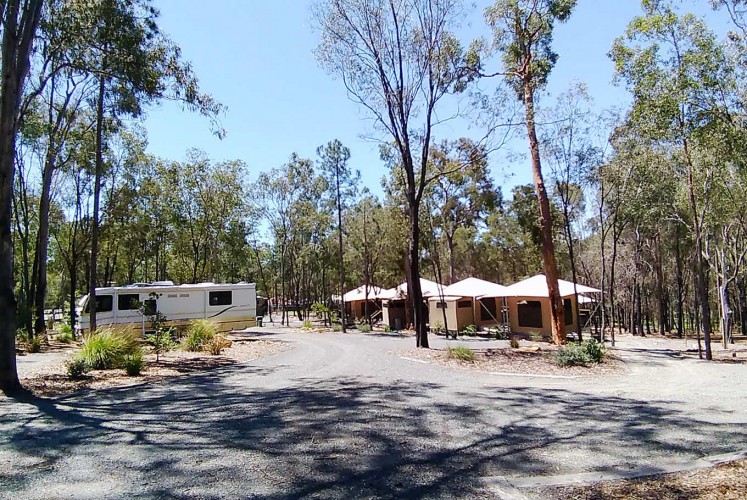 Experiencing nature: Visitors who want to spend a night surrounded by nature can rent a farm-style camp or a caravan at Paradise Country. (JP/Irawaty Wardany)
Bohemian vibe
Those wanting a more bohemian vibe, attending a yoga class at BSKT Loft near Nobby Beach, strolling through the Beachfront Market on the esplanade in Surfers Paradise or browsing night markets like NightQuarter in Helensvale in the northern part of the city might be worth considering.
The Beachfront Market, which has been in existence since 1995, is open every Wednesday, Friday and Sunday night and features unique products from fashion to household goods.
Almost similar to the Beachfront Market, the NightQuarter operates in a less crowded part of the city. The night market, which is open every Friday and Saturday, is a creative playground where people can find local crafts, micro restaurants and live entertainment.
"It's an organic, buzzing vibe every weekend with delicious aromas in the air where the local community gathers. We provide the platform, but it is an organic community that has grown from the passion of the vendors and the local people," NightQuarter co-owner Michele Christoe said.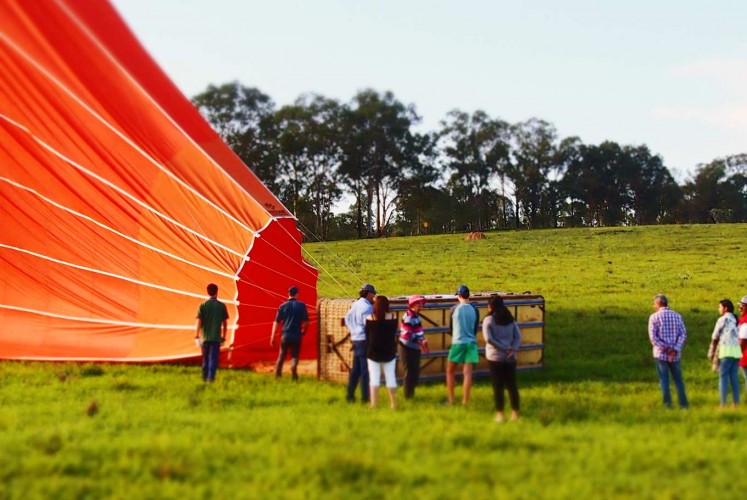 Down to earth: Passengers stand near a hot air balloon after riding in it for around 30 minutes. After the ride, the pilot and crew asked the passengers to help them roll up the balloon. (JP/Irawaty Wardany)
Up, up and away
For the thrill seekers, the Gold Coast is certainly a must.
If you don't have acrophobia, then you're all set to climb the Skypoint that offers a 360-degree view of the city and beyond. It sits atop the iconic Q1 Building that is 270 meters high. Having that feeling of literally having the world at your feet for once won't hurt.
If that's not enough, then riding in a hot air balloon might be worth your time even if it means you have to wake up as early as 3 a.m. to catch the sunrise or what's left of it.
Aside from that, the Gold Coast is also known as a place with the largest concentration of themed attractions in the southern hemisphere.
A new A$30 million (US$22 million) HyperCoaster was added to the Warner Bros Movie World in September.
With speeds of up to 115 km per hour, through a 1.4 km-long and 61 m-high series of twists and turns, it certainly is not an attraction for the faint-hearted.
"It was the most thrilling two minutes of my life and it helped me forget all my troubles," said Safina, a visitor from Malaysia.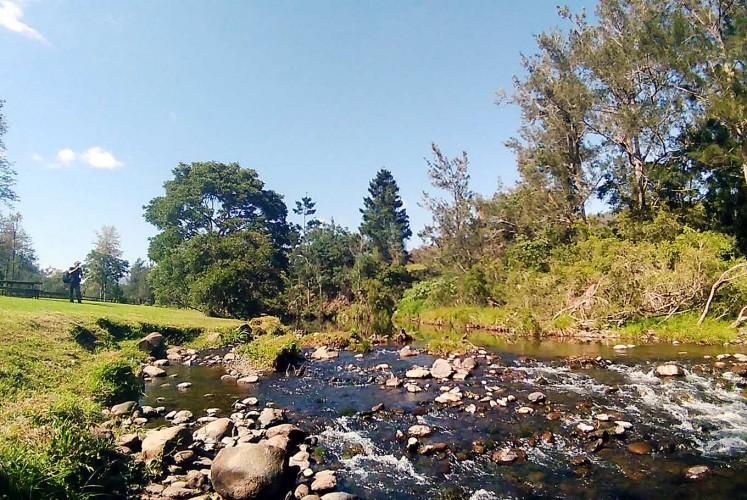 Fresh air: Canungra creek that runs behind O Reilly's Canungra Valley Vineyard. (JP/Irawaty Wardany)
Back to nature
For nature lovers, bird watchers and the like, the Gold Coast has much in store behind those glittering high-rise buildings.
Walking along the trails of the rocky foreshore and standing at the scenic lookout points of Burleigh Heads National Park or experiencing Aussie farm life in Paradise Country are among the options available for nature lover.
The 27-hectare national park is home to various species of animals and plants. Our host, Kate Fulton from Gold Coast Tourism Corporation, said visitors might glimpse whales migrating in the coastal waters. Unfortunately we were not that lucky.
Looking for a more natural spot, Tamborine National Park, which the locals call the green behind the Gold, is a good place to explore. With abundant wildlife, clean mountain air and waterfalls, it is a great place to escape the hustle and bustle of the city.
Nearby, visitors can also have a taste of wine from a long list of vineyards and wineries.
A place highly recommended for children is Paradise Country, where they can cuddle koala bears, feed kangaroos and goats or watch a sheep shearing demonstration.
Overnight visitors can be accommodated in a farm-style camp, caravan or motor home.
Topics :
Join the discussions