Checking in: NRT, a future forward airport
Christian Razukas

The Jakarta Post
Jakarta |

Sun, February 11, 2018

| 08:02 am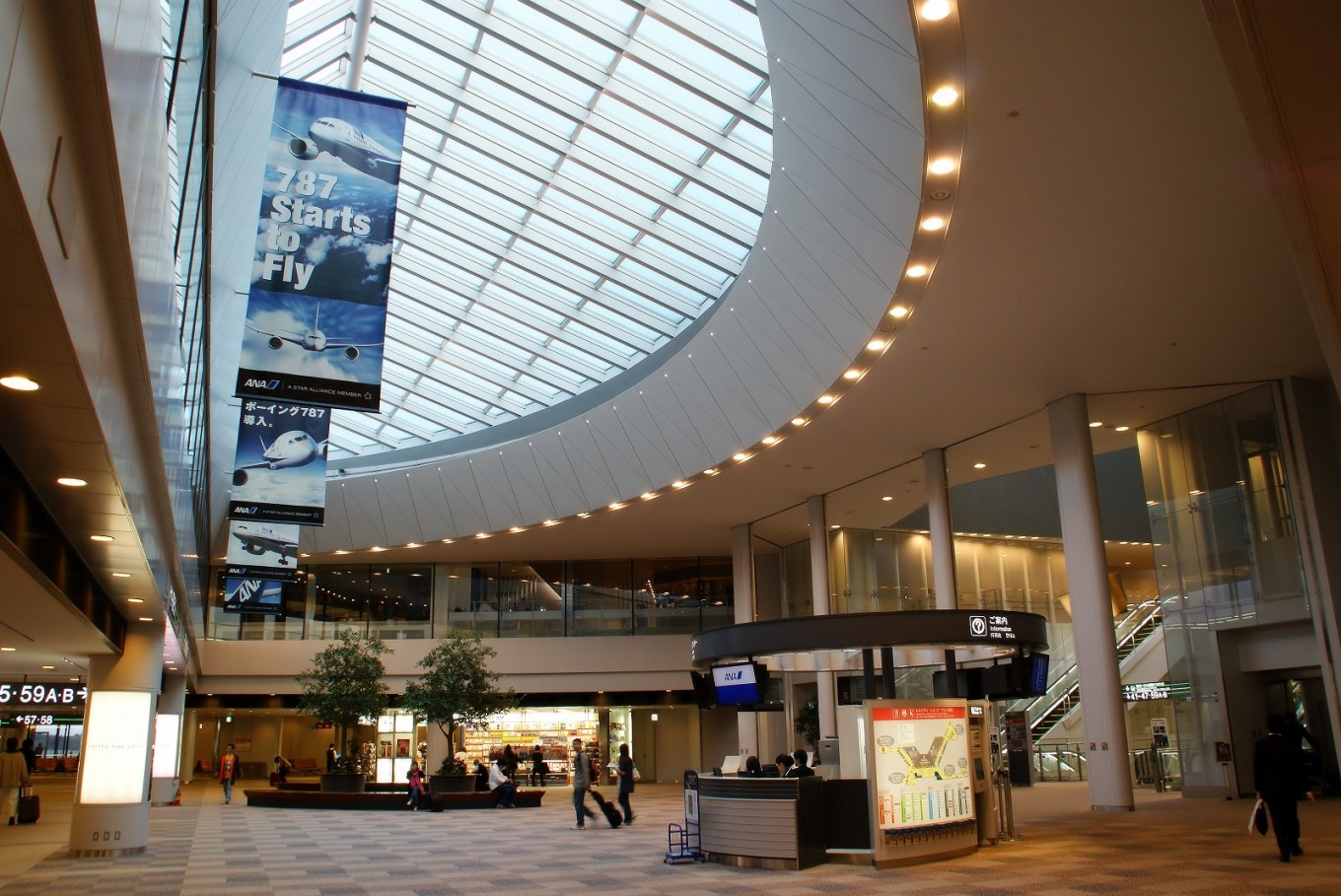 Narita International Airport (Narita International Airport/File)
As part of Checking In, a regular series by J+ on The Jakarta Post with behind-the-scenes airport info to help you make your connection, we take a look at Japan's Narita International Airport.
Tokyo will host the 2020 Summer Olympics–and Narita is getting ready, with everything from high-tech bathroom renovations, improved signage, halal-certified restaurants and, since this is Japan, robots. Lots of robots.
Layout
Terminal 1 serves Sky Team and Star Alliance airlines, while Terminal 2 serves airlines under the One World aegis. Terminal 3 focuses on low-cost carriers. The buildings of sprawling Terminal 2–which includes the largest duty-free shopping zone in Japan–are connected by a speedy shuttle.
What's cool
Don't miss the Kabuki Gate, produced by the creatives at Shochiku film studio, which shows off gorgeous traditional Japanese theatre costumes that change to match the seasons. There's also a photo booth that will superimpose your face on a Kabuki costume. (Terminal 1, 3F).
What's new
Customer toilets are getting a makeover with what officials say is "the world's most advanced toilet technology", along with wide booths for large luggage and vanity areas.
Read also: Beijing inches closer to becoming the world's busiest airport
Wired
Free and paid Wi-Fi service is available in all terminals. While Narita's website offers a list of carriers offering foreigners prepaid SIM cards, you'll want to check out their inexpensive Wi-Fi router rentals. Some vendors offer pick-up at the terminal or delivery to your hotel, along with pre-paid mailing envelopes to return the gadget when done. Courtesy WiGig technology, promising wireless downloads at Gigabyte speeds, is slated for launch in 2017.
Tired
The "nine hours Narita Airport" capsule hotel (with an adorable website at ninehours.co.jp) is open 24 hours a day in Terminal 2, offering sleekly designed and cozy rooms with book-ahead prices starting from 4,900 Yen (US$44.70). Terminals 1 and 2 both boast bookable nap and first-come/first-served shower rooms (starting at 1,030 Yen).
For kids
The airport is adding more than 300 gachapon machines in Terminals 1 and 2. For those not in the know, gachapon are tiny capsules with little toys or figures based on anime, manga or video games. Both terminals also feature multiple well-equipped playrooms for your little ones to exhaust themselves before a flight.
Quick bite
The recently opened Narita Dining Terrace comprises six popular and authentic Japanese restaurants in the Airport Mall in Terminal 1, including a branch of the Nagasakasarasina Nunoyatahee, the 228-year-old soba noodle restaurant, and Tomita, a the popular Chinese noodle shop from Matsudo. There's also gihey, serving up Japanese set meals from Kyoto's rice connoisseurs, Hachidaime Gihey. NB: Narita also offers several halal-certified restaurants and vegetarian menus.
Turning Japanese
Both terminals boast Japanese Cultural Experience Corners that feature free and fun activities, where you can dress in yukata robes, learn calligraphy, make kites and paper dolls and even try your hand at ukiyo-e printing.
Local snack
Our sources at the airport say to try some of the unique local confections, such as Royce' Nama chocolate, sourced from Ghana and Ecuador, among other places, chocolate-filled Shiroi-Koibito cookies, and Tokyo-banana souvenir sweets, a sort of banana sponge cake.
Read also: World's 13 most beautiful airports
Hi, robot
Panasonic was testing its HOSPI robots in Narita earlier this year. The droids were busy serving bottled water and announcing bus schedules. Meanwhile, Hello Kitty makers Sanrio launched another robot, Kokoro, which gave directions, answered questions (using cloud-based speech recognition tech and even sold travel insurance. Robots, robots everywhere.
Lounge situation
ANA, Delta, KoreanAir and United all have lounges in Terminal 1, while American, Cathay Pacific, China Airlines, Emirates, JAL and Qantas operate lounges in Terminal 2. The Narita TraveLounge, opened in October, offers day passes inside passport control in Terminal 1 starting at 1,200 Yen, while Travelers' Lounge Rassurants is outside passport control in Terminal 2. Four TEI and IASS executive credit-card lounges offer a chance to relax, but note they're before outbound passport control.
Awards
Skytrax and the World Airport Awards named Narita the world's No. 3 Best Airport Dunng Experience for 2016, coming in just behind Singapore's Changi. Meanwhile, there's good news for those travelling on Jetstar Japan, Peach or Vanilla Air: SkyTrax named Narita's Terminal 3 the World's Best Low-Cost Terminal. The space has also picked up accolades for its sleek design.
The app
NRT_Airport Navi is the official airport app, which is supplemented by NariTra, or Narita Translate, with speech-to-speech translations, and and NariCo, or the Narita Concierge.
***
Key data
Airport: Narita International Airport
Location: 57.5 kilometers east of Tokyo Station
Indonesian visa situation: No visa required for 15 days, with waiver registration certificate
Passengers count: More than 37 million
Service numbers: 93 airlines, 124 cities, 38 countries
Topics :
Join the discussions