Anticorruption road show shares Bung Hatta's honesty, integrity
News Desk

The Jakarta Post
Jakarta |

Fri, October 5, 2018

| 02:59 pm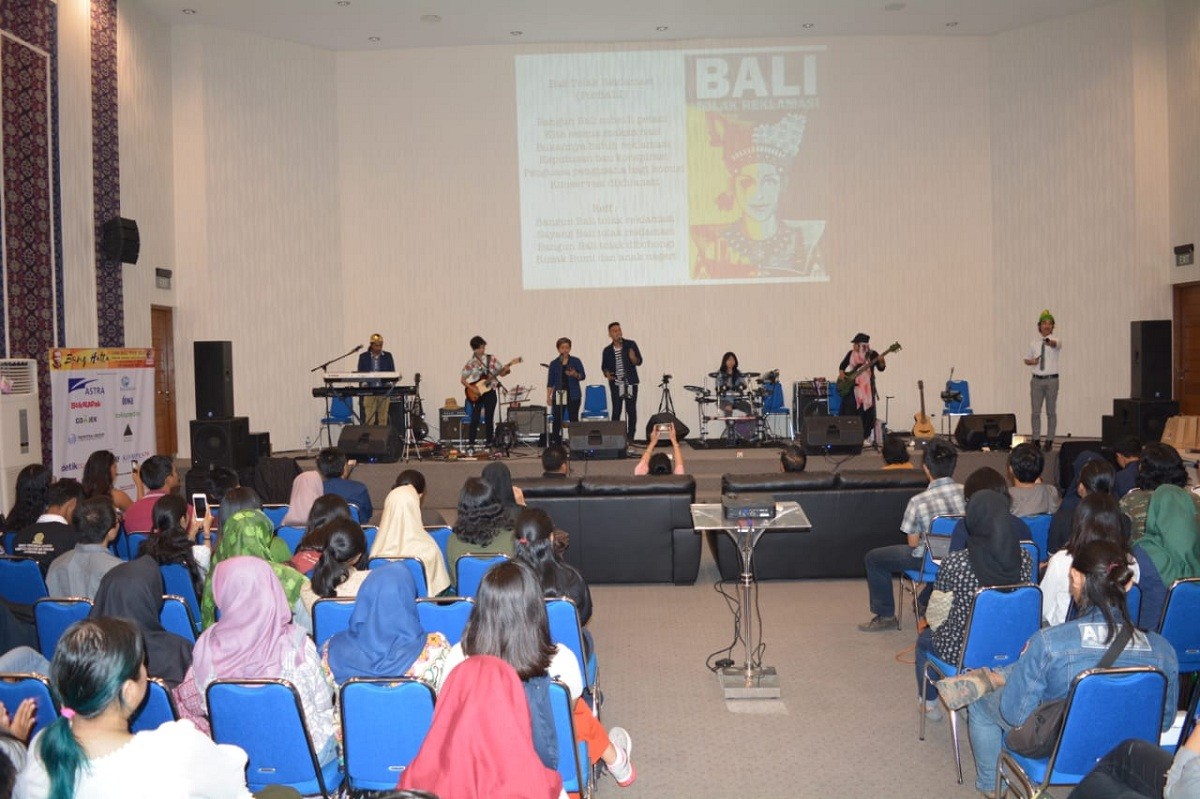 Using a big bus adorned with the image of a young Bung Hatta, the country's first vice president, the road show traveled to 11 universities across 11 cities, including Udayana University in Bali (pictured). (BHACA/File)
Around 3,500 students from 11 universities across 11 Indonesian cities took part in a musical discussion road show held by the Bung Hatta Anticorruption Award Association (BHACA) from Sept. 3 to 27.
Using a bus adorned with the image of a young Bung Hatta, the country's first vice president, the road show traveled to Jakarta State University (UNJ), Muhammadiyah Tangerang University (UMT), Bandung Institute of Technology (ITB), Swadaya Gunung Jati University (Unswagati, Cirebon), Diponegoro University (Undip, Semarang), Satya Wacana Christian University (UKSW, Salatiga), Gadjah Mada University (UGM, Yogyakarta), Malang State Islamic University (UIN, Malang), Surabaya University, Bangkalan Teacher Training College (STKIP Bangkalan, Madura) and Udayana University (Unud, Bali).
According to a statement, the road show aimed to instill Bung Hatta's values of honesty and integrity in the younger generation.
Among the speakers at the discussion were Corruption Eradication Commission (KPK) chairman Agus Rahardjo; KPK deputy chairmans Alexander Marwata, Saut Situmorang and Laode M. Syarif; KPK advisers Budi Santoso and Sarwono Soetikno; Indonesia Corruption Watch (ICW) coordinator Adnan Topan Husodo; UI academic Bagus Takwin; and Bung Hatta's daughters, Meutia Hatta and Halida Hatta.
Read also: BHACA, KPK endorse anticorruption declaration
In Surabaya, KPK chairman Agus Rahardjo called on campuses to be "islands of integrity". "Make it a habit to not slack off or plagiarize, be responsible when holding a campus event. The little things have to start in our daily lives," said Agus.
BHACA cofounder Sharmi Ranti told students in Bali that she was hopeful the discussion would inspire others to become leaders of the nation who were free of corruption.
The association collaborated with the band Sisters in Danger, which received the Most Popular Award from United Nations Women in 2017, to entertain participants with music performances during each discussion. (kes)
Topics :
Join the discussions